Key Companies in the Cannabis Industry
On September 19th, 2019, the Global X Cannabis ETF (POTX) began trading on Nasdaq. POTX seeks to invest in companies across the cannabis industry. This includes companies involved in the legal production, growth and distribution of cannabis and industrial hemp, as well as those involved in providing financial services to the cannabis industry, pharmaceutical applications of cannabis, cannabidiol (i.e., CBD), or other related uses including but not limited to extracts, derivatives or synthetic versions.
While cannabis is often conflated with recreational use, a changing regulatory environment, advancements in research, and changing consumer demands are driving additional use cases for the plant, including in medicinal, industrial, and health and wellness capacities. In this piece, we explore a variety of use cases that are expanding the potential market for cannabis demand around the world and key companies that we believe are well-positioned in this early theme.
Understanding the Basics of Cannabis
Popular culture often breaks cannabis down into hemp and marijuana. Hemp includes varieties of the plant that contain less than 0.3% of delta-9-tetrahydrocannabinol, or THC. Marijuana contains more than 0.3% THC, rising to as high as 30%.1
THC is one of more than 100 components of cannabis (also known as cannabinoids) that have been identified to date.2 Understanding THC levels is important from a legality standpoint, given that it is a psychoactive compound. The December 2018 US Farm Bill removed hemp as an illegal substance from Schedule I of the Controlled Substances Act, which federally legalized hemp-derived products that contain less than 0.3% of THC.3
While marijuana contains high THC content, hemp consists of high CBD content. CBD, short for cannabidiol, is a cannabinoid, just like THC. It is an essential component of medical cannabis that may have anti-psychotic, anxiolytic, anti-epileptic and anti-inflammatory properties.4 CBD's infusion into everything from food and drinks to health and wellness products has created something of a commercial craze. Of note, hemp-derived CBD is legal, while CBD from marijuana is not.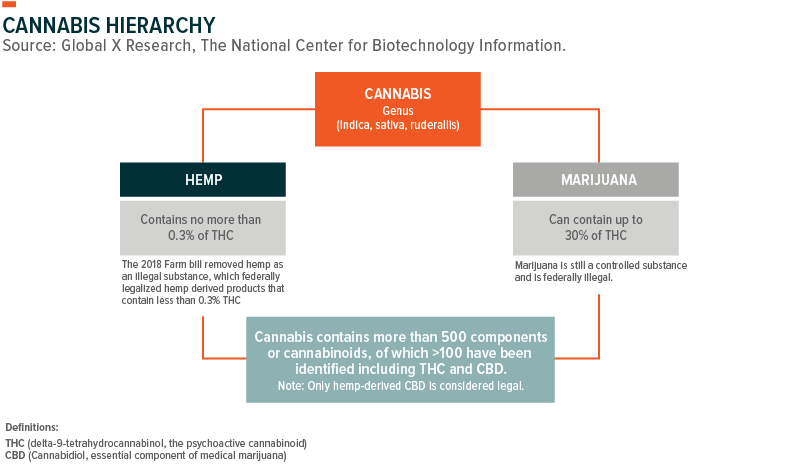 Key Use Cases and Companies Across the Cannabis Value Chain
The potential use cases for cannabis are broad, spanning multiple industries, given its medical, industrial, recreational, and health & wellness applications.
Medical
CBD and THC are the primary vehicles by which the medical space utilizes cannabis. More research needs to be done to make conclusive determinations, but reported benefits of CBD use include relieving insomnia, anxiety, spasticity and general pain, while THC has been also used to help with conditions such as pain, nausea and muscle spasticity.5,6
British pharmaceutical company GW Pharmaceuticals has been at the forefront of CBD-based treatments. The company developed an oral formulation of purified CBD that the U.S. Food and Drug Administration (FDA) approved as Epidiolex in 2018.7 The approval was a milestone, as it made Epidiolex the first FDA-approved drug containing cannabis.8 Epidiolex is used to treat seizures associated with Lennox-Gastaut syndrome and Dravet Syndrome, two rare and severe childhood-onset, drug-resistant epilepsy syndromes.9
The drug also received a positive opinion from the European Medicines Agency's Committee for Medical Products for Human Use, which could open the doors to commercialize the drug in Europe.10
GW Pharmaceuticals achieved another milestone with its development of the world's first prescription medicine utilizing both THC and CBD. The drug, Sativex, is used in more than 25 countries outside of the US for the treatment of spasticity due to multiple sclerosis.11
Industrial
Industrial hemp has become a transformative force in the paper, textiles, building materials, plastics and fuel markets. Hemp fiber and hurd can be used to make items like clothing, fabrics, paper, fiberboard and cement blocks. The construction industry increasingly uses hempcrete as a rigid material cast into walls, as well as between and around structural supports.12
Canopy Growth, Canada's largest cannabis producer by cultivation and sales metrics, is a leading player in industrial hemp. The company recently made a move into the US hemp industry by investing in a new facility in Kirkwood, New York.13 The move into the US aims to capitalize on potential easing of regulations and improving consumer behavior towards hemp based industrial products and CBD. Canopy is also a leader in Canada's recreational space. The company has 90 patents and more than 240 patent applications for different cannabis varieties in dried, oil, and soft gel capsule forms.14
In 2018, Constellation Brands, the U.S.' largest producer of alcoholic beverages, acquired roughly 38% of Canopy.15 The $4 billion investment has helped position Canopy as a leading company in Canada by sales and production with a strong balance sheet. The company continues its aggressive pursuit of market share by ramping up its harvests. In its Q1 results (released August 15, 2019), Canopy reported that it increased its harvest by 183% quarter-over-quarter to 40,960 kilograms.16
Recreational
The 11 U.S. states legalizing adult use of recreational cannabis is expected to draw many consumers away from illicit markets and into newly regulated markets. As discussed in Introducing the Global X Cannabis ETF (POTX), the global illicit market still represents over 90% of cannabis' estimated $166 billion total addressable market (TAM).17
Cronos Group is a Canadian company with a strong presence and brand recognition in the recreational market. Cronos' footprint is global with production and distribution capabilities on five continents.
Cronos' Cove is the premium brand in the Canadian adult-use market, while its Spinach brand is generally regarded as its mass-market offering. Cronos' leading position attracted the attention of Altria, one of the world's largest producers and marketers of tobacco products. In December 2018, Altria acquired a 45% stake in Cronos with a $1.8 billion investment.18
If recreational cannabis is fully legalized in the U.S., Cronos could leverage Altria's open channels and partnerships to commercialize its products. Recently, Cronos CEO Mike Gorenstein said that the company could make a move into the U.S. market, starting with CBD products. In its home market, Canada's official health department recently unveiled new guidelines for the introduction vape, edibles and topicals, which could promote greater demand for Cronos' cannabis recreational products.
Health and Wellness
CBD-oil-infused products, vape liquids, and edibles, all of which have less than 0.3% THC content, are gaining acceptance as part of everyday health and wellness regimens. Accessibility has increased quickly, with pharmacies, gas stations, and even pet stores providing different CBD products since the passage of the US Farm Bill. Early experiments indicate that CBD use may help people with anxiety, schizophrenia, and pain.
In 2018, the World Anti-Doping Agency (DAWA) removed CBD from its prohibited substances list, recognizing the distinction between CBD and the psychoactive THC.19 However, professional sports organizations set their own rules and policies, so not every sport has adopted WADA's ruling.
The FDA has also been examining potential regulatory pathways for the lawful marketing of products containing CBD. The FDA has not criticized the product forms of CBD. However, it has taken issue with therapeutic claims made about CBD products, including those that tout their ability to relieve pain, anxiety, depression and other conditions.20 Typical FDA protocol requires clinical trials for any product making health claims. The FDA plans to release a report on CBD by early this fall.21
Organigram, a Canadian licensed producer (LP) that got its start by focusing on medical cannabis, has made inroads into the health and wellness category, as well as recreational cannabis and vaporizers.
Organigram aims to disrupt the hemp-CBD space through its investment in biosynthesis technology. Biosynthesis produces cannabinoids without growing the cannabis plant. This has the potential to create a scalable supply of pure cannabinoids at a fraction of the cost of traditional cultivation.22
In early 2020, the company intends to launch dried powder formulation beverage products in Canada using its propriety nano-emulsification technology.23 Nano-emulsification helps cannabinoids to dissolve quickly in water, within 10–15 minutes, a process that can't be completed naturally in a short period.
Conclusion
Legalization efforts and a growing suite of use cases across industries for cannabis-based products, is creating a high growth potential market for companies across the cannabis value chain. Greater understanding of cannabis' chemistry, increasing availability, and changing consumer demands are further drivers of cannabis's growth potential. The transition from an illicit substance to a federally approved industry offering alternative healthcare solutions should create wide-ranging opportunities for consumers and investors alike.
Related ETFs
POTX: The Global X Cannabis ETF seeks to invest in companies across the cannabis industry value chain, including companies involved in the legal production, growth and distribution of cannabis and industrial hemp, as well as those involved in providing financial services to the cannabis industry, pharmaceutical applications of cannabis, cannabidiol (i.e., CBD), or other related uses including but not limited to extracts, derivatives or synthetic versions.
Click the fund ticker above to view POTX current holdings. Holdings are subject to change. Current and future holdings subject to risk.