"Mexico First": A Post-Election Primer on Investing in Mexico
This is the third piece in a series covering the implications of key recent Latin American elections. For the complete list of posts, please visit our page for International Access Research.
Andrés Manuel López Obrador ("Amlo") won Mexico's presidential elections in July on a campaign driven by populist rhetoric, often likened by the media to Trump's 2016 Presidential campaign. Despite his former ties to Mexico's Institutional Revolutionary Party (PRI) and prior political experience, Amlo ran as an outsider on his own party platform, standing for spending on domestic infrastructure projects, protecting national interests under the North American Free Trade Agreement (NAFTA), and stamping out corruption. As president-elect, Amlo has advocated for fiscal prudence, central bank autonomy, and macroeconomic stability, despite contradictory campaign promises to expand social programs and halt energy reform. As such, many investors, economists, and political analysts remain unsure exactly how Amlo will act and what he will prioritize when he takes office in December.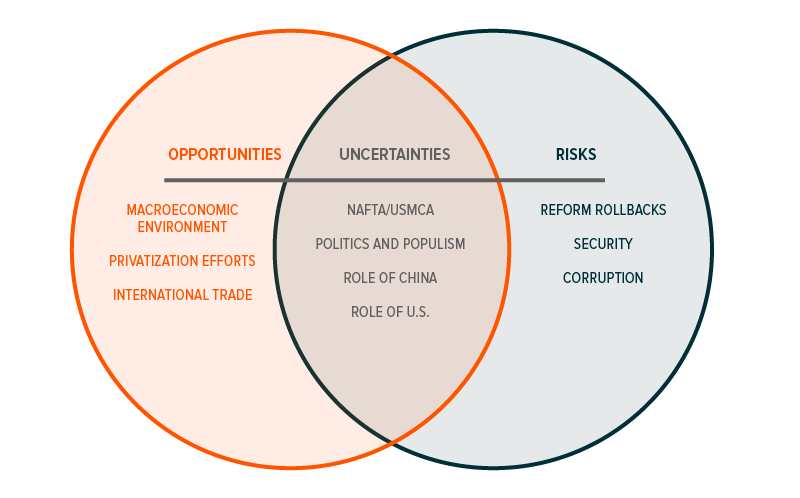 Adding further political change, Mexico's new congress took their seats in September, with the majority lending support to Amlo. They will immediately be tested with drafting a national budget and approving an updated NAFTA, or the "US-Mexico-Canada-Agreement" (USMCA). Amid political uncertainty and security concerns, the new legislators will be tasked to ensure Mexico continues its solid growth by maintaining its relatively stable emerging market status, its special relationship with the US, and its progress on energy and privatization reforms.
Macroeconomic Environment
After initially slumping on election day, the peso moderately recovered as Amlo quelled fears stoked by his unconventional campaign policy proposals. As president-elect, he has moderated some of his positions and has shown deference for the mandate of Mexico's Central Bank, which includes finalizing interest rate decisions later this year.
The new government should benefit from Mexico's favorable macroeconomic environment, which has largely avoided emerging market (EM) currency contagion this year. This stability has been anchored by Mexico's low inflation and unemployment levels, as well as a smaller current account deficit relative to other Latin American countries. Mexico has also benefited from steady GDP growth, export diversity, and strong capital inflows into key areas like Energy, Manufacturing, Industrials, and Financials.

GDP price deflator is an alternative measure of inflation, or price level changes. Also known as the implicit price deflator, it reflects changes in consumption and investment patterns which is not necessarily reflected in the Consumer Price Index (CPI).
Trade, the USMCA, and China
Trilateral NAFTA discussions concluded with the creation of USMCA, which awaits congressional approval in all three countries, to be finalized. Several issues will likely be revisited following the US midterm elections 1 and after Amlo assumes office, but the fact that a basic framework has been agreed upon is critical for ensuring the stability of Mexico's economy.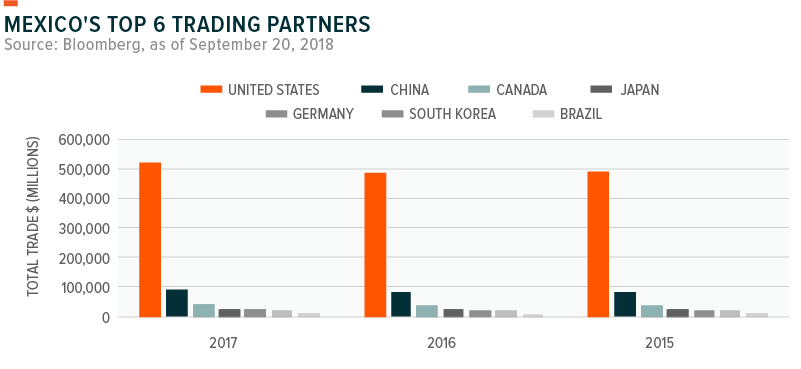 While finalizing USMCA is critical given the amount of trade Mexico conducts with the US, Mexico must balance any North America-centric agreements with its strengthening trade relationship with China. In 2017, Mexico-China trade reached $90 billion – more than twice Mexico-Canada trade. And while Mexico-US trade is nearly five times greater than Mexico's trade with China, supply chains inevitably span across the Pacific.
Mexico's trading ties, geographical location, and natural resources make it a strategic partner for China and its Belt and Road Initiative (BRI), an economic and expansion project spanning 65 countries. Last year, Amlo suggested collaborating on a BRI railway project to open a trade corridor across Mexico's narrowest stretch between the Atlantic and Pacific Oceans. With most of its exports currently flowing north, this "New Silk Road" corridor connecting Mexico's and China will be closely monitored by the US.
Trade discussions exposed Mexico's global supply chains and revealed fissures created by China's regional presence. A USMCA provision de facto limits Mexico's economic ties with China by forbidding new free trade agreements with "non-market economies." Yet it does not preclude Mexico from expanding trade pacts or supply chains with key emerging markets or Japan that in recent months have rapidly increased trade with China.
Commodity Prices and Energy Reform
In 2013, Mexico began privatizing its oil and gas industry, ending state-owned Pemex's monopoly. The reforms focused on attracting private producers and capital to grow the industry. As we wrote in an earlier piece, Mexico's ability to capitalize on higher oil prices will depend on how quickly and extensively energy reforms progress. In addition, increased trade with the US for oil and natural gas will be critical to maintaining the region's energy security, but will likely necessitate infrastructure improvements.
Before the elections, Amlo proposed discontinuing energy reforms altogether. Since then, he has toned down his rhetoric in order to retain foreign investments that totaled nearly $30 billion last year.2 His advisor assured the public that private energy investments would continue3 and Amlo announced that the tenders granted would be paused only temporarily, so that the administration could review the $150 billion of contracts before considering additional ones. These developments reflect Amlo's pragmatic shift to retain investor interest, while protecting state-owned Pemex and the potential for state-led growth.
Privatization
Mexico's privatization efforts are prominent in energy, but extend to utilities and telecommunications under the 5G telecommunications plan. This initiative aims to expand mobile coverage to rural and low-income populations, reduce prices, and create a competitive wireless industry.
Introduced in 2014, the plan established public-private partnerships with a $7 billion private consortium dominated by Huawei and Nokia. Huawei's involvement sparked foreign fears that Chinese involvement could expose network vulnerabilities, and while reform efforts face pressure, they offer investors targeted opportunities in demand-driven and rapidly growing telecommunications, financials, and ancillary service sectors.
Conclusion
Discrepancy between Amlo's campaign rhetoric and tone following the elections signal a tactical shift; going forward, he needs to balance unconventional style with practical policy, to demonstrate, as a Financial Times op-ed suggested, "…that populism and pragmatism are not incompatible."4
Given that Amlo anchored his campaign on anti-corruption, investors may expect Mexico to ramp up these efforts alongside additional expenditure on public safety. Beyond that, investors should primarily focus on Amlo's trade policy and his ability to pass USMCA, while improving trade with China.
We believe Mexico's success will ultimately depend on the administration's political will, macroeconomic prudence, and support of reform efforts. It must also improve security and anti-corruption efforts that increase the costs and challenges facing businesses in Mexico.
Related ETFs
EMFM: The Global X Next Emerging & Frontier ETF provides investors broad exposure to frontier and next emerging markets (which excludes Brazil, Russia, India, China [BRICs], South Korea, and Taiwan). As of 6/30/2018, the fund had an 8.72% allocation to Mexico.