The January MLP Monthly Report can be found here offering insights on MLP industry news, the asset class's performance, yields, valuations, and fundamental drivers.
Summary
News:
1) The Tax Cuts and Jobs Act (TCJA) signed into effect on December 22nd offers benefits to MLPs, as income from MLPs will be taxed at a lower effective rate under the new tax code. Beginning in 2018, the Act reduces the maximum individual tax rate to 37% from 39.6%. In addition, it will give a 20% deduction on MLP income to individual MLP unitholders and 20% of recapture income, if any, for an MLP unitholder on the sale of an MLP unit. The combined effect of these would reduce the maximum effective tax rate on MLP income to approximately 29.6% from the previous 39.6%.
2) MPLX LP (MPLX) and Marathon Petroleum Corp. (MPC) agreed to exchange MPC's general partner (GP) economic interest in MPLX, including incentive distribution rights (IDR), for newly issued common units of MPLX valued at around $10.1 billion. Upon closing, which is expected on February 1, 2018, MPC will own approximately 64% of the outstanding MPLX common units.
3) Energy Transfer Partners (ETP) received approval from the Federal Energy Regulatory Commission (FERC) to put Phase 1B of their Rover Pipeline project into effect. ETP expects Rover to be fully in service by the end of the first quarter of 2018.
Sources: Reuters, MPLX LP, Baker Botts and Energy Transfer Partners.
Performance: Midstream MLPs, as measured by the Solactive MLP Infrastructure Index, increased 4.63% last month as MLPs benefitted from the recently passed tax reform legislation. The index fell 10.45% in 2017. (Source: Bloomberg)
Yield: The current yield on MLPs stands at 7.89%. MLP yields remained higher than the broad market benchmarks for High Yield Bonds (5.72%), Fixed Rate Preferreds (5.38%), Emerging Market Bonds (5.35%), and REITs (3.96%).1 MLP yield spreads versus 10-year Treasuries currently stand at 5.49%, higher than the long-term average of 3.83%. (Sources: Bloomberg, AltaVista Research, and Fed Reserve)
Valuations: The Enterprise Value to EBITDA ratio (EV-to-EBITDA), which seeks to provide more color on the valuations of MLPs, increased 3.45% last month. Since December 2016, the EV-to-EBITDA ratio has increased by approximately 6%. (Source: Bloomberg).
Crude Production: The Baker Hughes Rig Count increased last month to 929 rigs, rising by 6 rigs compared to last month's count of 923 rigs. The rig count has more than doubled since its recent low point in May 2016 of 404 rigs. US production of crude oil rose to 9.782 mb/d in the last week of December compared to 9.682 mb/d at the end of November. (Source: Baker Hughes & EIA)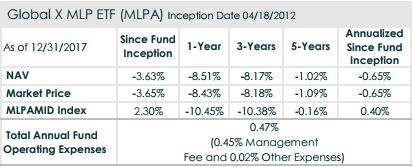 The performance data quoted represents past performance. Past performance does not guarantee future results. The investment return and principal value of an investment will fluctuate so that an investor's shares, when sold or redeemed, may be worth more or less than their original cost and current performance may be lower or higher than the performance quoted. For performance data current to the most recent month- and quarter-end, please click here