MLP Monthly Report: January 2022
The January MLP Monthly Report can be found here offering insights on MLP industry news, the asset class's performance, yields, valuations, and fundamental drivers.
The latest quarterly MLP Insights piece providing analysis into the midstream space can be found here as well.
Summary
News:
1) Enterprise Products Partners LP (EPD) has entered into an agreement to acquire Navitas Midstream Partners LLC for $3.25 billion in cash from an affiliate of Warburg Pincus LLC. The acquisition is expected to provide an entry point to Enterprise's natural gas processing and natural gas liquids (NGL) business in the Midland Basin, one of the most economic and productive crude oil regions in the U.S.
2) OPEC+ agreed to maintain its existing plan to raise oil output by 400,000 barrels per day (bpd) in February. With oil prices continuing to trend upward, OPEC+ decided to move ahead with its policy to scale back its production quotas.
3) Oil prices rose at the start of the year as OPEC+ member, Kazakhstan, faced disruptions in oil production amid anti-government unrest in the country. Kazakhstan is a major oil producer with an output of nearly 1.6 million bpd in recent months. Oil prices also rose as production was affected in Libya due to maintenance and oilfield shutdowns.
Sources:  Enterprise Products Partners LP (EPD), CNBC, Reuters.
Performance: Midstream MLPs, as measured by the Solactive MLP Infrastructure Index, increased 4.23% last month. The index increased by 40.69% since last December. (Source: Bloomberg)
Yield: The current yield on MLPs stands at 8.44%. MLP yields remained higher than the broad market benchmarks for High Yield Bonds (4.86%), Emerging Market Bonds (4.33%), Fixed Rate Preferreds (4.18%) and Investment Grade Bonds (2.36%).1 MLP yield spreads versus 10-year Treasuries currently stand at 6.45%, higher than the long-term average of 5.76%.2 (Sources: Bloomberg and Fed Reserve)
Valuations: The Enterprise Value to EBITDA ratio (EV-to-EBITDA), which seeks to provide more color on the valuations of MLPs, increased by 1.73% last month. Since December 2020, the EV-to-EBITDA ratio is up by approximately 3.34%. (Source: Bloomberg)
Crude Production: The Baker Hughes Rig Count increased to 586 rigs, increasing by 17 rigs from last month's count of 569 rigs. US production of crude oil increased to 11.800 mb/d in the last week of December compared to November levels of 11.600 mb/d. (Source: Baker Hughes & EIA)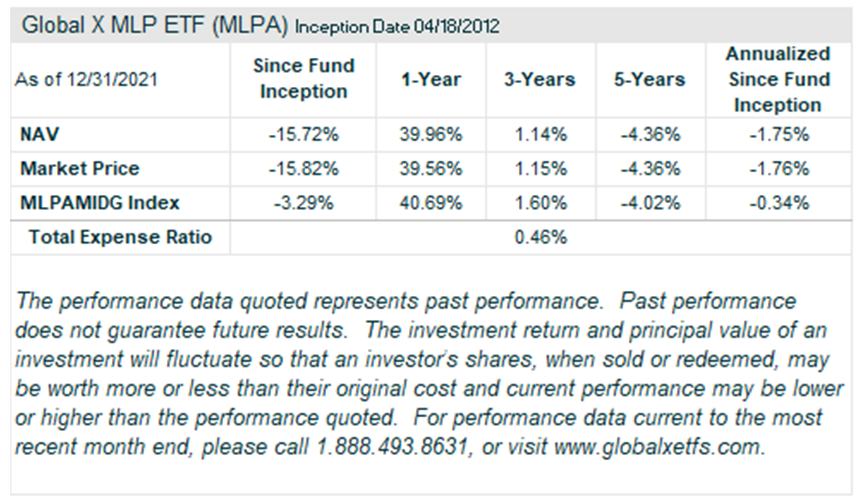 For performance data current to the most recent month- and quarter-end, please click here
As of 12/31/2021, Enterprise Products Partners LP (EPD) was a holding in the Global X MLPA ETF (MLPA) with a 10.11% weighting and MLPX ETF with a 4.58% weighting.
MLPA ETF and MLPX ETF do not have any holdings in Navitas Midstream Partners LLC and Warburg Pincus LLC.