The Next Big Theme: July 2019
Cloud Computing
M&A deals creating super clouds
Salesforce, a leader in the Software-as-a-Service (SaaS) space, recently acquired Tableau in an all-stock deal totaling $15.7 billion, the largest deal in Salesforce's history. The acquisition shows that the company continues to entrench its position as a leader in enterprise SaaS, offering a multitude of cloud-based software solutions. Tableau's data visualization tools allow businesses to better understand and interpret their data, generated from sales, marketing, and operations. Overall, the deal is an example of the active M&A scene in cloud computing, as leaders in SaaS compete for market share and complementary offerings.

FinTech
Facing your finances
For years, China has been leading the movement to going cashless, with mobile payment solutions linked to smart phones. Now, Chinese consumers can leave their phones in their pockets, instead scanning their faces to pay for products and services at grocery stores and fast-food restaurants. In Jinan, for example, subway stations implemented facial-recognition-based payments systems to allow commuters to pay their fares without having a phone or wallet with them. The technology allows 33 people to pass the entrance gate every minute, significantly more than the 20 people who could enter by swiping cards or tapping their smartphones.1 The algorithms prevent fraudulent use at a 99.9% accuracy rate, given their accuracy and ability to even recognize people wearing masks and hiding their faces with photos.2

Genomics
Gene editing making strides to cure previously considered ineradicable diseases
Researchers at the University of Nebraska Medical Center were able to eradicate HIV from mice for the first time ever.3 The researchers leveraged the gene editing CRISPR-Cas9 technology combined with LASER ART, a virus suppression method.4 "We now have a clear path to move ahead to trials in nonhuman primates and possibly clinical trials in human patients within the year," said Kamel Khalili, professor and chair of neuroscience at Temple University.5 CRISPR-Cas9 gene editing was introduced in 2013 and has since been trialed to address a range of gene-based diseases.

Lithium, Batteries, and Electric Vehicles
China's EV restrictions moving in reverse
China is phasing out some of its electric vehicle incentives by the end of the year, but reportedly implementing other policies to continue to support the electrification of its transportation system. Some Tier 1 cities with traffic problems have imposed license plate limits for Internal Combustion Engine (ICE) vehicles, but exempted EVs from those limits. For example, in Beijing, the chances of getting an ICE license plate are 1 in 2,031;6 yet for EVs, the waiting list is first come, first served. To support EV sales, China's National Development and Reform Commission (NDRC) said in a statement that it is ordering local governments to remove existing license plate restrictions that apply to new energy vehicles.7 Lifting that restriction is expected to boost EV sales considerably for the world's leading EV market.
Plug and play
Tesla recently launched Arcade, a collection of games that can be played directly from the vehicle's touchscreen. The library of games includes classics like Atari Missile Command and Asteroids and newer games like Beach Buggy Racing 2, a kart racing game that can be played using the car's actual steering wheel and braking system. As one would hope, the games can only be played while the car is in park. The system completely disables the accelerator pedal when in Arcade mode. At the very least, Tesla drivers won't get bored while waiting to charge their electric models.

Robotics & Artificial Intelligence
AI protecting human brains
Stanford University researchers recently published a paper detailing how Artificial Intelligence (AI) could be used to identify brain aneurysms. According to one of the paper's authors, identifying an aneurysm is one of the most labor-intensive and critical tasks radiologists undertake. The algorithm known as HeadXNet was not only able to tell if a brain had an aneurysm, but it also provided the location of the aneurysm with exact precision. 8 It's another example of AI's progress as a viable medical solution in health care, potentially reducing costs and improving patient outcomes.

E-commerce
"Alexa, what are we disrupting next?"
According to Rakuten Intelligence, this year, Amazon became its own biggest shipper, surpassing deliveries from USPS, UPS, and FedEx. Less than 2 years ago, Amazon delivered less than 20% of its own packages.9 Today, the company is reportedly delivering almost half of all its packages.10 The behemoth recently announced that it is expanding its own air cargo fleet with 15 new planes, for a total 70 planes by 2021.11 It would allow the company to enhance its shipping offering on an 'as-a-service' basis to other companies. This is an area where the company could capture some share from the historical leaders, FedEx and UPS, which have 30% and 40% share of the total delivery market, respectively.12

The Numbers
The following charts examine returns and sales growth expectations by theme, based on their corresponding ETFs.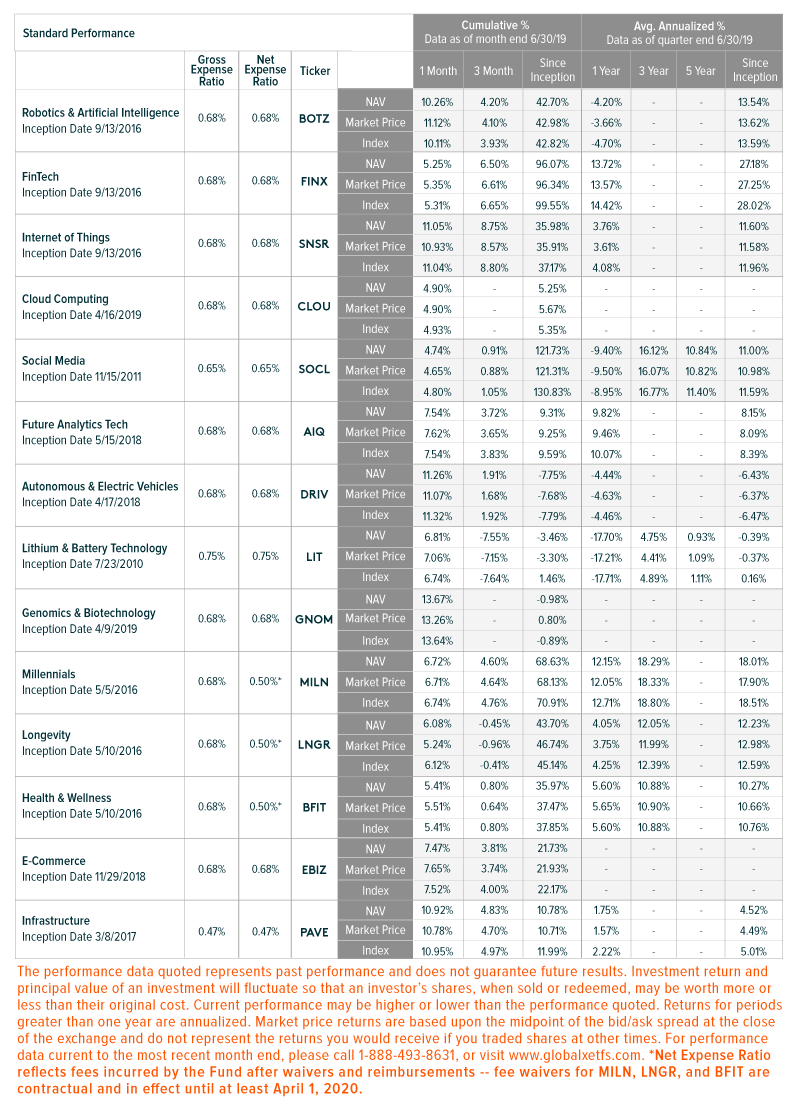 INTRO TO THEMATIC INVESTING COURSE – ELIGIBLE FOR CE CREDIT
Global X has developed an interactive, self-guided Intro to Thematic Investing course, that is designed to share the latest ideas and best practices for incorporating thematic investing into a portfolio.
This program has been accepted for 1.0 hour of CE credit towards the CFP®, CIMA®, CIMC®, CPWA® or RMA certifications. To receive credit, course takers must submit accurate and complete information on the requested forms, complete the entire course, and receive a 70% or higher on the Intro to Thematic Investing Quiz.
Questions on receiving CE credit may be sent to: Education@globalxetfs.com
KEEP UP WITH THE LATEST RESEARCH FROM GLOBAL X
To learn more about the disruptive themes changing our world, read the latest research from Global X, including: