Artificial Intelligence
Don't wait on hold: Real-time conversational AI breaking records
Nvidia's graphics processing units (GPUs) continue to excel as an infrastructure platform for state-of-the-art artificial intelligence language models. Recently, the company's GPUs were able to train BERT, one of the world's most advanced AI language models, in a record-breaking 53 minutes.1 Getting computers to understand all the nuances of human languages and respond appropriately has long been a holy grail in developing natural language processing (NLP) technology.2 Language models can now complete inference in just 2.2 milliseconds, i.e., understand and reach a conclusion based on information received.3 Strides made in NLP could be significant, with potential adopters spread across numerous industries.

Autonomous Vehicles
Way mo' data from Waymo
Waymo, Alphabet's leading autonomous vehicles subsidiary, announced that it is opening up its dataset to academics and competitors alike. Waymo Open Dataset comprises high-resolution sensor data gathered from a variety of environments, from dense urban centers to suburban sprawls and everything in between. Data collected also include that from particular conditions during the day and night, at dawn and dusk, and in sunshine and rain.4 To date, Waymo has collected data on approximately 10 million autonomous miles driven in 25 cities.5 Historically, collaboration does accelerate technological advances, so perhaps this could help expedite AV delivery.

Genomics and Biotechnology
Zipping Your Genes: Optimizing Diagnoses with Genetic Testing
Biogen and Invitae, two leading biotechnology and genomics companies, recently announced the availability of a rapid results genetic testing program for spinal muscular atrophy (SMA). The test will reduce the definitive diagnosis from 21 to just four days, at no charge to individuals in the U.S.6 SMA is often a life-threatening disease, characterized by loss of motor neurons in the spinal cord and lower brain stem. As it progresses, the disease can cause severe and progressive muscle atrophy and weakness.7 Faster diagnostics will allow for earlier intervention, treatment and, potentially, better medical outcomes for patients with SMA.

Lithium and Battery Technology
Getting Lit: Powering an EV world
LG Chem, Korea's largest chemical company, is expected to supply electric vehicle (EV) batteries for Tesla's first plant in China. Until now, Tesla has relied on Japanese battery maker Panasonic for the EV models it produces in the U.S. Production of Tesla's Model 3 in China is set to begin later this year, less than 12 months after it started building its plant in Shanghai. For LG Chem, the deal reflects the company's leadership in the lithium-ion battery market; LG Chem already has partnerships with automakers like Audi, Mercedes-Benz and Volvo. LG Chem projects that it will double its EV battery sales in the next five years, from $24 billion today to over $50 billion by 2024.8

Cloud Computing
Cloud Computing Confidential: data security edition
Several big tech companies recently announced a new joint effort to promote better data security. Confidential Computing Consortium will be an open-source community that includes Alibaba Cloud, Baidu, Google Cloud, IBM and Microsoft, among others. Current protection strategies address data at rest and in transit. However, a fully encrypted lifecycle for sensitive data remains a work in progress, and perhaps the most challenging step to take in data security.9 Computing has moved from on-premise to public domains to edge, but the cloud is a nascent industry with reams of data still to transition. Attention this consortium brings to data security could accelerate the adoption of next-generation cloud and edge computing.

Fintech
Finessing Fintech: China's Fintech Development Plan (2019-2021)
The People's Bank of China (PBOC) released a three-year plan to strengthen the country's financial technology sector. The central bank dubbed fintech the "new engine" of development in the financial industry and identified six key steps for China to engage.10 Included among them involves using fintech to improve the quality of the country's financial services and to strengthen financial risk prevention and control capabilities.11 Fintech continues to disrupt traditional financial services with more accessible, efficient and affordable products. But fintech is more than a product. It's an ecosystem of digital tools designed to meet a multitude of needs across markets and industries. China's stated commitment to a fintech ecosystem figures to have far-reaching implications.

E-commerce
Real Talk: Bringing live chat to SMB's online stores
E-commerce platform Shopify recently launched an enhanced version of its messaging capabilities in the form of Shopify Chat. Live chat capabilities can be particularly useful for a business' e-commerce, as customers who chat with a brand convert three times more often than those who don't.12 Shopify Chat aims to be a difference-maker for the company's core users, small and medium-sized businesses (SMBs), helping them stay personal and prompt with their customers. The announcement follows Shopify's foray into the fulfillment business with the Shopify Fulfillment Network. The company wants to connect merchants with third-party logistics providers and help remove barriers to entry for new businesses.

THE NUMBERS
The following charts examine returns and sales growth expectations by theme, based on their corresponding ETFs.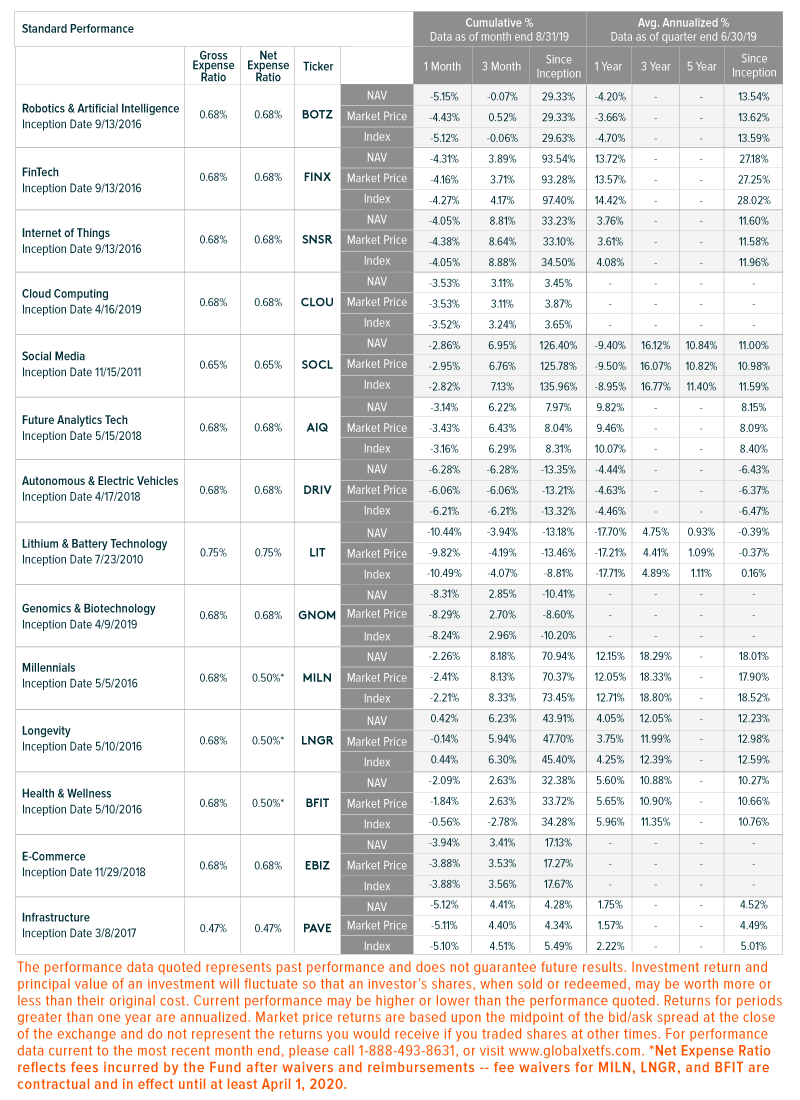 INTRO TO THEMATIC INVESTING COURSE – ELIGIBLE FOR CE CREDIT
Global X has developed an interactive, self-guided Intro to Thematic Investing course, that is designed to share the latest ideas and best practices for incorporating thematic investing into a portfolio.
This program has been accepted for 1.0 hour of CE credit towards the CFP®, CIMA®, CIMC®, CPWA® or RMA certifications. To receive credit, course takers must submit accurate and complete information on the requested forms, complete the entire course, and receive a 70% or higher on the Intro to Thematic Investing Quiz.
Questions on receiving CE credit may be sent to: Education@globalxetfs.com
KEEP UP WITH THE LATEST RESEARCH FROM GLOBAL X
To learn more about the disruptive themes changing our world, read the latest research from Global X, including: