Chart: U.S. Crude Oil Exports Rise
In December 2015, Congress made a historic decision to lift its ban on crude oil exports that had been in place for 40 years. Aside from the exemption of exports to Canada, the ban essentially isolated U.S. oil production from the rest of the world. Since the ban's removal, exports have been trending upwards, with a significant spike in September. During the month, a particularly powerful hurricane season knocked offline meaningful refining capacity in the US, driving many oil producers to look to refineries overseas. In addition, the spread between the international oil benchmark, Brent, and the US-based West Texas Intermediate (WTI) expanded to a two-year high, incentivizing international oil importers to purchase U.S. oil.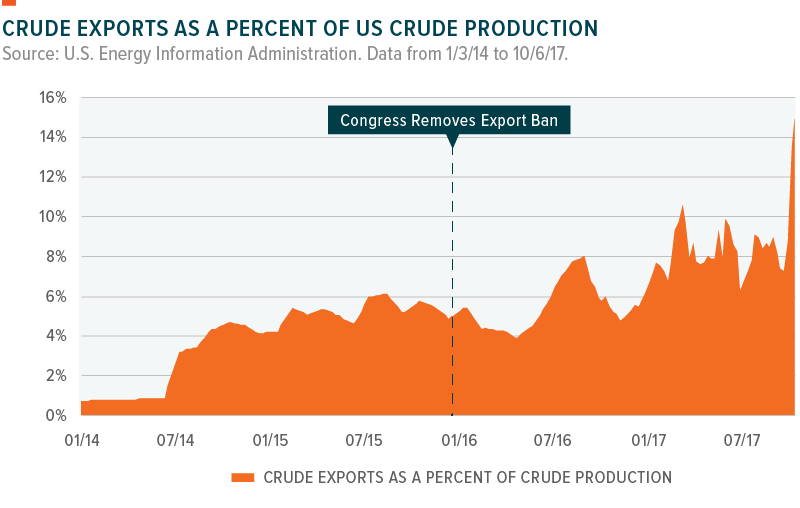 With the global economy enjoying synchronized growth and rising oil demand, the ability of US oil production to efficiently reach overseas destinations highlights the importance of the US energy infrastructure responsible for piping the commodity to export terminals in the Gulf of Mexico.
Related ETFs
MLPA: The Global X MLP ETF invests in some of the largest, most liquid midstream master limited partnerships (MLPs)
MLPX: The Global X MLP & Energy Infrastructure ETF is a tax-efficient vehicle for gaining access to MLPs and similar entities, such as the general partners of MLPs and energy infrastructure corporations.