The February MLP Monthly Report can be found here, offering insights on MLP industry news, the asset class's performance, yields, valuations, and fundamental drivers.
Summary
News: A few MLP sponsors have elected to eliminate or suspend IDR payments, including Williams and Marathon Petroleum. President Trump took action to revive the Dakota Access Pipeline and Keystone Pipeline projects. So far this quarter, 87 midstream companies and MLPs have announced distributions and dividends, with 33 raising current levels, 1 cutting, and 53 holding steady. (Source: MLP Data, Marathon Petroleum)
Performance: Midstream MLPs, as measured by the Solactive MLP Infrastructure Index, gained 3.57% last month. The index has gained 42.87% over the last one-year period. (Source: Bloomberg)
Yield: The current yield on MLPs stands at 6.83%. MLP yields remained higher than the broad market benchmarks for High Yield Bonds (5.85%), Emerging Market Bonds (5.69%), Preferreds (5.51%) and REITs (4.70%).1 MLP yield spreads versus 10-year Treasuries currently stand at 4.38%, higher than the long-term average of 3.60%. (Sources: Bloomberg, AltaVista Research, and Fed Reserve)
Valuations: The Enterprise Value to EBITDA ratio, which seeks to provide more color on the valuations of MLPs, increased in Q4 2016 compared to Q3 2016 as MLP share prices appreciated, partly due to stabilizing oil prices. Since the end of 2015, the EV-to-EBITDA ratio has fallen approximately -0.8%, despite increasing unit prices, partly due to MLPs making concerted efforts reduce their debt burdens. (Source: Bloomberg, MLPData, company financials).
Production Output: The Baker Hughes Rig Count increased by 54 rigs compared to last month. The rig count has risen by 308 rigs to 712 since its recent low point in May 2016 of 404 rigs. US production of crude oil rose to 8,915 in thousands of barrels produced per day in the last week of January from 8,770 at the end of December. (Source: Baker Hughes & EIA)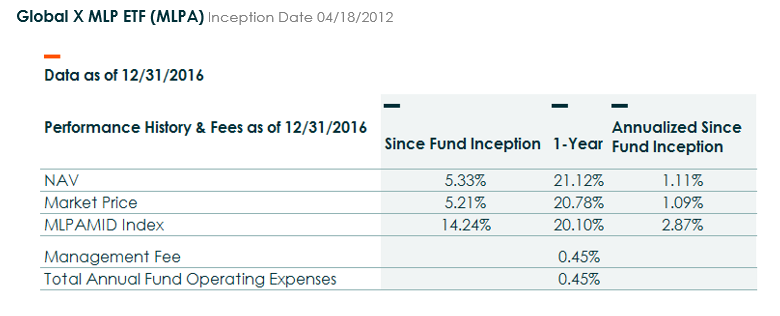 The performance data quoted represents past performance. Past performance does not guarantee future results. The investment return and principal value of an investment will fluctuate so that an investor's shares, when sold or redeemed, may be worth more or less than their original cost and current performance may be lower or higher than the performance quoted. For performance data current to the most recent month- and quarter-end, please click here
For Fund performance, please click on the fund ticker: MLPA, MLPX