MLP Monthly Report: April 2019
The April MLP Monthly Report can be found here offering insights on MLP industry news, the asset class's performance, yields, valuations, and fundamental drivers.
Summary
News:
1) Williams (WMB) and Canada Pension Plan Investment Board (CPPIB) agreed to establish a $3.8 billion joint venture (JV) in the Marcellus and Utica basins. The JV will include Ohio Valley Midstream and Utica East Ohio Midstream systems, both owned by WMB, and CPPIB will acquire a 35% ownership for an investment of approximately $1.34 billion. WMB will retain the 65% ownership and operate the JV. CPPIB's investment in the JV is expected to close by Q2 or Q3 of 2019.
2) Equitrans Midstream Corporation (ETRN) and EQM Midstream Partners, LP (EQM) announced the agreement to acquire a 60% interest in Eureka Midstream Holdings, LLC and a 100% interest in Hornet Midstream Holdings, LLC from Morgan Stanley Infrastructure Partners for $1.03 billion. Eureka is a 190-mile gathering header pipeline system and Hornet is a 15-mile, high-pressure gathering system. This strategic bolt-on acquisition is expected to close on or about April 15, 2019.
3) Private equity firm Stonepeak Infrastructure Partners agreed to acquire Oryx Midstream, the largest privately held midstream crude operator in the Permian Basin for approximately $3.6 billion in cash. Oryx has nearly 1,200 miles of in-service and under-construction pipeline and 2.1 million barrels of storage capacity in the Permian Basin.
Sources: Williams, EQM Midstream Partners, LP, Oryx Midstream Services.
Performance: Midstream MLPs, as measured by the Solactive MLP Infrastructure Index, were up by 3.97% last month. The index is up 11.13% since last March. (Source: Bloomberg)
Yield: The current yield on MLPs stands at 7.88%. MLP yields remained higher than the broad market benchmarks for High Yield Bonds (6.43%), Emerging Market Bonds (6.07%), Fixed Rate Preferreds (5.65%), and Investment Grade Bonds (3.80%).1 MLP yield spreads versus 10-year Treasuries currently stand at 5.18%, higher than the long-term average of 4.43%.2 (Sources: Bloomberg, AltaVista Research, and Fed Reserve)
Valuations: The Enterprise Value to EBITDA ratio (EV-to-EBITDA), which seeks to provide more color on the valuations of MLPs, rose 5.10% last month. Since March 2018, the EV-to-EBITDA ratio has fallen by approximately -9.01%. (Source: Bloomberg).
Crude Production: The Baker Hughes Rig Count fell last month to 1006 rigs, falling by 41 rigs from last month's count of 1047 rigs. The rig count has more than doubled since its recent low point in May 2016 of 404 rigs. US production of crude oil rose to 12.200 mb/d in the last week of March compared to 12.100 mb/d in February. (Source: Baker Hughes & EIA)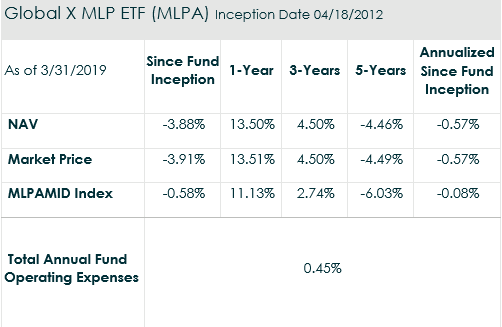 The performance data quoted represents past performance. Past performance does not guarantee future results. The investment return and principal value of an investment will fluctuate so that an investor's shares, when sold or redeemed, may be worth more or less than their original cost and current performance may be lower or higher than the performance quoted. For performance data current to the most recent month- and quarter-end, please click here
As of 03/31/2019, EQM Midstream Partners, LP (EQM) was a holding in the Global X MLP and Energy Infrastructure ETF (MLPX), with a 0.76% weighting and the Global X MLP ETF (MLPA), with a 5.14% weighting. Williams (WMB) was a holding in the MLPX ETF with an 8.32% weighting.
MLPA ETF and MLPX ETF do not have any holding in Equitrans Midstream Corporation (ETRN).