MLP Monthly Report: August 2020
The August MLP Monthly Report can be found here offering insights on MLP industry news, the asset class's performance, yields, valuations, and fundamental drivers.
Summary
News:
1) Chevron Corp (CVX) announced it will acquire Noble Energy Inc. (NBL) for $5 billion in an all-stock deal expected to close later this year. With the assumption of debt, the enterprise value of NBL is estimated at $13 billion.
2) CNX Resources Corporation (CNX) and CNX Midstream Partners LP (CNXM) announced a deal which CNX will buy each outstanding common unit of CNXM in exchange for CNX common stock at a 15% acquisition premium to the average exchange ratio over the prior 30 day trading period. The transaction is valued at approximately $357 million. The deal, requiring CNX to issue about 37 million shares, is expected to close in Q4.
3) There were no distribution cuts across midstream MLPs this distribution season, as measured by the Solactive MLP Infrastructure Index. The recovery in the energy markets from their historic lows gave midstream companies confidence to maintain distribution levels.
Sources: Reuters, Noble Energy Inc., Prnewswire, Solactive.
Performance: Midstream MLPs, as measured by the Solactive MLP Infrastructure Index, decreased 3.6% last month. The index is down by 46.87% since last July. (Source: Bloomberg)
Yield: The current yield on MLPs stands at 14.97%. MLP yields remained higher than the broad market benchmarks for High Yield Bonds (6.04%), Fixed Rate Preferreds (4.67%), Emerging Market Bonds (4.26%), and Investment Grade Bonds (1.91%).1 MLP yield spreads versus 10-year Treasuries currently stand at 14.67%, higher than the long-term average of 5.26%.2 (Sources: Bloomberg and Fed Reserve)
Valuations: The Enterprise Value to EBITDA ratio (EV-to-EBITDA), which seeks to provide more color on the valuations of MLPs, decreased by -0.16% last month. Since 2019, the EV-to-EBITDA ratio is down by approximately 12.87%. (Source: Bloomberg)
Crude Production: The Baker Hughes Rig Count reduced to 251 rigs, decreasing by 14 rigs from last month's count of 265 rigs. US production of crude oil stayed flat at 11.000 mb/d in the last week of July compared to June levels. (Source: Baker Hughes & EIA)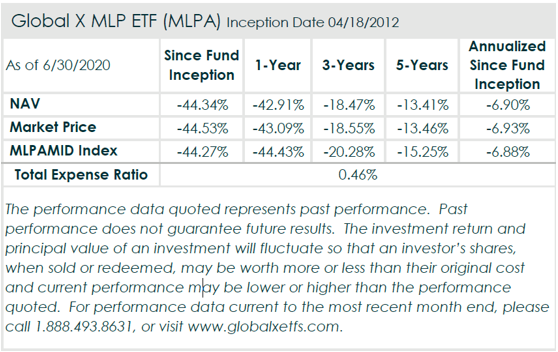 The performance data quoted represents past performance. Past performance does not guarantee future results. The investment return and principal value of an investment will fluctuate so that an investor's shares, when sold or redeemed, may be worth more or less than their original cost and current performance may be lower or higher than the performance quoted. For performance data current to the most recent month- and quarter-end, please click here
MLPX ETF and MLPA ETF do not have any holding in Chevron Corp (CVX), Noble Energy Inc (NBL), CNX Resources Corporation (CNX), and CNX Midstream Partners LP (CNXM) as of 07/31/2020.