MLP Monthly Report: February 2018
The February MLP Monthly Report can be found here offering insights on MLP industry news, the asset class's performance, yields, valuations, and fundamental drivers.
Summary
News:
1) Archrock, Inc. (AROC) and Archrock Partners, L.P. (APLP) announced an agreement in which AROC, the General Partner, would acquire the remaining public stake in APLP for about $607 million. The rollup is expected to improve the Archrock family's credit profile, simplify the capital structure, lower the cost of capital, and reduce the need for equity capital.
2) USA Compression Partners, L.P. (USAC) announced that USAC would acquire Energy Transfer Partners' (ETP) compression business in a $1.8 billion deal. As part of the complex deal, Energy Transfer Equity (ETE) will acquire all of the ownership interest in USAC's general partner (GP) and 12.5 million USAC common units for $250 million. In addition, ETE will cancel USAC's Incentive Distribution Rights (IDRs) for an additional 8 million USAC common units, making ETE's USAC GP ownership non-economic. ETP is expected to use proceeds from the transaction to reduce its debt. The deal is expected to close in the first half of 2018.
3) Spectra Energy Partners, LP (SEP) and Enbridge Inc. (ENB) agreed to an IDR buyout in which all of ENB's general partner (GP) economic interests and IDRs in SEP will be exchanged for newly issued SEP common units worth around $7.2 billion. The transaction, which eliminates all IDRs, will simplify the capital structure and reduce SEP's cost of capital.
Sources: Archrock, Reuters, Energy Transfer Partners and Spectra Energy Partners.
Performance: Midstream MLPs, as measured by the Solactive MLP Infrastructure Index, increased 6.08% last month as MLPs benefitted from the recently passed tax reform legislation and higher oil prices. The index has fallen 8.28% since last January. (Source: Bloomberg)
Yield: The current yield on MLPs stands at 7.43%. MLP yields remained higher than the broad market benchmarks for High Yield Bonds (5.78%), Fixed Rate Preferreds (5.57%), Emerging Market Bonds (5.43%), and REITs (3.99%).1 MLP yield spreads versus 10-year Treasuries currently stand at 4.71%, higher than the long-term average of 3.84%. (Sources: Bloomberg, AltaVista Research, and Fed Reserve)
Valuations: The Enterprise Value to EBITDA ratio (EV-to-EBITDA), which seeks to provide more color on the valuations of MLPs, increased 2.28% last month. Since January 2017, the EV-to-EBITDA ratio has fallen by approximately 1.36%. (Source: Bloomberg).
Crude Production: The Baker Hughes Rig Count increased last month to 947 rigs, rising by 18 rigs compared to last month's count of 929 rigs. The rig count has more than doubled since its recent low point in May 2016 of 404 rigs. US production of crude oil rose to 9.919 mb/d in the last week of January compared to 9.782 mb/d at the end of December. (Source: Baker Hughes & EIA)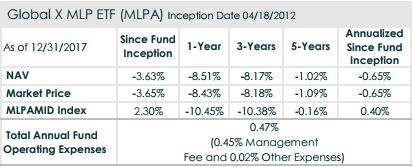 The performance data quoted represents past performance. Past performance does not guarantee future results. The investment return and principal value of an investment will fluctuate so that an investor's shares, when sold or redeemed, may be worth more or less than their original cost and current performance may be lower or higher than the performance quoted. For performance data current to the most recent month- and quarter-end, please click here