MLP Monthly Report: September 2020
The September MLP Monthly Report can be found here offering insights on MLP industry news, the asset class's performance, yields, valuations, and fundamental drivers.
Summary
News:
1) Brookfield Asset Management (BAM) announced it would acquire Blackstone Infrastructure's 41% stake in Cheniere Energy Partners (CQP). The stake was valued at $7 billion, and represents an approximate $5 billion gain for Blackstone after initially investing in CQP in 2012.
2) Delek US Holdings, Inc. (DK) and Delek Logistics Partners, LP (DKL) agreed to eliminate all incentive distribution rights (IDRs) in DKL held by its general partners (GP). The IDRs were exchanged for 14 million newly issued DKL common units and $45 million in cash. After the IDR elimination, DK will hold approximately 80% of DKL's outstanding common units.
3) The Organization of the Petroleum Exporting Countries and its allies (OPEC+) maintained its oil production cuts of 7.7 million barrels per day (bpd) in its latest meeting. As Iraq, Nigeria, Angola and Kazakhstan continue to compensate for their overproduction in May-July, it is expected that cuts from those countries will over compensate for prior months.
Sources: Reuters, Bloomberg, Analyzemarkets, Delek Logistics Partners, LP.
Performance: Midstream MLPs, as measured by the Solactive MLP Infrastructure Index, decreased 0.8% last month. The index is down by 44.07% since last August. (Source: Bloomberg)
Yield: The current yield on MLPs stands at 15.14%. MLP yields remained higher than the broad market benchmarks for High Yield Bonds (5.86%), Fixed Rate Preferreds (4.53%), Emerging Market Bonds (4.09%), and Investment Grade Bonds (2.00%).1 MLP yield spreads versus 10-year Treasuries currently stand at 14.13%, higher than the long-term average of 5.35%.2 (Sources: Bloomberg and Fed Reserve)
Valuations: The Enterprise Value to EBITDA ratio (EV-to-EBITDA), which seeks to provide more color on the valuations of MLPs, decreased by 3.12% last month. Since August 2019, the EV-to-EBITDA ratio is down by approximately 12.39%. (Source: Bloomberg)
Crude Production: The Baker Hughes Rig Count increased to 254 rigs, increasing by 3 rigs from last month's count of 251 rigs. US production of crude oil reduced to 9.700 mb/d in the last week of August compared to July levels of 11.0000 mb/d. (Source: Baker Hughes & EIA)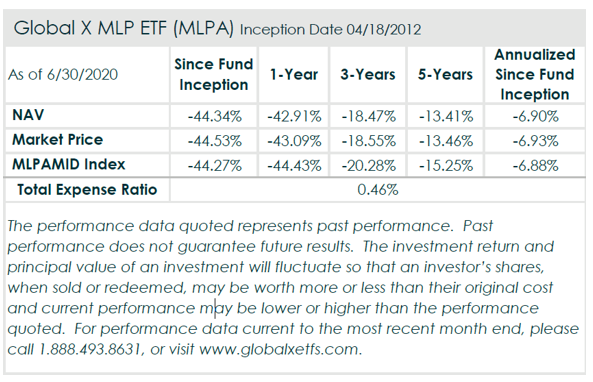 For performance data current to the most recent month- and quarter-end, please click here
As of 8/31/2020, Cheniere Energy Partners (CQP) was a holding in the Global X MLP ETF (MLPA), with a 4.61% weighting and Global X MLP and Energy Infrastructure ETF (MLPX), with a 0.71% weighting,
MLPX ETF and MLPA ETF do not have any holding in Brookfield Asset Management (BAM), Delek Logistics Partners, LP (DKL), and Delek US Holdings,Inc. (DK).