One Year In: Global X S&P 500® Catholic Values ETF
The Global X S&P 500® Catholic Values ETF recently passed its one-year anniversary, allowing us the chance to see how CATH has stacked up against the S&P 500 since inception.
CATH seeks investment results that correspond to the S&P 500® Catholic Values Index, which aims to perform similarly to the S&P 500 but avoids companies that do not adhere to socially responsible investment guidelines set by the US Conference of Catholic Bishops (USCCB). The Fund currently has 467 holdings compared to the S&P 500's 506, with the majority of the difference coming from the Health Care and Industrials sectors. In order to mitigate the differences between the S&P 500 and CATH, the Fund seeks to re-weight its sector exposure to match that of the S&P 500. The table below provides more details on these differences.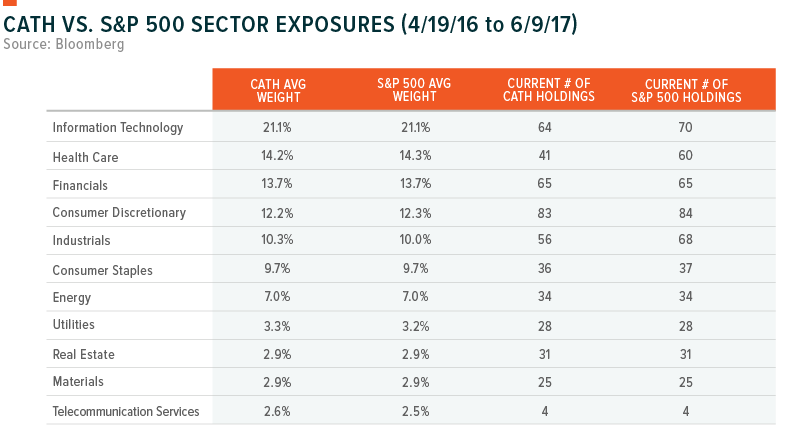 As a result of the nearly 90% overlap with the S&P 5001 and comparable sector weights, CATH has performed similarly to the S&P 500.
The performance data quoted represents past performance. Past performance does not guarantee future results. The investment return and principal value of an investment will fluctuate so that an investor's shares, when sold or redeemed, may be worth more or less than their original cost and current performance may be lower or higher than the performance quoted. For CATH performance data current to the most recent month- and quarter-end, please click here.
While many aspects of CATH are designed to be similar to the S&P 500 index, one area that may differ from popular S&P 500 index funds is the manner in which the Fund votes its proxies. Proxy voting for the Fund's holdings are conducted according to Glass Lewis & Co.'s guidelines on Catholic Policy. Glass Lewis has structured a Catholic voting policy primarily based on the principles set forth by the USCCB, which is the same set of principles used to create the filters for the S&P 500 Catholic Values Index, which CATH tracks.
For more information about the Global X S&P 500 Catholic Values ETF, click here.