China Innovation ETF (KEJI): Q2 2021 Commentary
The Global X China Innovation ETF returned 13.39% during Q2 2021. In comparison, the MSCI All China Index which serves as the benchmark for KEJI returned 4.67% over the same period. In this commentary, we will discuss the factors that influenced China's market broadly in Q2 2021 as well as the factors that drove the outperformance of KEJI during the period.
KEJI is sub-advised and actively managed by Mirae Asset Global Investments (Hong Kong) Limited. For more information on China's equity market performance in Q2 2021, please read our China Sector Report, here.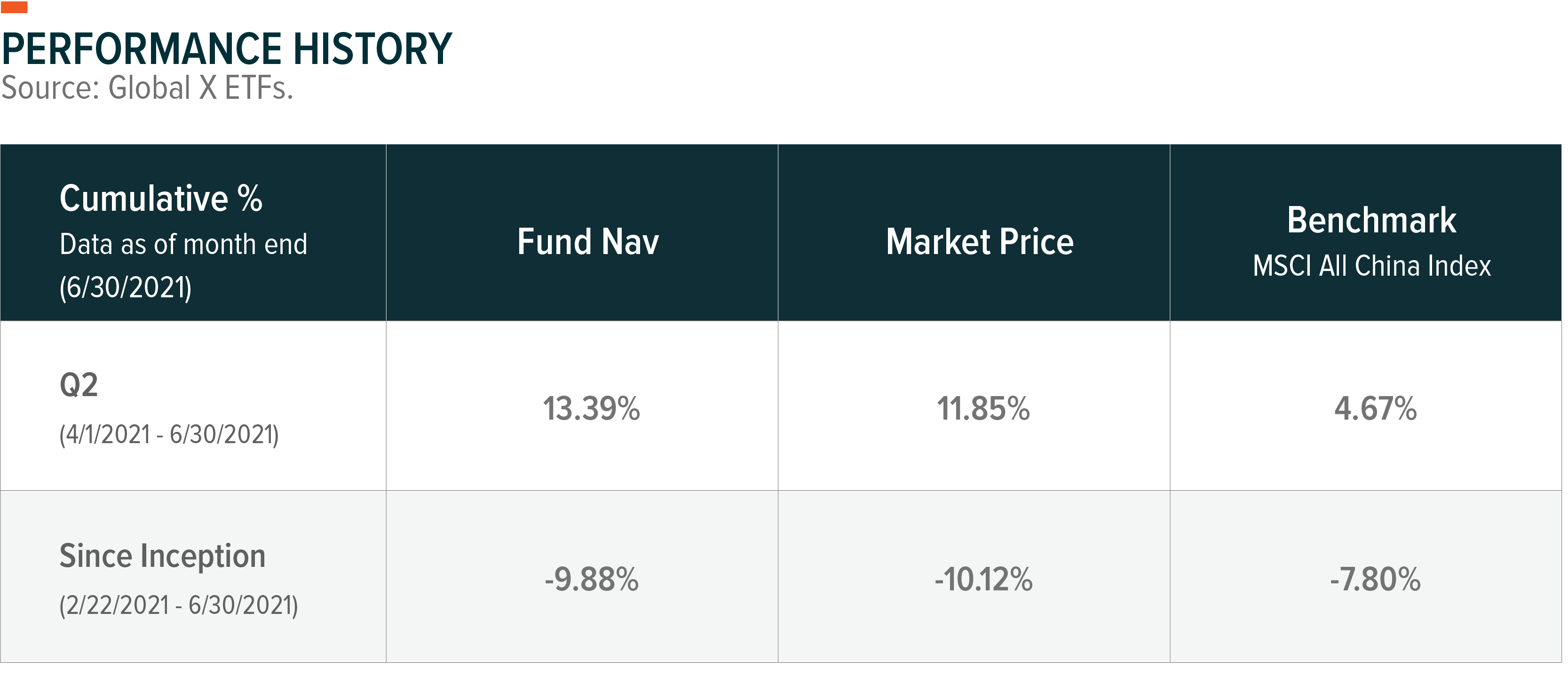 The performance data quoted represents past performance and does not guarantee future results. Investment return and principal value of an investment will fluctuate so that an investor's shares, when sold or redeemed, may be worth more or less than their original cost. Current performance may be higher or lower than the performance quoted. For performance data current to the most recent month end, please click here. Total expense ratio: 0.75%
General Market Review
China continued to recover in Q2 as the rollout of vaccinations abroad dramatically changed China's external environment. The National Bureau of Statistics announced that China grew at a pace of 7.9% year-on-year in Q2 2021.1 The significant decline from 18.3% growth in Q1 is indicative of how the recovery from the depths of the pandemic is largely behind us and growth rates are starting to normalize. Despite effectively controlling the virus, a mild COVID outbreak in the southern province of Guangdong led to congestion in key ports at the cities of Shenzhen and Guangzhou. The overall outlook for China's growth in 2021 remains positive as China proved its ability to resist shocks.
Yet despite broad growth, greater regulatory scrutiny plagued certain industries that rely on internet-based business models, such as internet lenders, e-commerce, and food delivery. The intention behind these regulations is to tackle social and/or economic issues caused by influential internet platforms. Although these platforms have driven rapid innovation in the Chinese economy, there has been much concern over anti-competitive practices, unfair treatment of workers, distribution of systemic risk and safety of sensitive data. The government put forth new regulations to address these concerns. Notably, at the same time, the government continued to show its commitment to support new burgeoning industries like Electric Vehicles (EVs) and Solar.
KEJI Portfolio Attribution
In Q2, the Autonomous & EVs theme, solar energy within the Climate Change theme and software and automation within the Robotics & AI theme performed well. In contrast, the companies reliant on internet business models, such as those within the E-Commerce theme, were a major detractor due to the previously mentioned regulatory scrutiny and the market's strong reaction to those policies.
EV auto sales increased remarkably around the world in Q2, partially due to the COVID-induced low base effect, but more importantly because of a broader trend of ICE (internal combustion engine) car models being replaced. The EV sales volume out of total car sales in the EU5 (France, Germany, Spain, United Kingdom, Italy) and China exceeded 10% in Q2, which was considered unimaginable until recently. Based on these strong EV sales, most Chinese stocks in the EV supply chain experienced strong returns, like CATL, BYD and Wuxi Lead.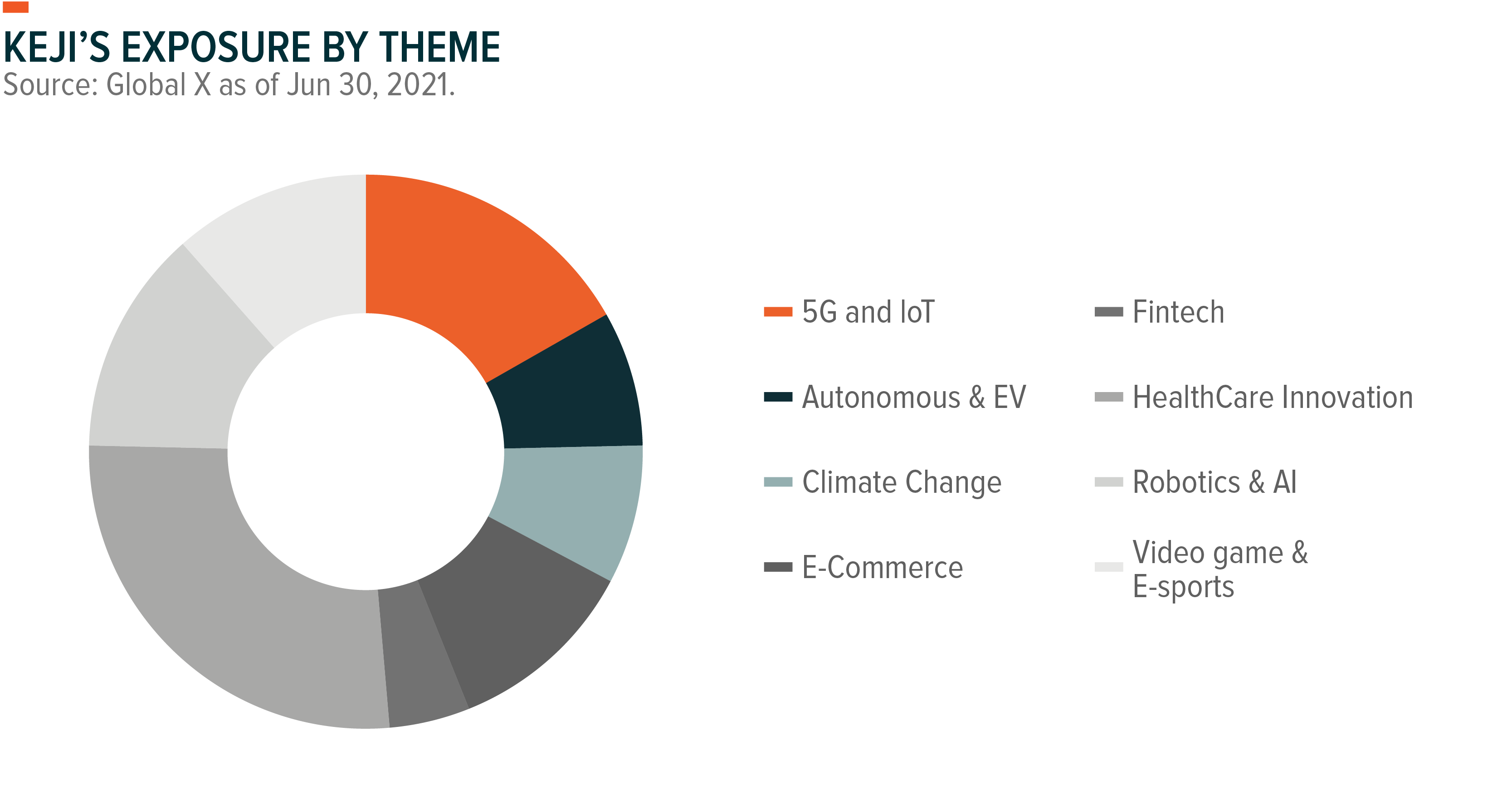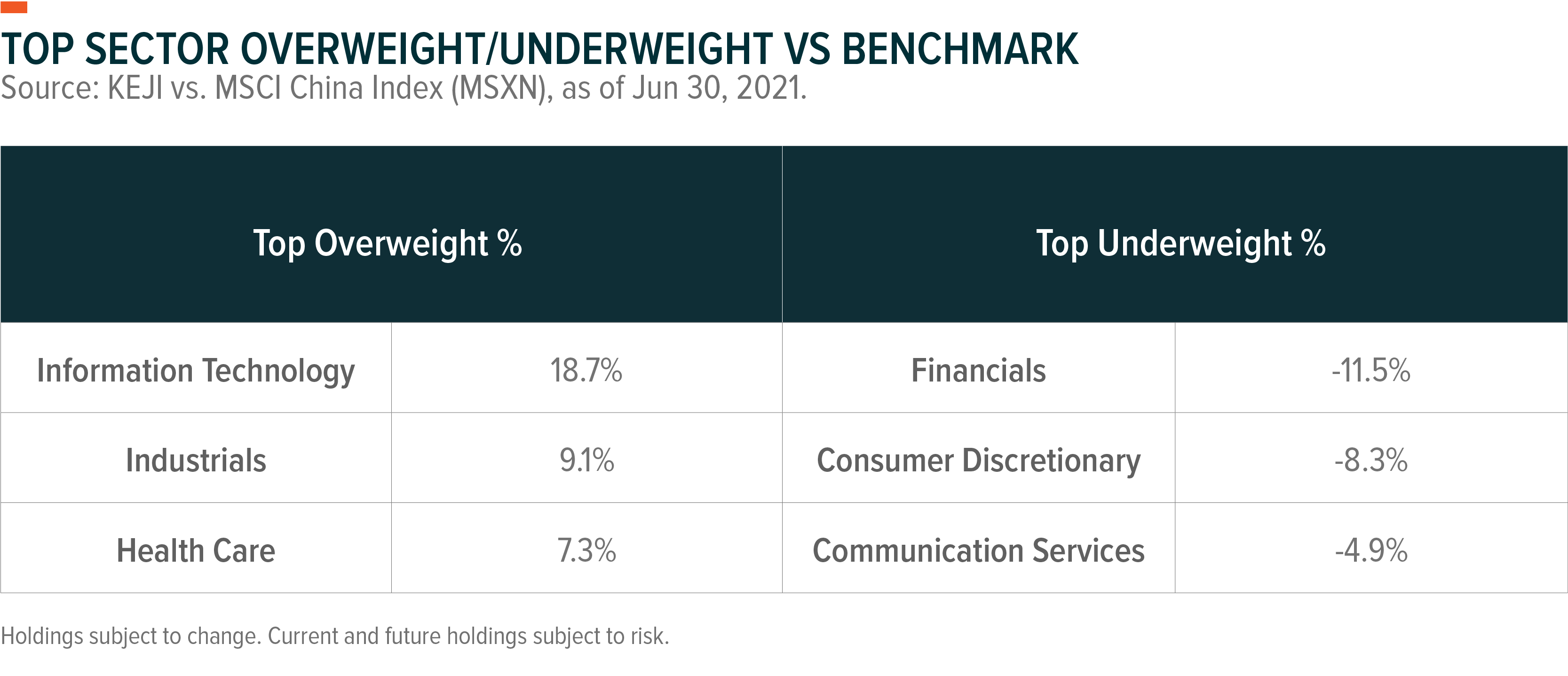 KEJI's portfolio managers focus on high growth, long term themes in China, while avoiding exposures to old economy segments. KEJI has meaningful overweights to the IT and Healthcare sectors, as these sectors tend to embrace new technology and offer value in a way that meets China's societal needs. This approach may seem strange to international observers; however, thanks to China's global competitiveness and capability in manufacturing and engineering, we are witnessing many industrial companies deliver high growth opportunities. These opportunities can be found in robotics, battery manufacturing, solar manufacturing and possibly more.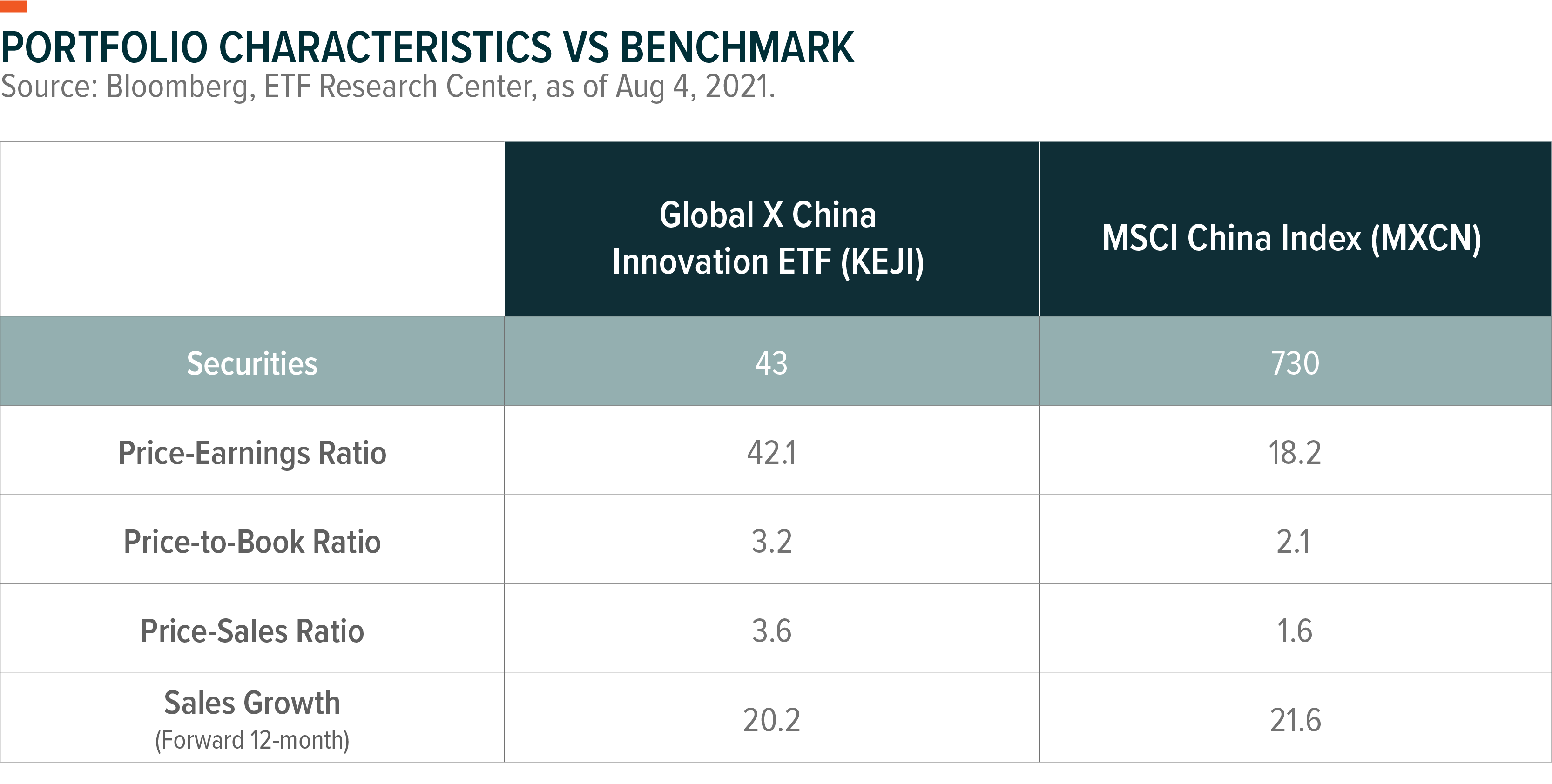 Outlook & Strategy
In the coming quarters, the portfolio managers remain particularly optimistic on the themes of Biotech, Robotics & AI, Clean Energy and Cybersecurity. Recently, they added weights on several biotech companies like Hengrui and Innovent that underperformed year to date as of the end of Q2. They are also turning positive on several internet-based companies after the massive share correction this year, and believe these companies have been over-sold in the short run.
As we enter Q3, investors understandably have questions and concerns about Chinese equities and recent regulatory trends. The portfolio managers are of the view that innovative Chinese companies will receive the support they need in the long-run. Recent regulatory moves may cut into short-term profitability for some companies, but they also create room for more innovation across the whole industry. There continues to be plenty of untapped growth opportunity in Chinese equities and regulation designed to foster competition should boost that.
Conclusion
Q2 brought opportunities and challenges for China. China remains on track to surpass its conservative goal of above 6% GDP growth in 2021. In Q2, China's vaccine rollout gained traction while the economy remained stable. China continued to pursue innovation by further rolling out its digital central bank currency, while at the same time addressing systemic risk and social costs created by monopolistic tech companies. Nonetheless, challenges began to emerge shortly after the end of Q2. Q3 started with a complex outbreak in Nanjing caused by the Delta variant, extreme weather that brought flooding to Henan province, and increased regulatory uncertainty resulting from a probe into Didi and strict controls placed on Chinese education companies. However, we continue to believe that long term tailwinds in innovation, consumer preferences, and the environment are likely to create structural growth opportunities in the world's second largest economy.
Related ETFs
Please click the fund name above for current fund holdings and important performance information. Holdings are subject to change.