Amazon turns 25 next year—a striking reminder that the e-commerce industry is no longer in its infancy. Yet despite decades of growth, we believe e-commerce still has ample opportunities to expand, and 2020 is giving us a glimpse of that growth potential. E-commerce has become the de facto shopping solution for many consumers amid the COVID-19 pandemic. Approximately 16% of retail sales in the second quarter happened online, a robust 44.5% increase from Q2 last year.1
In the medium term, e-commerce's next wave of growth is likely to come from greater penetration of retail categories that historically lagged, like groceries, health, and autos. The opportunity is significant: combined, groceries, health, and autos represented 44% of total U.S. retail sales in the first half.2 Another key growth driver includes an expanding user base, from pandemic-driven tech adopters within the Baby Boomer and the Silent Generation, as well as the continued emergence of the emerging market consumer.
Longer-term, we expect technologies like augmented and virtual reality (AR/VR), social commerce, and drone delivery to help e-commerce further narrow the gap with traditional brick-and-mortar shopping.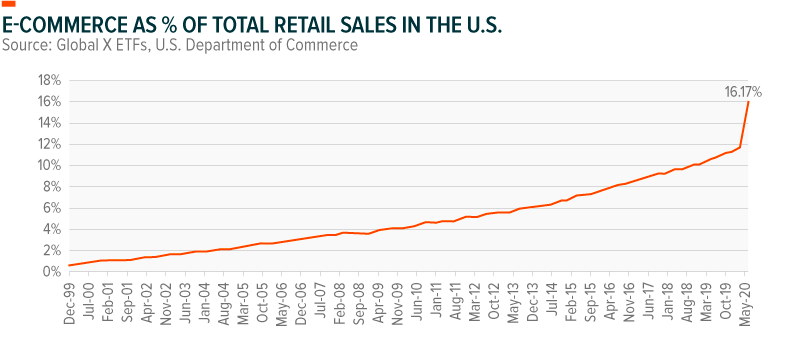 E-commerce: From Niche, to Norm, to the Stay-at-home Era
Over the course of a generation, e-commerce steadily transformed from offering predominantly books, CDs, and electronics to just about any kind of product or service that a consumer could want. Certain retail categories were primed for e-commerce from the early days. For example, it didn't take long for consumers to realize that they could find a wider range of electronics & appliances at better prices through their internet connection. E-commerce's penetration rate for electronic & appliances, including computers and related equipment, was already 14% in 2005.3 Today, the category is nearing 50%.4
Clothing also quickly moved online, with a penetration rate rising from 5% in 2005 to 25% today.5 In our recent survey, Consumer Adoption of Disruptive Technologies, 40% of survey participants reported that they were comfortable buying smaller-ticket items like clothing, shoes, and cosmetics online. In our view, it's these types of purchases that illustrate how e-commerce shopping is now a deeply-engrained habit for many consumers in certain spending categories.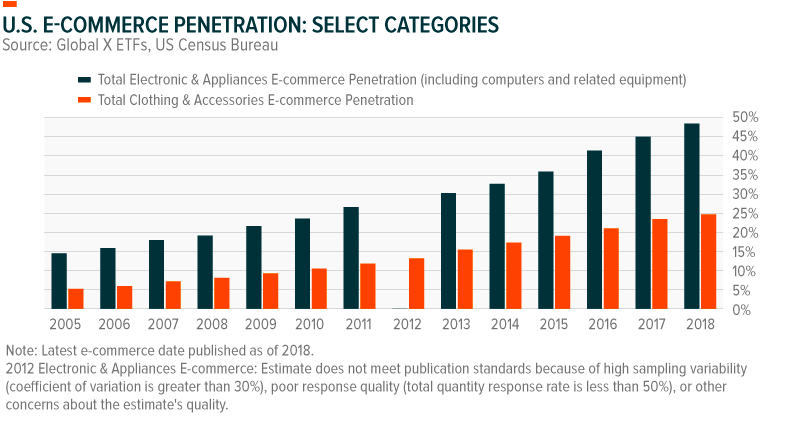 Unsurprisingly, e-commerce is particularly routine among younger generations. Many Millennials, born between 1980 and 2000, and Gen Xers, born between 1965 and 1980, favor digital marketplaces for the transparency, convenience, pre-ordering, and the ability to set recurring deliveries. Seventy-two million strong, Millennials are not only America's largest generation, but they are now the largest generation in the U.S. workforce.6] Along with Gen X's 65 million, that's 137 million people for the e-commerce industry to cater to, which it largely has.7
And it's not just size. Millennials and Gen X also have purchasing power, with average household spending for people between 25 and 54 years old ranging from $49,000 to $65,0000 on average in the U.S.8 For comparison, spending power for those in the 55 and older category is $40,000 to $57,000.9 As roughly nine out of ten Millennials have used e-commerce to buy at least one product without seeing it first in person, we expect this generation's spending power to be a key driver of e-commerce over the long term.

And now there are COVID-19's effects to consider. Before the pandemic, the e-commerce story seemed clear: It was geared towards younger, tech savvy generations and focused on specific, delivery-friendly categories, like electronics and clothing. But for many consumers, COVID-19 changed that paradigm. The pandemic accelerated broader e-commerce adoption, particularly in categories that historically lagged in online sales, with groceries and health care items moving increasingly online. Older generations realized that online shopping was not only a viable option for many of their needs, but also convenient and safe. With seniors increasingly utilizing the technology at much higher than expected rates, the trajectory for e-commerce's growth now looks quite different than it did just a few months ago.
Major Spending Categories Moving Online: Food & Beverage, Health, and Auto 
As consumers continue to adjust to a COVID-19 world, we believe that the next leg of growth could come from traditionally weak e-commerce categories. Before COVID, e-commerce's penetration rate for the food & beverage category was 2.5%, health 7.9%, and auto 2.9%.10 These three categories present e-commerce with a significant growth opportunity: combined, they represent 44% of total U.S. retail sales, or nearly $1.2 trillion in H1 2020 alone.11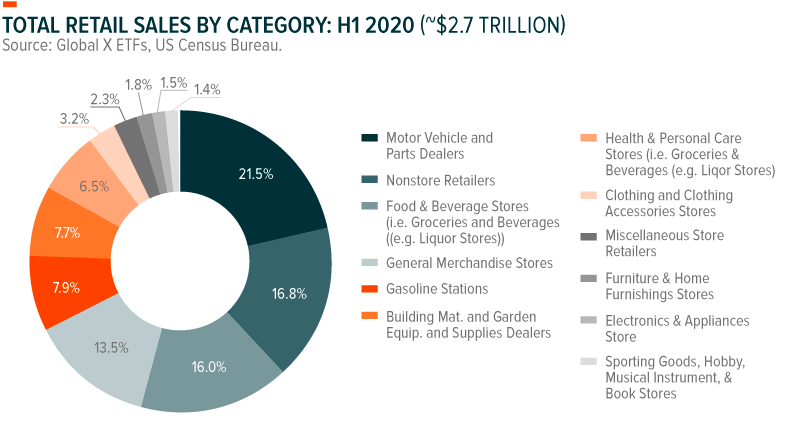 COVID-19 was something of an eye-opener. Lockdowns and stay-at-home orders pushed consumer shopping online. In a May 2020 survey, the Food Industry Association noted that 49% of grocery shoppers purchased online, with 43% of those doing it for the first time.12 More than half of consumers made one or more online purchases in the groceries & household (56%) and health & beauty (51%) categories during the pandemic.13 If these categories make further inroads online, by some estimates food & beverage could grow at a 58.5% year-over-year rate and health at 32.4%, which would make them the fastest-growing categories in e-commerce.14
Companies are scaling operations to meet this accelerated shift to online shopping. In its Q2 earnings release, Walmart announced that online sales nearly doubled from the same period last year.15 E-commerce sales accounted for only 8% of Walmart's total sales in 2019.16 Moving forward, Walmart expects e-commerce become more relevant and is expanding its online sales offerings. In June, Walmart announced a partnership to allow Shopify sellers to use Walmart's online marketplace, which has over 100 million monthly visitors.17 Then in August, Walmart teamed up with Instacart to fuel its same-day grocery delivery.18
Auto: A New Online Retail Frontier
Autos, the largest retail spending category in the U.S., can involve unpleasant and time-consuming visits to a dealership. But e-commerce adoption could threaten long-held car buying norms. Two-thirds of consumers say they are likely to buy a vehicle online, according to a Cox Automotive survey.19 But today, less than 3% of sales happen online.20
Most states still prohibit car manufacturers from selling vehicles directly to consumers, though some companies have found legal ways to circumvent regulations. For example, Tesla figured out it can sell a car in Arizona, where direct to consumer sales are allowed, and then ship the vehicle to the state where the consumer is located. 72% of U.S. car dealerships have begun offering their own online shopping experiences, and 25% of Ford's car sales are now online.21 Yet the process still frequently requires in-person pick up and paperwork. Carvana, Shift, and Vroom, a few used-car-only e-commerce platforms also bypass the traditional dealership infrastructure and go direct to the buyer and the seller, including pick-up, delivery, and paperwork. From 360-degree photography of the vehicle to detailed images and information about the vehicle's features, history, and imperfections, these companies are introducing a new shopping experience that appeals to digital consumers.
Reaching New Customers: Old Generations & Emerging Markets
Baby Boomers, ages 56 to 74, and the 75+ Silent Generation are expanding e-commerce's reach. COVID-19 forced consumers of all ages to ditch crowded physical grocery stores and pharmacies. But older generations, who are particularly vulnerable to COVID-19, have an even greater incentive to transition their food & beverage and health shopping towards safer and more convenient options.
According to a recent study, about 28% of Baby Boomers and the Silent Generation increased their online grocery purchases during COVID-19.22 We expect adoption among seniors to remain a major contributor to e-commerce's growth even after the pandemic subsides. According to the latest data from the U.S. Census Bureau of Labor Statistics, food at home represents an 8.3% share of total spending and healthcare 14.8% for the Silent Generation, showing the vast e-commerce potential for this cohort.23
With a combined base of over 3 billion Internet users, developing economies represent another large addressable market for e-commerce. China is the EM e-commerce leader, helped by the roughly 400 million consumers in its middle class, but countries such as India, Brazil, Mexico, and the African continent also have enormous potential. Across Africa, for example, governments are proactively enabling e-commerce solutions such as aggregating food distribution centers to give consumers access to food and other essentials for delivery.24 And because many of these countries are just now experiencing a rising consumer class, they are expected to bypass the traditional brick-and-mortar, big-box retail infrastructure for an online infrastructure that is much more operationally efficient.
New Technologies: Set to Propel E-commerce's Maturation
Beyond expanding the customer base, a number of emerging technologies are expected to challenge e-commerce's status quo and guide the industry toward new growth.
Social commerce, which blends social media with e-commerce, has become a vehicle for new product discovery and sales. According to a recent survey from Civic Science, 8% of Instagram users have already bought an item directly through the platform, a feature only made available in the last couple of years.25 However, social commerce is still in its early days. In the U.S., social commerce represents less than 5% of total e-commerce sales while in China that figures have already surpassed 10%.26, 27
Augmented reality and virtual reality could facilitate further e-commerce penetration by giving consumers life-like shopping experiences that digitally integrate them in their purchase. Consumers can virtually try on clothes to get the right fit, see the layout of new living room furniture, or tour a potential new home. For autos, virtual reality could replace the desire for a test drive or show customers damage on a used vehicle.
Other emerging technologies include drone delivery, which offers efficient last-mile transportation and coverage for remote areas. Fully electric and autonomous drones can deliver packages up to five pounds in 30 minutes or less.28 Amazon Prime Air drones use the latest sensors and machine-learning algorithms to detect objects in a drone's flight path, making them sophisticated enough to someday roam the skies of cities.29
Conclusion
Over the last two decades, e-commerce has emerged from a niche model to a dominant shopping experience. Despite the seemingly near ubiquity of e-commerce, a new era of growth is arriving, driven by new consumers and emerging technologies. COVID-19 helped serve as an accelerant for these drivers as many consumers had no choice but to use e-commerce for their shopping needs. In a post-COVID-19 world, we believe many of these users to stick with e-commerce for the convenience, safety, and ever-advancing technology features.
Related ETFs
EBIZ: The Global X E-commerce ETF seeks to track the Solactive E-commerce Index, which focuses on companies positioned to benefit from the increased adoption of e-commerce as a distribution model. This includes companies whose principal business is in operating e-commerce platforms, providing e-commerce software and services, and/or selling goods and services online.