On June 17th, Colombians elected conservative Senator Iván Duque to the presidency.  This was the first of three major Latin American ("Latam") presidential elections heading into the second half of 2018. Duque is set to assume office at an inflection point for Colombia and his success will be measured by his ability to grow the economy while managing the variety of challenges his country faces. In this piece, we explore many of these critical areas for Colombia, including:
The current status of the Colombian markets and the country's exposure to a rising US Dollar
Efforts to diversify the economy beyond oil
Addressing the Venezuelan crisis and unemployment
Managing the peace process with paramilitary groups
Current Status of the Colombian Markets
Prior to the election, the Colombian peso ("COP") climbed 4% year-to-date versus the U.S. Dollar.1 Some analysts suggest that the COP's stability relative to other Latam currencies, such as the Mexican Peso or Brazilian Real, has benefited from investor confidence in a Duque victory and the absence of a strong populist candidate. While such analysis may be warranted, it is certainly not the only factor in the currency's returns, as rising oil prices have provided a major tailwind. These factors have not only pushed the currency higher, but also the country's equities, with the MSCI Colombia Index outperforming the MSCI Emerging Markets Index year-to-date, as shown in the chart below.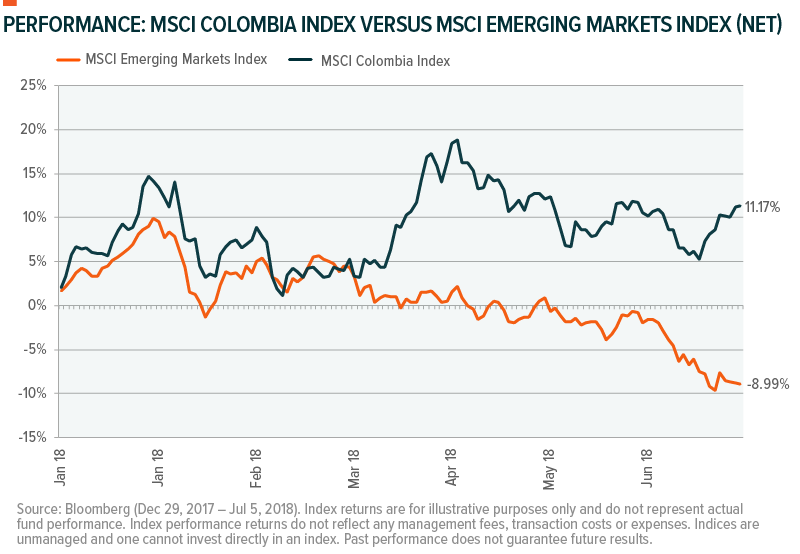 As with the broader emerging markets, Colombia is vulnerable to potentially adverse effects from rising US interest rates and a strengthening dollar. Yet Colombia may be in a more favorable position than its Latam peers considering the size and makeup of its debt. Colombia has relatively low USD-denominated debt as a percentage of its GDP compared to Argentina, Mexico, and Peru. This can help mitigate the pressures of a rising dollar on Colombia's ability to meet its payments due on outstanding bonds.
Diversifying the Economy Beyond Oil­
A topic of constant focus is diversifying Colombia's economy away from oil, most notably towards the agricultural and financial industries. Petroleum products constitute 30% of the country's total exports, providing a valuable re­­venue stream to the country, but also making the economy and currency intrinsically tied to the price of oil.2 Historically, Colombia has exhibited a 0.52 correlation with oil prices, whereas the broader emerging markets have exhibited a correlation of 0.38 to the commodity.3
In his campaign, Duque emphasized the importance of diversification to provide greater insulation from oil price fluctuations. Critical to these efforts is the extensive Fourth Generation (4G) public-private partnership infrastructure program, which includes various road and highway projects to connect remote parts of Colombia to cities, ports, and airports. Commencing in 2015, the 4G projects hope to facilitate Colombia building and integrating into global supply chains, while boosting employment, productivity, and GDP growth.
As the consensus 'market-friendly' candidate, Duque pinpointed removing regulatory burdens as critical to building a more business-friendly environment. Duque's campaign promised to simplify the tax code, reduce corporate tax rates, eliminate bureaucratic processes, introduce more sophisticated investment tools, and reduce legal barriers for foreign investments in Colombia's oil and mining sectors. Beginning in August, Duque will oversee Colombian agencies that have already made significant progress in shifting towards international banking standards. Most recently, these efforts were highlighted by proposals to adopt Basel III, which could allow Colombian banks to improve their credit profiles and provide more stability to the banking sector.4
Unlike some of his competitors, Duque advocated for the further expansion of agricultural exports as a key part of his plan to spur economic growth.5 Colombian authorities have sought to cultivate internationally competitive crops by implementing programs like the "comprehensive program for illicit crop substitution," to wean farmers off illicit crop production. Local producers hope that growth in crops like cacao or even legal cannabis can replicate the success of the flower, coffee, and banana industries, which represent nearly 15% of total exports.6, 7
Venezuelan Crisis & Unemployment
The Venezuelan crisis presents several challenges that need to be addressed to ensure minimal collateral damage on the Colombian economy. While it was generally Colombians migrating to Venezuela from 1970 – 1990, the porous border reversed migration flows during the 2000s, picking up under Chavez and following the dissolution of Venezuela's National Assembly under Nicolas Maduro.8 Estimates on the number Venezuelan migrants in Colombia today range from around 600,000 to over one million. 9, 10 These migrants tend to cluster in cities across Colombia, from Cucuta – a small city close to the border with one of the country's highest unemployment rates and drug-related violence – to Bogota, which is one of Latin America's largest cities by population and GDP.
This population surge forces Colombia to contend with migration and immigration issues mirroring those in Western Europe and the US, including cross-border smuggling, integration and employment challenges, and political instability tied to the diversion of government expenditures. Unlike developed countries, however, the situation in Colombia is especially complex given the fragility of a developing economy and ongoing peace process.
In April, Colombia reported a 9.5% unemployment rate, but given that the country's last census (in 2005) preceded the mass migration of Venezuelans, current unemployment levels may be understated.11 Structurally, unemployment in Colombia has always been relatively high. Even in strong growth years, like from 2003 – 2010, Colombian unemployment averaged 12.2%.12 These numbers have been inflated by 60+ year civil conflict as well as an expansive informal sector and the gradual nature of labor adjustments as Colombia moves towards a more service-based economy.
Migrants from Venezuela are likely to further inflate unemployment figures unless effective policies can be put in place to absorb this additional labor. Duque's approach to the crisis is calibrated but supportive; while he proposed a homologation program for Venezuelan university graduates in Colombia, he also emphasized the importance of establishing standardized migration protocols to minimize disruption on the domestic labor force.13
If managed effectively, Colombia could turn a humanitarian crisis into an economic opportunity by successfully integrating immigrants into the workforce. These actions, in addition to improving labor productivity, combating informal sector persistence, and removing labor market rigidities, could help fuel the country's economic development over the long run.
Managing the Peace Process
Critical to Duque and Colombia's success will be the President's approach to managing the ongoing peace process and reintegration of rebel groups within the country. The 2016 peace accord and subsequent disarmament of FARC, which traditionally controlled the production and distribution of narcotics, effectively reduced controls on the illicit drug trade and created a power vacuum for other rebel groups. Recently, violence and coca production both surged after aerial fumigation operations ended and the FARC were granted extensive political and immunity concessions under the November 2016 peace accord.
Duque has agreed that reintroducing fumigation could be a viable solution if adverse health effects were minimized and spraying operations optimized. Duque has also indicated that strengthening relationships with Colombia's northern neighbors is crucial to reducing narcotrafficking.
Reintegration efforts of rebels and concessions granted under the peace process were contentious and precipitated retaliatory actions by rebel groups excluded from the talks, including the ELN. 14 While Duque campaigned on reevaluating some of these concessions and expanding the peace process, the situation remains. Yet striving for peace should remain a top-agenda item for the government as an unprecedented period of order may pay significant dividends for the country's growth prospects.
Conclusion
While waiting to assume office, Duque's pragmatic and pro-market rhetoric has excited many investors who see enormous potential in Colombia. Should he fulfill his campaign promises and demonstrate prudent management of social, political, and economic issues, Duque could be well-situated to help Colombia continue its path of development and become a regional powerhouse within Latin America.
Related ETFs: The Global X MSCI Colombia ETF invests in among the largest and most liquid securities with exposure to Colombia.