Summary
The Global X U.S. Preferred ETF (PFFD) seeks to provide broad access to the US preferred asset class with an expense ratio of 0.23%, while the ETF.com category average for 'Fixed Income: U.S. – Corporate Preferred Stock' was 0.48% as of 8/31/2017.1
Preferreds offer high yield potential to investors, with the asset class currently yielding 5.40%
PFFD, with broad benchmark-like exposure, joins the high income-seeking Global X SuperIncomeTM

Preferred ETF in Global X's family of preferred funds
A Low Cost Preferred Stock ETF
On September 13th, Global X launched the Global X U.S. Preferred ETF (PFFD), the 12th ETF in our Income suite, and the second focused on preferred stocks. PFFD is designed to provide broad access to the US preferred market with an expense ratio of 0.23%, while the ETF.com category average for 'Fixed Income: U.S. – Corporate Preferred Stock' was 0.48% as of 8/31/2017. PFFD tracks the BofA Merrill Lynch Diversified Core U.S. Preferred Securities Index, which includes fixed, floating, and convertible, preferred securities. The index is market-capitalization weighted, while capping individual issuers at 10%.
In an environment where interest rates remain stubbornly low around the world, we believe that preferreds can help investors improve the yield of their portfolios. As of August 31, fixed rate preferreds, for example, yielded 5.40%, which is a higher yield figure than some traditional income generating asset classes like investment grade bonds and REITs. The income received from preferred stock can be particularly attractive because it is often classified as qualified dividend income (QDI), which is taxed at a lower rate than ordinary income.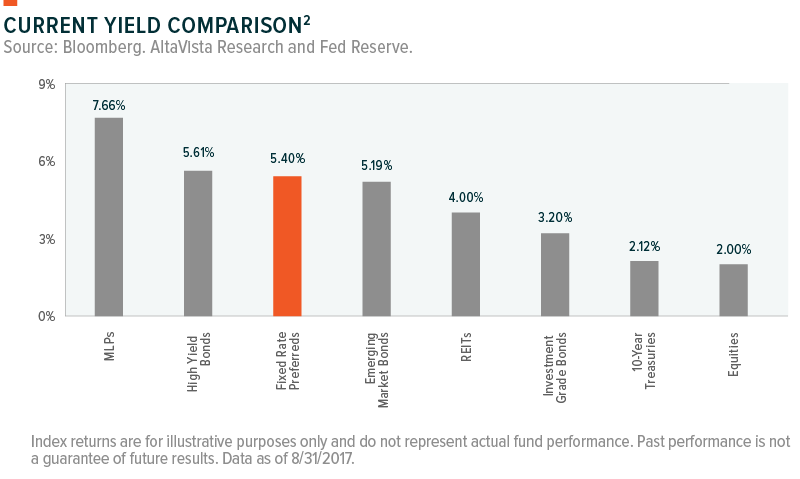 PFFD joins the five year old Global X SuperIncome Preferred ETF (SPFF) in our family of preferred-focused ETFs. PFFD is intended to provide benchmark-like exposure to the preferred space, while SPFF targets the higher yielding segment of the preferred market. The table below provides additional information on the two funds.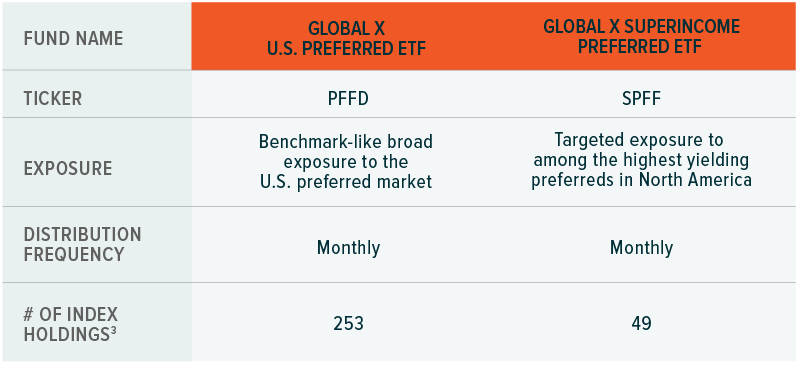 More on Preferreds
Preferreds have unique characteristics that impact their yield, risks, and taxation. For more information on preferreds, please read this linked blog post.
In addition, we recently wrote about the bond markets and found that preferreds have been one of the best performing segments year to date (as of 8/14/2017).
Related Funds
PFFD: The Global X U.S. Preferred ETF invests in a broad basket of preferred securities in the United States.
SPFF: The Global X SuperIncome™ Preferred ETF invests in 50 of the highest yielding preferred stocks in North America.
Performance for each fund as of the most recent month- and quarter-end is available by clicking the name above.