Long-Term Outlook for Robotics Unchanged Despite Challenging 2018
While BOTZ's performance suffered in 2018, we remain as confident as ever in the long-term growth prospects for the global robotics industry and its potential to transform the global economy.  In this blog post, we discuss the recent headwinds that affected 2018 returns, as well as provide an outlook on the key drivers and long-term growth trajectory of the robotics space in the years ahead.
Growth Expectations Provided Performance Headwind in 2018
After exceptional 2017 performance, the robotics industry began 2018 with high growth expectations. Yet by February, these targets were already being challenged by near-term macroeconomic concerns. A cyclical slowdown in the global auto and cell phone industries, exacerbated by prolonged uncertainty surrounding the tit-for-tat trade war between the United States and China, as well as slowing global growth, caused many to reevaluate their near-term forecasts.
At the center of this was the industry's X-factor: China. Spending approximately $36bn in 2018, it easily ranks as the top purchaser of robotics in the world.1 For comparison, the United States, the second largest purchaser, is expected to have spent $12bn over the same period.2 Chinese firms typically employ these robots in value-add manufacturing, seeking to improve efficiency and quality while reducing costs. This dynamic has become particularly important as urban wages in China have risen by approximately 9.6% annually over the last 8 years.3
Despite demographic tailwinds and government initiatives, like the Made in China 2025 plan to accelerate robotics adoption, near term fluctuations in global growth and exports impacted the growth rate of Chinese robot purchases. In 2017, robotics shipments grew by approximately 59% in China, driven by a strong macro-economic backdrop. Yet in 2018, estimates suggest growth slowed to 20%—still a high overall growth figure for an enormous market, but still less than 2017's torrid pace.4
The impact of this slowing growth rate was felt most prominently by the world's largest producer of robots, Japan. Japan currently maintains 90% market share in vital industrial robotics components, and Prime Minister Shinzo Abe has announced plans to quadruple the country's robotics sector into a $20bn industry by 2020. Still, as core suppliers for a robot-hungry China, Japanese industrial automation companies have been hurt particularly hard by fears of a late economic cycle. Japanese firms contributed to 55% of YTD negative performance in the Global X Robotics & Artificial Intelligence ETF (BOTZ).
The standardized and most recent month-end performance for BOTZ can be found by clicking here. The performance data quoted represents past performance. Past performance does not guarantee future results.
While sales growth may have slowed, the improving Japan-China relationship was a bright spot for robotics. In September, the two countries announced a cooperative agreement to develop advanced technologies including self-driving vehicles and artificial intelligence (AI). A month later, Prime Minister Abe and General Secretary Xi Jinping hosted the first official visit between the two heads of state in seven years with an agreement to begin additional discussions regarding technology, IP, and joint-infrastructure projects.
Back in the US, one less business-cycle dependent space bucked the trend: healthcare robotics, which are used in areas ranging from medical exoskeletons to surgical devices. The medical robotics market is expected to hit nearly $17bn by 2023, up from $6.5bn in 2018, with a compound annual growth rate (CAGR) of 21%.5
Overall, negative performance in the robotics & artificial intelligence space combined with earnings growth has driven valuations to levels well below historical multiples.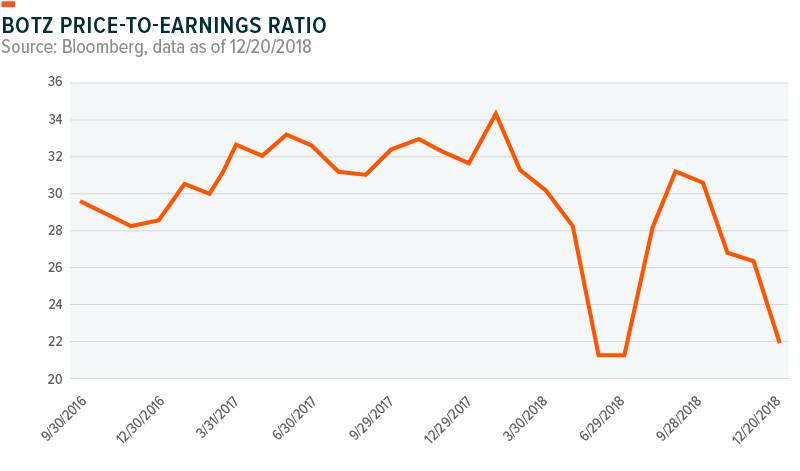 2019 and Beyond
As is typical following a selloff, investors may be questioning whether the robotics and AI space presents a compelling entry point or whether it will continue to face headwinds in 2019. While the answer in the short term is unknowable, we discuss below a handful of key robotics trends to watch in 2019, which may help propel a pivotal year for the industry.6
Strong US Capex growth: The US is the second largest robotics market, following China. And while the US economy is entering late stage in the business cycle, capex growth is expected to remain robust in 2019 at approximately 8-10% among US capital goods producers.7 This suggests that manufacturers are keen to invest in new equipment, much of which is likely to be directed towards automation to reduce future expenses. Industrial producers are also enjoying incentives to increase their capex spending through the Tax Cut and Jobs Act's (TCJA) five-year bonus depreciation provision, which allows businesses to immediately expense the full cost of short-lived capital expenditures.
Commercial drones fly high: Drones make up a small, yet rapidly growing share of the overall robotics market. Businesses across a variety of industries have begun implementing commercial drones into their daily processes. Improvements in software capabilities like analytics have made drones more attractive for inspection services, such as assessing damaged property after a hurricane for insurers or measuring crop-moisture levels on a farm for large agriculture producers. The Federal Aviation Association (FAA) in the U.S. has been working closely with businesses to provide waivers for commercial use and will continue to manage the regulatory environment as adoption scales.
More autonomous vehicles (AVs) enroll in driver's ed: From large automakers like Toyota and Daimler to software-led challengers like Waymo and Uber, the race to produce Level 5 AVs, or those that are fully automated without a need for human input, is underway. In 2019 more AVs are expected to appear on the road to test their driving skills, most commonly in controlled environments. Autonomous delivery vehicles, trucks and shuttle services may progress more quickly than passenger-focused AVs, as automakers continue to develop safeguards for consumer passengers.
Mobile robots gain traction : While AVs often receive more attention, mobile robots, which often manage warehouse operations or supply chain services, are increasingly in demand. The tightening labor market and competitive pressures to improve productivity are driving adoption, even in industries like healthcare, construction, and hospitality. Mobile robots may soon be responsible for transferring materials at large constructing sites, delivering medications in hospitals or trading dirty towels for clean ones in hotels.
Industry consolidation ramps up:

 As robotics is still an early growth stage market, there are many opportunities for consolidation. Suppliers are still learning what metrics drive success in the market – is it, for instance, precision or programmability, and which use cases favor either? Mergers and acquisitions may help companies integrate their products and services and leverage the advantages of a technology ecosystem, such as greater software capabilities and a centralized management platform.
Conclusion
While it's tempting to focus on the recent volatility in financial markets, the fundamentals and valuations for the global robotics industry remain compelling. Spend on robotics is expected to have reached a record high of $98bn in 2018 and estimates project total spend to reach $210bn by 2022 with a CAGR of 20%.8 Also, a record high of 421,000 industrial robots were shipped globally in 2018, and at least 630,000 units shipped per annum are expected by 2021.9 Yet despite these records and strong growth forecasts, valuations in the robotics industry are among the lowest they've been in the last two and a half years.
Looking forward, technological progress is expected to continue at a rapid pace as companies pour R&D resources into furthering the fields of mechanical engineering and artificial intelligence. The desire for increased productivity and lower costs, while seeking to mitigate widespread demographic challenges such as ageing populations, should fuel continued adoption for the foreseeable future. In addition, new capabilities are expected to fuel additional growth with increasing robotics usage in metals and mining, healthcare, food and beverage and hospitality. As innovation continues, we expect robotics will spill over into more aspects of daily life and the global economy, helping to sustain the long-term growth of the industry.
Related ETFs
BOTZ: The Global X Robotics & Artificial Intelligence ETF seeks to invest in companies that potentially stand to benefit from increased adoption and utilization of robotics and artificial intelligence (AI), including those involved with industrial robotics and automation, non-industrial robots, and autonomous vehicles.