MLP Monthly Report: August 2021
The August MLP Monthly Report can be found here offering insights on MLP industry news, the asset class's performance, yields, valuations, and fundamental drivers.
The latest quarterly MLP Insights piece providing analysis into the midstream space can be found here as well.
Summary
News:
1) Oil majors Royal Dutch Shell (RDS.A) and BP PLC. (BP) announced an increase in the distribution per share and share-buyback program. BP increased its dividend by 4% and Shell increased it by 38% from last quarter. BP will also buy back $1.4 billion worth of its own shares in Q3 2021, while Shell will buy back $2 billion worth by the end of 2021.
2) Pembina Pipeline Corporation (PBA) abandoned its proposed agreement to acquire Inter Pipeline Ltd after Inter Pipeline's board of directors advised it would no longer recommend shareholders support the deal. Inter Pipeline agreed to pay C$350 million as a termination fee, per the agreement. PBA's management said they would continue to look for growth opportunities by focusing on acquisitions.
3) Kinder Morgan, Inc. (KMI) plans to acquire renewable natural gas developer Kinetrex Energy for $310 million from an affiliate of Parallel49 Equity to increase green energy exposure. The deal includes two domestic LNG production and fueling facilities, a 50% interest in a landfill RNG facility, and three additional RNG facilities with signed commercial arrangements.
Sources: Reuters, CNBC, Pembina Pipeline Corporation, Kinder Morgan, Inc.
Performance: Midstream MLPs, as measured by the Solactive MLP Infrastructure Index, decreased 6.17% last month. The index has increased by 56.88% since last July. (Source: Bloomberg)
Yield: The current yield on MLPs stands at 8.21%. MLP yields remained higher than the broad market benchmarks for High Yield Bonds (4.64%), Fixed Rate Preferreds (4.06%), Emerging Market Bonds (3.98%), and Investment Grade Bonds (1.97%).1 MLP yield spreads versus 10-year Treasuries currently stand at 6.63%, higher than the long-term average of 5.73%.2 (Sources: Bloomberg and Fed Reserve)
Valuations: The Enterprise Value to EBITDA ratio (EV-to-EBITDA), which seeks to provide more color on the valuations of MLPs, decreased by 2.87% last month. Since July 2020, the EV-to-EBITDA ratio is down by approximately 1.11%. (Source: Bloomberg)
Crude Production: The Baker Hughes Rig Count increased to 488 rigs, increasing by 18 rigs from last month's count of 470 rigs. US production of crude oil increased to 11.200 mb/d in the last week of July compared to June levels of 11.100 mb/d. (Source: Baker Hughes & EIA)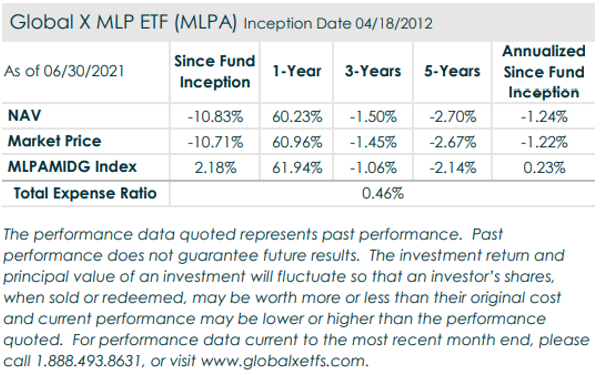 For performance data current to the most recent month- and quarter-end, please click here
As of 7/31/2021, Pembina Pipeline Corporation. (PBA) was a holding in the Global X MLP & Energy Infrastructure ETF (MLPX) with a 4.73 % weighting. Kinder Morgan, Inc. (KMI) was a holding in the Global X MLP & Energy Infrastructure ETF (MLPX) with a 8.61% weighting.
MLPA ETF and MLPX ETF do not have any holding in Royal Dutch Shell (RDS.A) and BP PLC. (BP).