The December MLP Monthly Report can be found here offering insights on MLP industry news, the asset class's performance, yields, valuations, and fundamental drivers.
The latest quarterly MLP Insights piece providing analysis into the midstream space can be found here as well.
Summary
News:
1) OPEC+ agreed to maintain their existing plan to raise oil output by 400,000 barrels per day (bpd) in January. Although oil prices have declined from their three-year high on concern of the new COVID-19 variant, Omicron, impacting the global economic recovery, OPEC+ still decided to move ahead with the policy.
2) The U.S., along with India, China, Japan, South Korea, and the UK, announced coordinated release of oil from reserves to counter accelerating inflation. The U.S. is set to release 50 million barrels of oil from its strategic petroleum reserve.
3) Energy Transfer LP (ET) completed its acquisition of Enable Midstream Partners LP (ENBL), allowing Energy Transfer to own and operate more than 114,000 miles of pipelines and related assets in all of the major US producing regions. Additionally, the combined entity is expected to generate more than $100 million in efficiency gains, excluding potential financial and commercial synergies.
Sources:  Reuters, CNBC, Businesswire.
Performance: Midstream MLPs, as measured by the Solactive MLP Infrastructure Index, decreased 7.66% last month. The index increased by 38.19% since last November. (Source: Bloomberg)
Yield: The current yield on MLPs stands at 8.73%. MLP yields remained higher than the broad market benchmarks for High Yield Bonds (5.14%), Emerging Market Bonds (4.58%), Fixed Rate Preferreds (4.36%) and Investment Grade Bonds (2.33%).1 MLP yield spreads versus 10-year Treasuries currently stand at 6.85%, higher than the long-term average of 5.76%.2 (Sources: Bloomberg and Fed Reserve)
Valuations: The Enterprise Value to EBITDA ratio (EV-to-EBITDA), which seeks to provide more color on the valuations of MLPs, decreased by 3.13% last month. Since November 2020, the EV-to-EBITDA ratio is up by approximately 2.38%. (Source: Bloomberg)
Crude Production: The Baker Hughes Rig Count increased to 569 rigs, increasing by 25 rigs from last month's count of 544 rigs. US production of crude oil increased to 11.600 mb/d in the last week of November compared to October levels of 11.500 mb/d. (Source: Baker Hughes & EIA)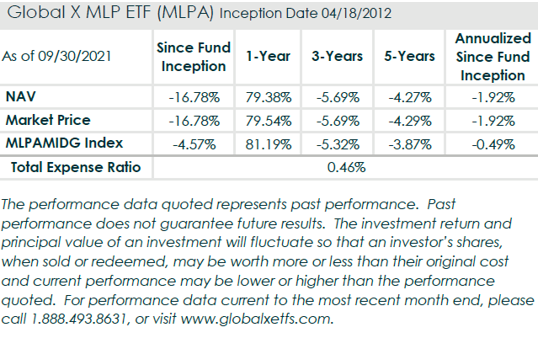 For performance data current to the most recent month- and quarter-end, please click here
As of 11/30/2021, Energy Transfer, L.P. (ET) was a holding in the Global X MLPA ETF (MLPA) with an 8.97% weighting and MLPX ETF with a 4.39% weighting. Enable Midstream Partners, L.P. (ENBL) was a holding in the Global X MLP & Energy Infrastructure ETF (MLPX) with a 0.26 % weighting.