MLP Monthly Report: October 2021
The October MLP Monthly Report can be found here offering insights on MLP industry news, the asset class's performance, yields, valuations, and fundamental drivers.
The latest quarterly MLP Insights piece providing analysis into the midstream space can be found here as well.
Summary
News:
1) OPEC+ plans to ramp up its production by 400,000 barrels per day (bpd) in November, sticking to its existing policy of a gradual output increase for the third month in a row, sending crude prices to 7-year high s. Concerned with rising prices, the U.S. has been urging oil-producing countries to increase production.
2) Kinder Morgan, Inc. (KMI) has partnered with Neste, a renewable and circular solutions provider, for creating low-carbon infrastructure solutions in storage and logistics hubs in the U.S. The partnership will support the increased production of renewable diesel, sustainable aviation fuel, and renewable feedstock for polymers and chemicals.
3) U.S. midstream giant Williams (WMB) has signed a memorandum of understanding (MOU) with Denmark's Ørsted to explore the potential development for hydrogen or synthetic natural gas facilities powered by renewable energy in the U.S. The partners aim to leverage Ørsted's renewables and hydrogen expertise with William's natural gas infrastructure and processing experience.
Sources: Reuters, Kinder Morgan, Inc.,Ørsted
Performance: Midstream MLPs, as measured by the Solactive MLP Infrastructure Index, increased 3.06% last month. The index has increased by 81.19% since last September. (Source: Bloomberg)
Yield: The current yield on MLPs stands at 8.21%. MLP yields remained higher than the broad market benchmarks for High Yield Bonds (4.68%), Fixed Rate Preferreds (4.07%), Emerging Market Bonds (4.22%), and Investment Grade Bonds (2.17%).1 MLP yield spreads versus 10-year Treasuries currently stand at 6.11%, higher than the long-term average of 5.75%.2 (Sources: Bloomberg and Fed Reserve)
Valuations: The Enterprise Value to EBITDA ratio (EV-to-EBITDA), which seeks to provide more color on the valuations of MLPs, increased by 1.72% last month. Since September 2020, the EV-to-EBITDA ratio is up by approximately 8.57%. (Source: Bloomberg)
Crude Production: The Baker Hughes Rig Count increased to 521 rigs, increasing by 13 rigs from last month's count of 508 rigs. US production of crude oil decreased to 11.100 mb/d in the last week of September compared to August levels of 11.500 mb/d. (Source: Baker Hughes & EIA)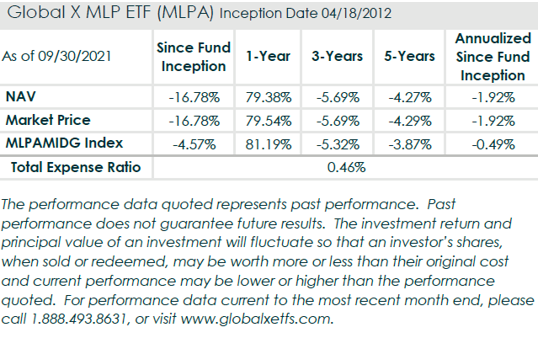 For performance data current to the most recent month- and quarter-end, please click here
As of 9/30/2021, Kinder Morgan, Inc. (KMI) was a holding in the Global X MLP & Energy Infrastructure ETF (MLPX) with an 8.44 % weighting. Williams (WMB) was a holding in the MLPX ETF with an 8.09 % weighting.
MLPA ETF and MLPX ETF do not have any holding in Neste (NTOIY) and Orsted (DNNGY).