The low-carbon hydrogen market is growing quickly as government policy support ramps up and production scales to help mitigate climate change. Low-carbon hydrogen, particularly green and blue hydrogen, can be used to decarbonize a range of hard-to-electrify activities, such as heating, refining, fertilizer production, and transport. With such versatility, by the end of the decade low-carbon hydrogen could account for around 25% of total hydrogen production, a significant increase from a less than 1% share in recent years.1 In the process, we expect low-carbon hydrogen's adoption to create compelling investment opportunities throughout the hydrogen value chain and related industries.
Key Takeaways
Global hydrogen demand is forecast to increase from 94 million tonnes (mt) in 2021 to 115–130mt by 2030 due to the increasing use of hydrogen as a pathway for reducing greenhouse gas emissions.2
The low-carbon hydrogen project pipeline is developing rapidly due to increasing focus on green and blue hydrogen production and the creation of strategically located hydrogen hubs.
We expect electrolyzer manufacturers, fuel cell producers, and renewable energy developers to be among the companies that can benefit as the low-carbon hydrogen market expands.
Reaching Net Zero Emissions Requires Low-Carbon Hydrogen Solutions
Hydrogen has immense potential as a sustainable energy carrier because it is three times more energy dense than gasoline and provides energy without direct emissions.3,4 Further setting hydrogen apart from other fuel sources such as natural gas is that hydrogen's production methods can be environmentally friendly. In particular, zero-emissions green hydrogen is produced through electrolyzers powered by renewable energy. Low-emissions blue hydrogen is produced through a process of steam methane reforming (SMR) with carbon capture, utilization, and storage (CCUS) technology.
Considering current government climate pledges, the International Energy Agency (IEA) forecasts total hydrogen demand could grow nearly 40% to reach 130mt by 2030.5 Low-carbon hydrogen production could meet over a quarter of this demand.6 However, to stay on track with targets for net zero global emissions by 2050, global hydrogen demand and low-carbon hydrogen production must speed up. In a net zero-emissions scenario, hydrogen demand needs to hit 180mt by 2030, with over half being supplied by green and blue hydrogen.7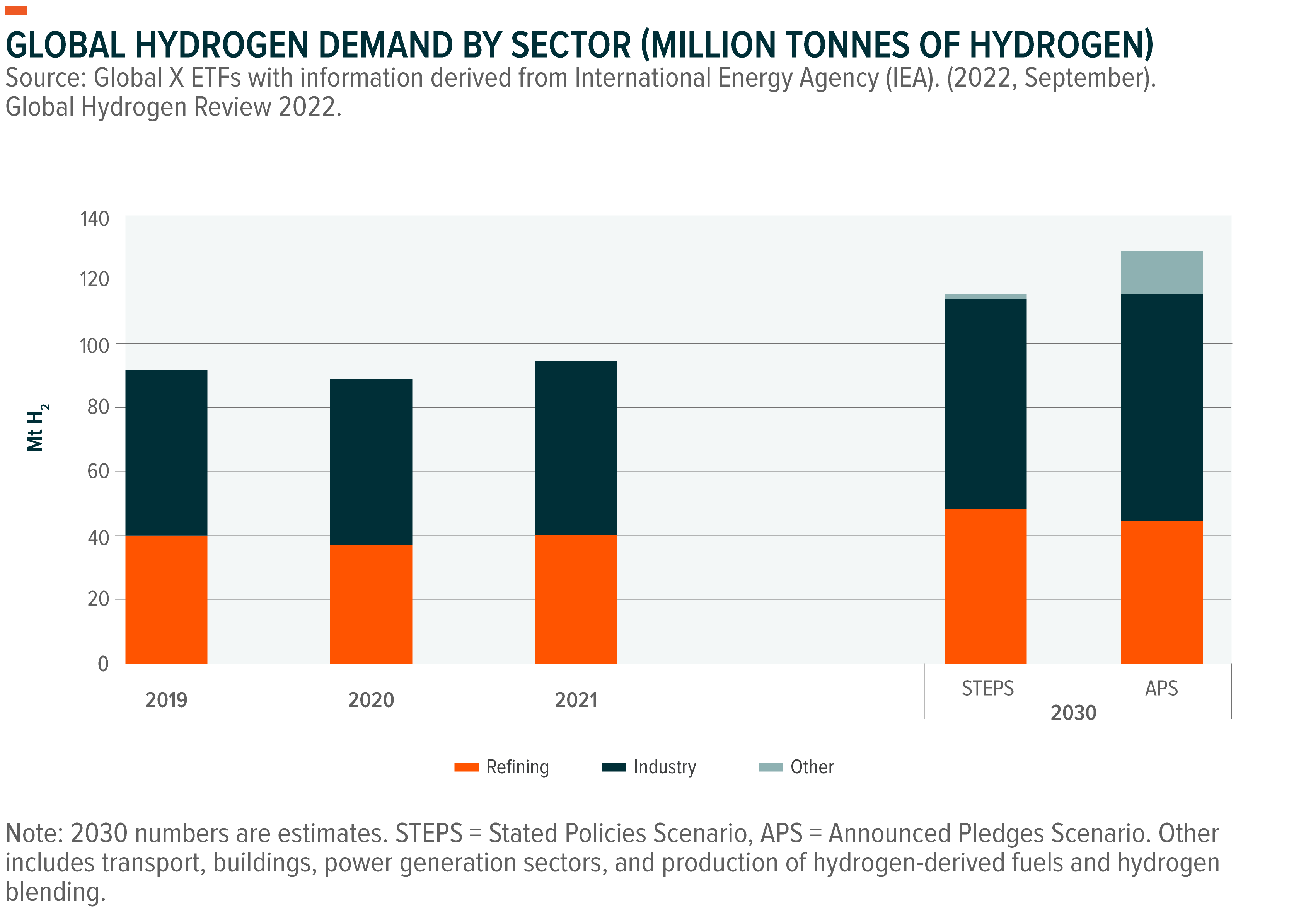 Hydrogen demand is expected to come from various use cases. Currently, hydrogen is primarily used as an input in industrial process such as petrochemical refining and ammonia fertilizer production. Low-carbon hydrogen can be used to decarbonize these activities and produce additional chemicals and products such as green steel and plastics. For green steel, low-carbon hydrogen production is forecast to grow from less than 0.2mt in 2022 to nearly 1.8mt by 2030.8
In the transport sector, we expect hydrogen's greatest potential to be in decarbonizing long-haul transport and heavy industry. In the power sector, momentum is increasing for blending hydrogen into existing power system infrastructure and using it as a long-duration energy storage solution. Hydrogen also presents a pathway for decarbonizing heating systems in industrial, commercial, and residential buildings.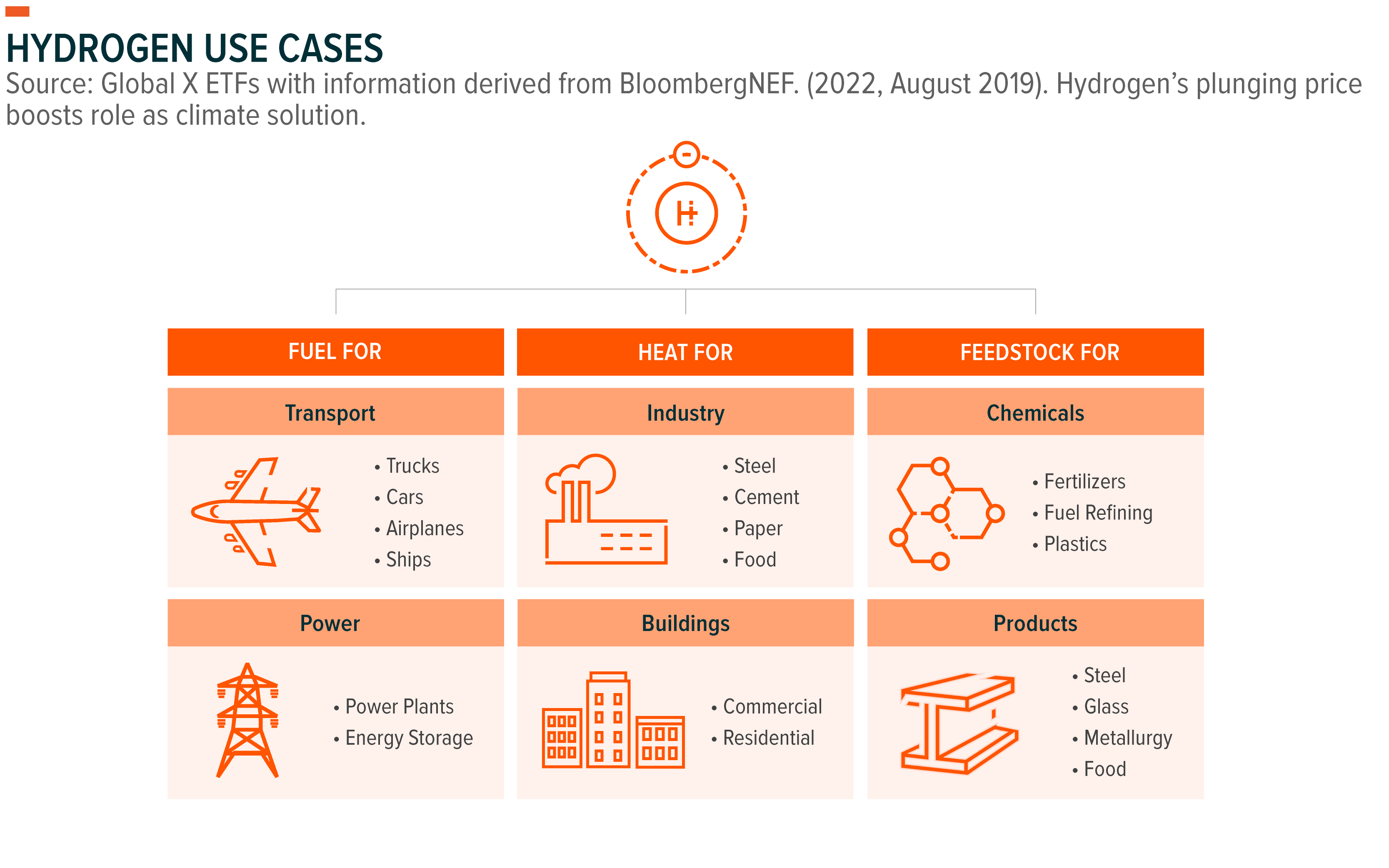 Global Project Pipeline Starting to Materialize, Highlighted by Hydrogen Hubs
According to one estimate over 415 large-scale low-carbon hydrogen projects were in the works around the world as of February 2023.9 Six months prior, the project pipeline totaled only about 320 projects, pointing to the ongoing swift pace of project planning.10 Green hydrogen projects account for 95% of the low-carbon project pipeline, although there are several notable blue hydrogen projects.11
The project pipeline spans countries all over the world. Countries with the highest number of projects under development, such as Australia, Germany, the United Kingdom, the United States, Spain, Egypt, Chile, and India, offer some of the most robust low-carbon hydrogen strategies and policy incentives.12 For example, Australia published a detailed hydrogen strategy with aims to become a major hydrogen exporter by 2030, and the government is providing funds to dozens of projects.13,14 In the United States, the Inflation Reduction Act creates a clean hydrogen tax credit that could kickstart the U.S. hydrogen industry by bringing blue and green hydrogen closer to cost parity with grey hydrogen.15
Another common trend throughout the global project pipeline is a focus on hydrogen hubs, which we expect to play an important role in accelerating growth within the global clean hydrogen industry. A hydrogen hub can be defined as an area that includes local hydrogen production, hydrogen demand, and connective transport and storage infrastructure, all in close proximity to one another.16
Development of these hydrogen hub projects is likely to be primarily in areas with high levels of industrial activities and transportation that rely on natural gas and diesel. Potential benefits of this development strategy include minimizing the need for support infrastructure, reducing challenges around shipping and storage, and building a robust hydrogen workforce. Eventually, these hubs are likely to form the basis for national and eventually global low-carbon hydrogen networks.
For example, the U.S. Department of Energy (DOE) wants to establish 6–10 regional clean hydrogen hubs throughout the country as part of its $7 billion H2Hubs program. In 2022, 79 groups with projects applied for the program. Applications totaled $60 billion in federal funding requests and $150 billion in potential private capital investments.17 In December 2022, 33 of those groups were encouraged to submit a full application, and the selected projects should be notified by summer 2023.18 Hydrogen hub locations in the running include all major industrial regions throughout the country.19
While the DOE does not plan to reveal the projects shortlisted for the final round, several companies announced their status. Among the companies encouraged to apply for the final round are Plug Power, Total Energies, GE, Shell, Xcel Energy, Dominion Energy, Avangrid, Siemens, Sempra Infrastructure, Toyota, Bloom Energy, Hyundai, and Equinor.20
Low-Carbon Hydrogen's Rise Presents Diverse Opportunities
Growth opportunities for hydrogen and renewables companies are likely to emerge as the low-carbon hydrogen develops. For example, demand for companies focused on green and blue hydrogen production is likely to grow. Leading green hydrogen producer Plug Power is actively developing green hydrogen projects around the world. Most recently, in February 2023 the company announced plans to jointly develop a large-scale green hydrogen project with Acconia Energia in Rocaforte, Spain.21 Air Products and Chemicals, the world's largest producer of grey hydrogen with a global network of over 100 hydrogen plants, also has large-scale green hydrogen projects under development.22,23
Manufacturers of the electrolyzer equipment that produces green hydrogen, including Nel ASA, Bloom Energy, ITM Power, and McPhy, can also benefit. For example, Nel ASA will supply electrolyzer equipment to several large-scale green hydrogen projects throughout Europe and the United States. In January 2023, the company announced a 40 megawatt (MW) electrolyzer equipment order from Statkraft, one of Europe's leading renewable energy and green hydrogen project developers.24 For context, global electrolyzer capacity could reach 134,000MW by 2030, up from an estimated 1,400MW in 2022.25,26
Green hydrogen production is not possible without renewable energy systems powering the electrolyzers, which means sizeable increases in demand and development opportunities are likely for renewables developers, renewable energy equipment manufacturers, and renewables-focused utilities. By one estimate, between 2022 and 2027, 50GW of renewable capacity could be dedicated to green hydrogen production.27 Many renewables developers, equipment manufacturers, and utilities are already involved in green hydrogen projects, including Ørsted, Vestas, Neoen, Engie, NextEra Energy, and Northland Power.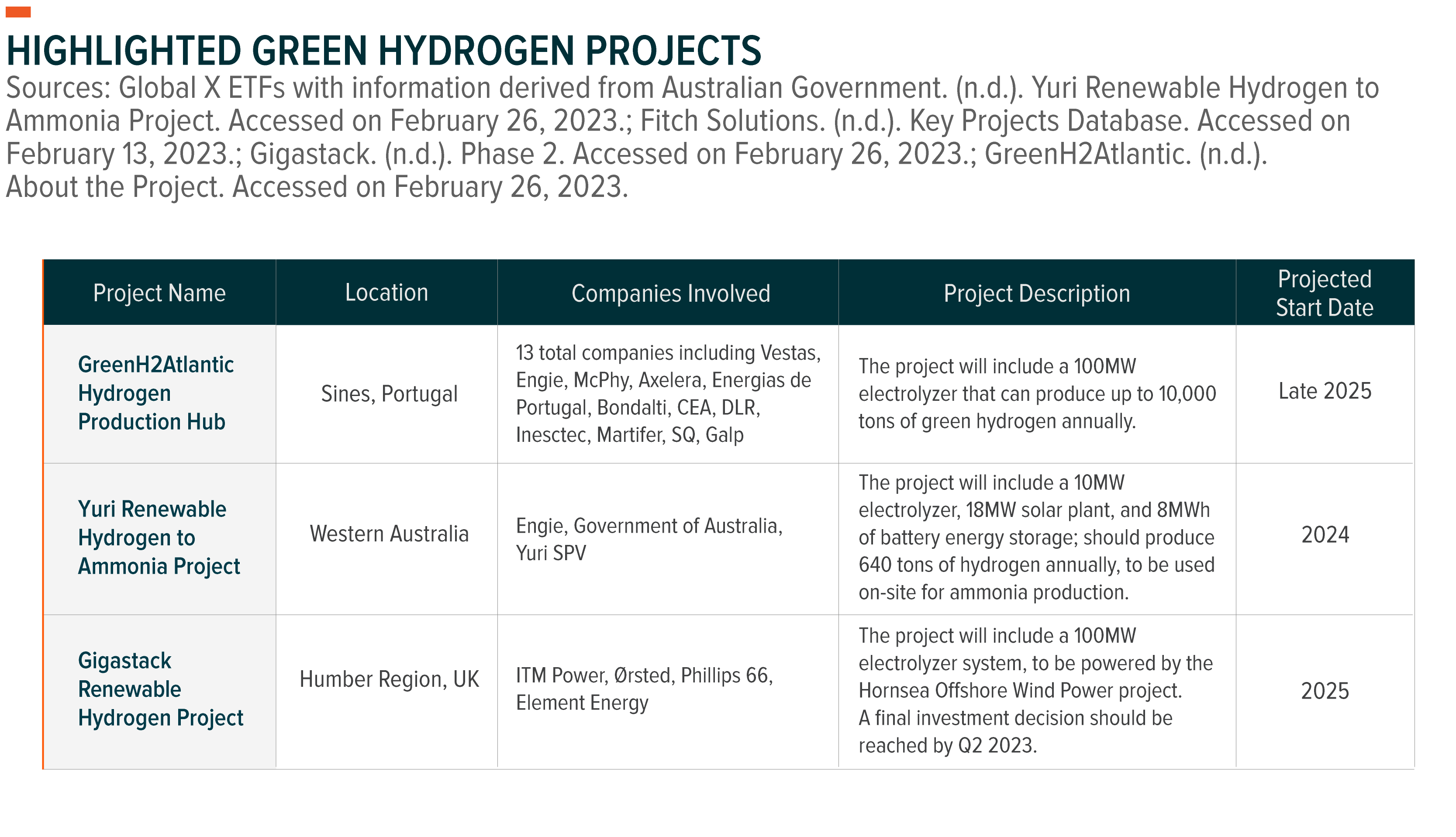 Also, as the use of hydrogen in the transport industry picks up, we expect producers of hydrogen fuel cell electric vehicles (EVs), including Hyzon Motors, Toyota, and Hyster-Yale Materials, to find growth opportunities. Manufacturers of fuel cells can also benefit from increasing use of hydrogen fuel cell EVs and hydrogen-based power and heating solutions. Fuel cell producers include Ballard Power Systems, Doosan Fuel Cell, Powercell Sweden, SFC Energy AG, AFC Energy, and S-Fuelcell.
Conclusion: Hydrogen's Versatility Presents a Compelling Investment Case
We expect low-carbon hydrogen to play an increasingly prominent role in decarbonizing myriad industries, such as transport, power, and chemicals production. The recent momentum in public and private sector investment is critical to the industry's growth and the achievement of climate targets. It is estimated that $700 billion in hydrogen investments are needed through 2030 for the world to stay on track with mid-century net zero emissions targets.29 As the industry matures over time, we believe investors can find compelling opportunities in a diverse set of companies that become core to the energy transition.
Related ETFs
RNRG – Global X Renewable Energy Producers ETF
WNDY – Global X Wind Energy ETF
Click the fund name above to view current holdings. Holdings are subject to change. Current and future holdings are subject to risk.