The Next Big Theme: August 2019
Autonomous and Electric Vehicles
AV's enter the fast lane
It's been 10 years since Waymo began as Google's initial venture into autonomous driving technology, when the company aimed to drive 10 uninterrupted 100-mile routes in a Toyota Prius. But what started as something of a side project is now a multibillion-dollar subsidiary for Alphabet. Recently, Waymo announced that it hit 10 million autonomous miles driven on public roads and a staggering 10 billion miles in simulated environments.1
It appears 2019 could be an inflection point for autonomous driving technology. In addition to Waymo, Apple recently acquired Drive.ai as part of its "Project Titan." Ford and Volkswagen partnered to implement Argo AI's self-driving system into their vehicles. Tesla has a goal of 1 million robo-taxis for 2020. GM's Cruise Automation is another player, especially following its recent cash infusion. Bottom line: buckle up because the race is on.

Artificial Intelligence
Going All in with AI
Historically, AI hasn't had much luck at the poker table. Poker's challenge for AI is that it's an incomplete information game, where players can bluff and never get caught.2 But Pluribus, an AI program developed by Carnegie Mellon University and Facebook AI, recently defeated professional players in a six-player No-Limit Texas Hold'em poker game for the first time.
In 2016, Google DeepMind's AI program, AlphaGo, bested the world's top Go player. Many consider Go the most challenging classical board game, with the number of possible board configurations larger than the number of atoms in the known universe (10 to the power of 170).3 But Pluribus beating multiple opponents in a game whose complexity increases significantly as the number of potential outcomes increases is a significant AI milestone. Notably, training Pluribus on cloud servers took just eight days at an estimated cost of $150.4

Fintech
Weighing your options as a crypto-investor
Retail investors who fear missing out on a possible Bitcoin rally—but who also want to manage their potential losses—have a new way to get exposure to the cryptocurrency via derivatives. LedgerX, a US-based trading platform for physically settled digital currency derivatives, received approval from the Commodity Futures Trading Commission that allows retail investors to buy and sell options on Bitcoin. According to the company, call options could help increase Bitcoin's reach, as the vast majority of Bitcoin trading happens over the counter (OTC) and in markets where retail access is cumbersome.5

Internet of Things
Dressing smart with tech
Wearables tracking our heart rate, calorie burn, steps walked, or insulin levels must ultimately transmit collected data via Wi-Fi, cellular connection, or Bluetooth radio. These waves radiate out in all directions, consuming a substantial amount of the device's power as they seek a strong connection.6 But researchers from the National University of Singapore may have found a potential solution to boost the signal of a connected device by a factor of 1,000 while reducing energy usage. The team developed clothing that allows radio waves to pass through it using conductive textiles known as metamaterials. Usage of such materials could offer better reception, longer battery life across a variety of devices.7

Social Media
Facebook tells content creators to reach for the stars
Facebook recently announced a number of monetization options for online content creators. By incentivizing influencers or content creators to upload engaging content to one of Facebook's platforms, Facebook will be able to capture additional advertising revenue. One such new monetization feature is Facebook Stars, which allows viewers to buy Stars and send them to content creators during live streams. For each Star received, Facebook will pay them $0.01.8
The feature is similar to those used by other social media platforms. But Facebook has a good track record of replicating applications, including the Stories feature that replicated Snapchat's temporary slideshows. With over 2 billion monthly active users, which represents roughly a quarter of the world's population, being second to market doesn't mean Facebook is too late.

Infrastructure
Building out 21st-century infrastructure with digital
Drivers and pedestrians rely on physical traffic signs and signals in their travels. But readability, or lack thereof, of those indicators can present challenges for sensors used in autonomous vehicles. Aging signage and weather conditions that obscure lane markers are such examples. A potential solution is INRIX Road Rules, which is a platform that digitizes roads, curbs and sidewalks. The data procured can inform autonomous vehicle developers about potential safety measures to implement and/or adjust. Road Rules is already in a number of cities, including Austin, Boston and Turin in Italy.9
"Today's cities are working with 20th-century transportation tools but are facing 21st-century challenges," said Avery Ash, Head of Autonomous Mobility at INRIX.10 For autonomous vehicles to share the roadways with humans safely, infrastructure will need to evolve physically and digitally.

E-commerce
Smash hits and broken records
E-commerce continues to grow. Amazon Prime Day 2019 marked the largest shopping event in Amazon's history, with sales surpassing the previous Black Friday and Cyber Monday shopping events, combined.11 The company reported worldwide purchases of more than 175 million items, including millions of smart home devices, another important trend that shows increasing adoption of connected devices.
Prime Day continues to expand to more countries. Members from 18 countries shopped during the two-day event, double the number since the first Prime Day five years ago.12 Small and medium-sized businesses also benefited tremendously, selling more than $2 billion of products.13

THE NUMBERS
The following charts examine returns and sales growth expectations by theme, based on their corresponding ETFs.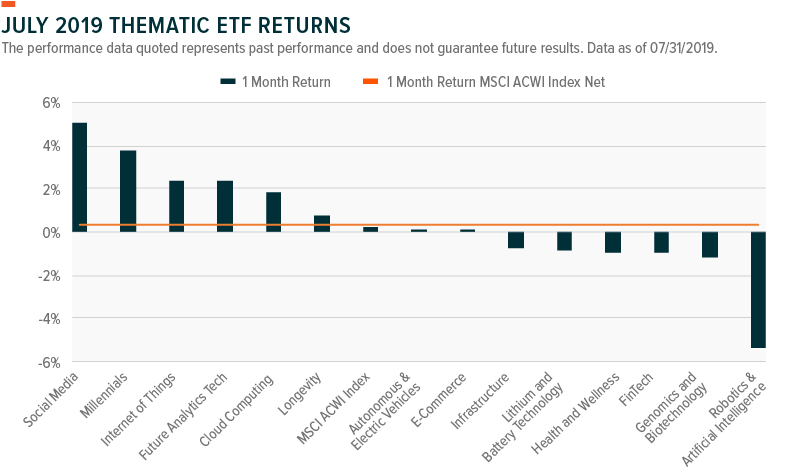 INTRO TO THEMATIC INVESTING COURSE – ELIGIBLE FOR CE CREDIT
Global X has developed an interactive, self-guided Intro to Thematic Investing course, that is designed to share the latest ideas and best practices for incorporating thematic investing into a portfolio.
This program has been accepted for 1.0 hour of CE credit towards the CFP®, CIMA®, CIMC®, CPWA® or RMA certifications. To receive credit, course takers must submit accurate and complete information on the requested forms, complete the entire course, and receive a 70% or higher on the Intro to Thematic Investing Quiz.
Questions on receiving CE credit may be sent to: Education@globalxetfs.com
KEEP UP WITH THE LATEST RESEARCH FROM GLOBAL X
To learn more about the disruptive themes changing our world, read the latest research from Global X, including: