Internet of Things
Google Gets "Smarter"
On August 3rd, Google announced a $450 million investment in ADT, a leading provider of security and smart home solutions, marking the beginning of long term relationship between the two companies. The deal gives Google a 6.6% stake and adds ADT's powerful smart home and office monitoring network systems to a smart home product portfolio that already includes the award-winning Nest hardware suite.1 As a part of the deal, each company also committed $150 million to collaborate on new product development, marketing, and technological research. ADT expects to offer certain Google devices to its customers starting this year.

Artificial Intelligence & Big Data
Artsy AI Pens Poems and Prose
OpenAI's new GPT-3 software toolset could very well be the most powerful artificial intelligence (AI) -based language model ever created. Its advanced machine learning (ML) capabilities are built on probabilistic connections between words, allowing the model to generate entirely original, logical, and factual prose if provided with enough text to learn from. At this point, the toolset can pen poetry and text messages, compose music, generate computer code, and seamlessly answer questions. GPT-3 is still in private beta and only a few hundred developers have access to the software. However, those who do are making quick use of it. One developer is using the toolset to automate email responses; another is using it to build characters in text-based computer games.2

Autonomous & Electric Vehicles
Electric Vehicle Sales Spark Market Share Gains
In June 2020, global automobile manufacturers sold 230,000 electric vehicles (EVs), representing 3.6% of all vehicles sold in the month.3 While still far from Norway's gold standard – 48% of vehicles sold in 2020's first half – it is an achievement nonetheless and above the 2.5% full-year bar set in 2019.4,5 Although June EV sales were down 22% year-over-year (YoY), the month still ranks as the third-best in the past year and a half. Further, the expiration of Chinese EV-purchasing incentives in 2019 drove sales upward and obscure the comparison.6 Overall, EV sales totaled approximately 950,000 in 2020's first half, down from around 1.1 million compared to the same period in 2019, but still impressive considering total auto sales decreased 24%.7,8,9

Social Media
Video Platforms Make a Show of Competition
With social distancing measures in place, people across the world face more isolation than ever. To fill the void, many of these interactions have moved online as is evident by social media usage spiking 42% globally since the outbreak's first days.10 More specifically, the pandemic bolstered the adoption of video-sharing platforms like TikTok, which now boasts double the number of lifetime app downloads compared to 2019.11 Although TikTok is currently facing a potential ban in the U.S. due to national security concerns, demand for similar social media platforms is still on the rise. Established players are doing their best to become the go to platform for potentially departing TikTok users. Facebook recently rolled out its own competitor called Instagram Reels and Snapchat is testing a feature that will allow users to add music to their posts.12

Cybersecurity
Digitalization Drives Digital Defense
COVID-19 continues to act as an accelerant to digital transformation and the adoption of disruptive technologies like cloud computing among enterprises. However, these changes come at the cost of heightened cyber-risk. Large-scale data breaches are up nearly 300 percent during the first half of 2020 and just recently, connected-wearable  company Garmin suffered a cyberattack that took many of their systems offline.13,14 According to the World Economic Forum, over 50% of enterprises indicate concern that the shift to virtual work environments will increase the risk of cyberattacks.15  Many businesses are increasing their cybersecurity spend as a result. A new report published by Deloitte found that financial institutions are increasing their cybersecurity spend by 15% this year, for example.16 On the other side of the coin, industries hit hardest by the pandemic could be forced to decrease their cybersecurity spend due to budget constraints.17 This is particularly concerning considering that over 1/3 of manufacturers and retailers have no cybersecurity program in place.18

Cloud Computing
Reopening Economy to Feature Hybrid Work Environments
The dawn of the pandemic ushered in the stay-at-home economy, which featured fully remote work environments. Five months into the pandemic, we are transitioning to a reopening economy, which features elements of the stay-at-home economy and elements of what we were used to before. One in six workers is expected to continue working remotely at least two days a week after the pandemic is over.19 Google announced in July that its employees will continue to work from home until July 2021, while Facebook and Twitter already announced that some employees will work from home permanently.20 But this trend isn't isolated solely to large companies. Looking more broadly, 61.9% of hiring managers plan to institute a greater degree of virtualization in the future.21
THE NUMBERS
The following charts examine returns and sales growth expectations by theme, based on their corresponding ETFs.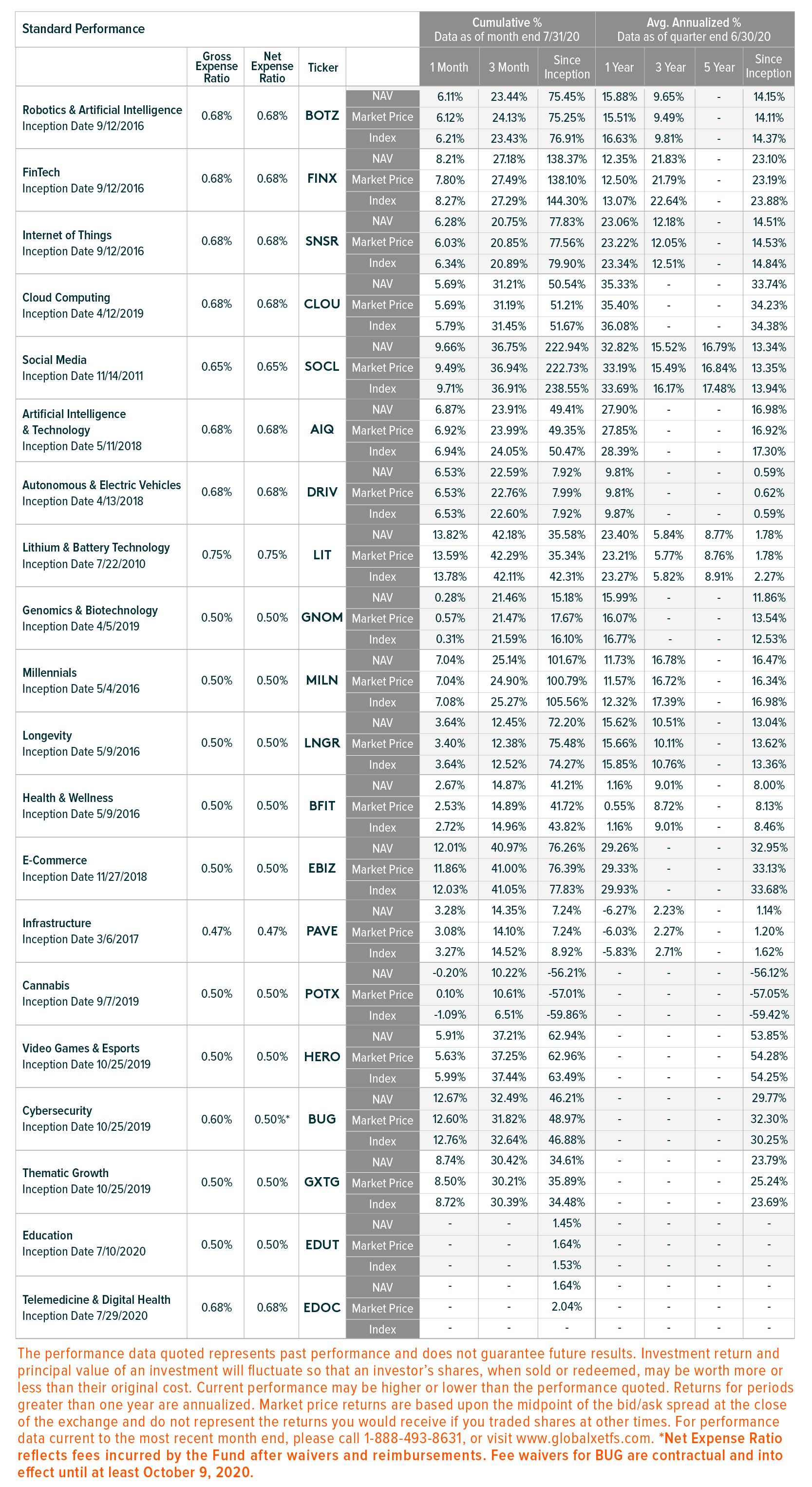 INTRO TO THEMATIC INVESTING COURSE – ELIGIBLE FOR CE CREDIT
Global X has developed an interactive, self-guided Intro to Thematic Investing course, that is designed to share the latest ideas and best practices for incorporating thematic investing into a portfolio.
This program has been accepted for 1.0 hour of CE credit towards the CFP®, CIMA®, CIMC®, CPWA® or RMA certifications. To receive credit, course takers must submit accurate and complete information on the requested forms, complete the entire course, and receive a 70% or higher on the Intro to Thematic Investing Quiz.
For Canadian course takers: This program has been reviewed by FP Canada and qualifies for 1 FP Canada-Approved CE Credit, in the category of Product Knowledge, towards the CFP® certification or QAFP™ certification. To receive credit, course takers must submit accurate and complete information (including Job Title) on the requested forms, complete the entire course, and receive a 70% or higher on the Intro to Thematic Investing Quiz.
Questions on receiving CE credit may be sent to: Education@globalxetfs.com
KEEP UP WITH THE LATEST RESEARCH FROM GLOBAL X
To learn more about the disruptive themes changing our world, read the latest research from Global X, including:
ETF HOLDINGS AND PERFORMANCE:
To see individual ETF holdings and current performance across the Global X Thematic Growth Suite, click the below links: