On the Global X Research Team, we spend most of our time conducting primary and secondary research. We meet with decision makers across sectors, read market and subject matter research, and produce our own unique analyses and insights. Yet as powerful long-term trends continue to evolve and disrupt vast segments of the global economy, we believe it is increasingly valuable to see these themes in action. This is why we have decided to add another dimension to our process: boots-on-the-ground research that we call Theme Lab.
What Themes are Inside an eCommerce Fulfillment Center? Robotics, the Internet of Things, and even Video Games
Last week, we left from our Manhattan office to visit Amazon's Robbinsville, New Jersey, Fulfillment Center. Pulling in, the 1.2 million square foot behemoth (about the size of 21 football fields) was a site to behold at about a quarter-mile long, 900 feet wide, and three stories tall. It's the first of seven centers built in the region and one of over 200 around the world. Together, these warehouses send 2.5 billion packages a year.1
Threaded carefully throughout the facility were 14 miles of conveyor belts, rapidly moving items from area to area. Colored tape and barcodes were pasted to the floor, serving as digital road signs for the many robots moving goods. And while there were many human workers present, hundreds on any given shift, connected robots, mechanized operations, and even video games saturated the space – all in an effort to improve efficiency.
How exactly does the fulfillment center work to distribute products around the northeast? Humans and machines collaborate to conduct a series of tasks including Stowing, Picking, Packing, and Shipping.
Stowing and Picking
The Stowing Phase: This phase primes inventory for the automated magic about to take place. Amazon associates take inbound items from delivery truck and stow them in bins that are stacked within yellow towers called 'pods.' Different than the organized storage system you might find in your local retail store, items are placed in bins at random – Amazon office supplies, a vendor-sold bike pump, and a Halloween costume could all hypothetically end up in the same bin.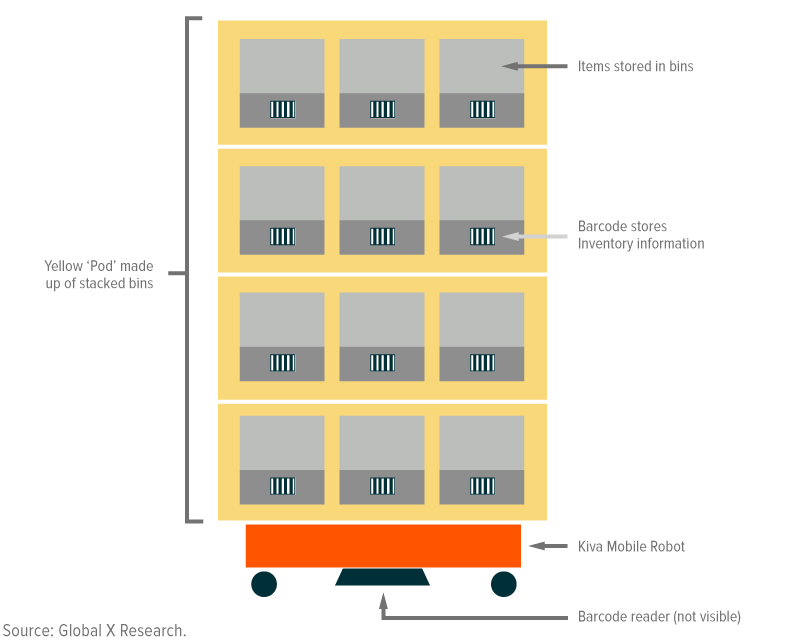 Both pods and the bins within feature barcodes that store information about their contents. So despite the seeming randomness, computers can instantly locate inventory.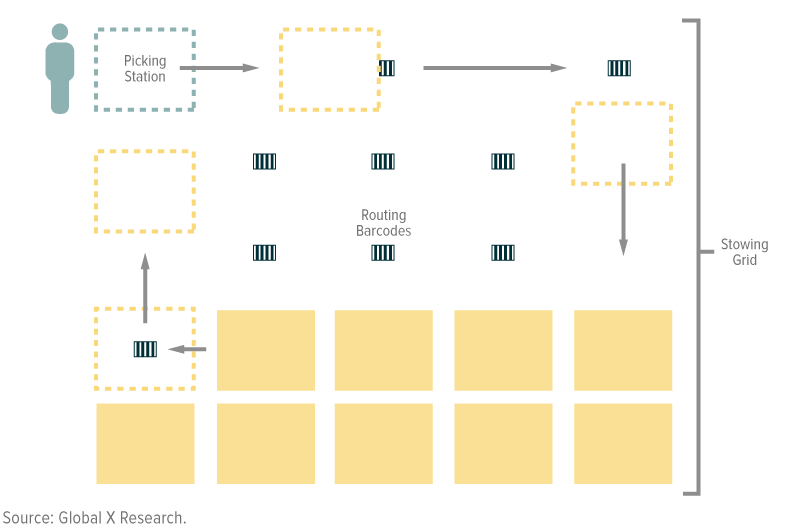 Hundreds of pods occupy a single fenced-in grid, each sitting atop a Kiva Mobile Robot. These robot-equipped towers move autonomously in an orchestrated dance, reading 2D barcodes pasted to the floor that tell them where to go – on to a picking station, back to storage, or to be restocked.
The Picking Phase: This is where items are taken off the shelves once they are ordered, so they can be sent to another destination. Here's how it works:
An Amazon associate mans a picking station and a computer monitor in front them displays the item they need to pick from a pod. Simultaneously, the pod holding the item arrives at the picking station via a robot, and a projector lights up the exact spot on the pod where the associate will find the item.
The associate picks the item from the pod and places it in a crate, called a 'tote'. Each associate has a series of totes in front of them and above each tote is a button. A glowing button indicates that the item should be dropped in the corresponding tote, and once the associate does so they push it.
Upon pushing the button, the monitor displays a new item, and the process repeats itself. When the associate deems a tote as full, they push it on to a conveyor belt and an empty tote automatically replaces it. Each tote is barcoded, indicating what the tote's next destination is and maintaining items' chain of custody.
Conveyor belts send totes to myriad locations: on to packaging, to other areas in the building, or to other fulfillment centers. Amazon employs forecasting and modeling tools to predict where items are or will be needed most, so 'picked' items are not always purchased ones.
Optional: Picking associates can participate in gamified performance tracking, where they compete against other associates. Associates rack up points as they pick items off shelves, animating an avatar on a separate video game display.
Disruptive Technologies Involved
The Internet of Things: The barcodes found on bins, pods, totes and on the ground across the stowing grid are part of an internet of things system. Connected optical sensors read and transmit information on where items are and where they need to go. Centralized computers and picking station monitors are also part of this system, communicating with sensors, robots, and other connected devices to facilitate the operation.
Robotics: Kiva Mobility Robots and conveyor belts receive instructions from the different IoT systems at play. Sensors embedded within conveyor belts further ensure items end up at the right destination.
Gaming: Gamified performance tracking gives employees a way to stay occupied and/or can provide motivation to improve or work their full potential.
Artificial Intelligence and Big Data: Amazon's massive online presence and ecommerce business gives them access to robust consumption pattern datasets. AI can process this data, allowing the retailer to optimize their fulfillment operations. Further, AI-based machine learning plays an instrumental part in getting items in pods and in front of pickers.
Packing and Shipping
The Packing Phase: Items arrive at packing stations in totes, ready to be packed by associates. Packers remove items from totes and pack them into boxes. A computer tells packers which box size to use (out of 20 options) based on the item(s) and automatically dispenses the exact amount of tape necessary. After filling the box with bubble wrap, packers seal the box, apply bar codes and put it on a conveyer belt for shipping.
This phase, and others are constantly finetuned. Tape machines and computers do their best to ensure optimal execution, but associates must use their own judgement for some of the packing process.
The Shipping Phase: This is the final phase that completes the synchronized fulfillment dance and requires little human intervention. Boxes from the packing stations make their way to SLAM (Scan, Label, Apply, Manifest) Machines. Scanners read barcodes on the boxes, wirelessly communicating the boxes' dimensions and shipping instructions to labeling machines. These machines then print labels and paste them on boxes with pinpoint accuracy, all while the conveyor belts maintain rapid speeds.
Finally, boxes make their way down the conveyor belt and are automatically sorted by shipping method and final destination.
Takeaways
Amazon's fulfillment center highlighted the advanced state of robotics and automation, as well as the continued need for human labor and expertise. From IoT to Robotics and AI, each technology played an important role in making the fulfillment process faster and more efficient. Yet at the same time, humans continue to play a vital part filling in the gaps where robotics are less capable. We see this trend of robot-human collaboration accelerating in the near term. As technology continues to improve, many firms will look to reduce costs, and improve speed and accuracy through mechanized systems, while leveraging humans for more complex tasks requiring problem solving or dexterity. While e-commerce continues to grow its sales, distribution centers such as Robbinsville will continue to play an essential role in facilitating inexpensive, quick delivery of millions of items to households around the country.
Related ETFs
BOTZ: The Global X Robotics & Artificial Intelligence ETF (BOTZ) seeks to invest in companies that potentially stand to benefit from increased adoption and utilization of robotics and artificial intelligence (AI), including those involved with industrial robotics and automation, non-industrial robots, and autonomous vehicles.
SNSR: The Global X Internet of Things ETF (SNSR) enables investors to access a potential high growth theme through companies at the leading edge of IoT, an approach which transcends classic sector, industry and geographic regions to target this emerging theme. In a single trade, SNSR delivers access to dozens of companies with high exposure to emerging IoT technology.
EBIZ: The Global X E-commerce ETF seeks to track the Solactive E-commerce Index, which focuses on companies positioned to benefit from the increased adoption of e-commerce as a distribution model. This includes companies whose principal business is in operating e-commerce platforms, providing e-commerce software and services, and/or selling goods and services online.
HERO: The Global X Video Game & Esports ETF seeks to invest in companies that develop or publish video games, facilitate the streaming and distribution of video gaming or esports content, own and operate within competitive esports leagues, or produce hardware used in video games and esports, including augmented and virtual reality.
MILN: The Global X Millennials Thematic ETF seeks to invest in companies that have a high likelihood of benefiting from the rising spending power and unique preferences of the U.S. Millennial generation (birth years ranging from 1980-2000). These companies come from a broad range of categories, including: social media and entertainment, food and dining, clothing and apparel, health and fitness, travel and mobility, education and employment, housing and home goods, and financial services.
Click the fund names above to view each funds' current holdings. Holdings subject to change. Current and future holdings subject to risk.