The Next Big Theme: June 2020
Genomics
Gene Editing Tapped for COVID Testing
CRISPR gene-editing technology is now the central technology used in a new COVID-19 testing method. The Food and Drug Administration (FDA) granted emergency-use approval to Sherlock Biosciences' diagnostic kit that looks to identify genetic material specific to the SARS-CoV-2 virus that causes COVID-19. When found, it emits a fluorescent light. Certified labs will conduct the test and produce results in about an hour. With testing backlogs and shortages in some areas, the new method could help reduce stresses on the health care system and allow for more aggressive testing measures. Sherlock is also working to develop an at-home test using the same technology.1

Health & Wellness
Living Rooms, the New Fitness Studios
Global lockdowns have Americans transforming their homes into fitness centers. Home fitness equipment sales grew 175% year-over-year between March 15 and May 2.2 Cardio equipment stood out with a hefty 225% increase.3 Demand for workout items like general fitness equipment, fitness apparel, and wearables reached unprecedented levels. As consumers coped with lockdown orders, their prioritization of health and wellness remained largely unchanged, demonstrating that people want to take a proactive approach to improving their overall health, especially now in the COVID-19 era.

U.S. Infrastructure
COVID-19 Gets City Planners Thinking
Only months ago, the next era of U.S. infrastructure development entailed planning for an increasingly dense urban world. COVID-19 reverses the conversation, as technology has proven that many of us can work and entertain ourselves from home, while limiting the spread of dangerous viruses. As governments grapple with ways to save jobs and stimulate the economy during the pandemic, rethinking infrastructure could play a significant role. We're already seeing some examples in the US. Seattle permanently closed 20 miles of road to give pedestrians more space.4 In Atlantic City, New Jersey, officials installed demarcation poles on beaches to keep visitors six feet apart and erected signs to alter pedestrian flows.5 Looking abroad, there are other instances. City planners in France will lay 31 miles of bike lines in Paris and hundreds more in the surrounding suburbs.6 Taking it a step further, officials in Milan announced plans to widen sidewalks, introduce pedestrian and cyclist priority streets, and lay additional dedicated bike lanes.7

Cannabis
Bottom Lines Argue for Legalization
In May, a group of New York state senators announced plans to legalize recreational cannabis sales, which may be a sign of things to come. Spending by state and local governments to combat the COVID-19 crisis has been massive, and in many cases are causing deep budget deficits. In New York City, the budget shortfall surged by $1.6 billion over May.8 Finding new sources of revenue is critical to balancing budgets, and taxing legal cannabis sales could help. In Colorado, where cannabis is already legal, the state's Department of Revenue reported that it collected $104 million tax revenue from January to April.9 With a global recession looming, the economic benefits of legalized cannabis could be too enticing for states, and countries for that matter, to ignore.

Video Games & Esports
Records Falling Left and Right
A 90-year-old gamer grandma set a Guinness World Record as the oldest gaming YouTuber.10 But that wasn't the only record that caught our eye. Nintendo's new video game, Animal Crossing: New Horizons, became the top Switch title ever in digital sales and digital revenue after only two months on the market.11 In Southeast Asia, Sea Group's Garena and its self-developed game Free Fire set a new record of 80 million peak daily users.12 In the U.S., video game spending for hardware, software, accessories, and others totaled $1.5 billion, a new April record .13

Longevity
COVID-19 the Latest Reason to Take Lifelong Steps Toward Better Health
COVID-19 mortality rates across the world are significantly higher for older demographics than younger ones. But this may more about health than age. A recent Italian study noted that comorbidities like heart disease, obesity, and dementia were directly related to mortality.14 In the study, the 0 comorbidity cohort had a 4.1% mortality rate, while the 3+ comorbidity cohort had a 59.6% mortality rate. Considering that in the US, 47% of those over age 40 suffer from obesity, 18% of those between 45 and 64 suffer from diabetes, and that Americans have 2.2 age-adjusted median comorbidities, it's clear that we must improve the health of seniors.15,16,17 Longevity-related products and services like preventative wearables, personalized medicine, and age-related pharmaceuticals could prove vital in improving the health of aging individuals.
THE NUMBERS
The following charts examine returns and sales growth expectations by theme, based on their corresponding ETFs.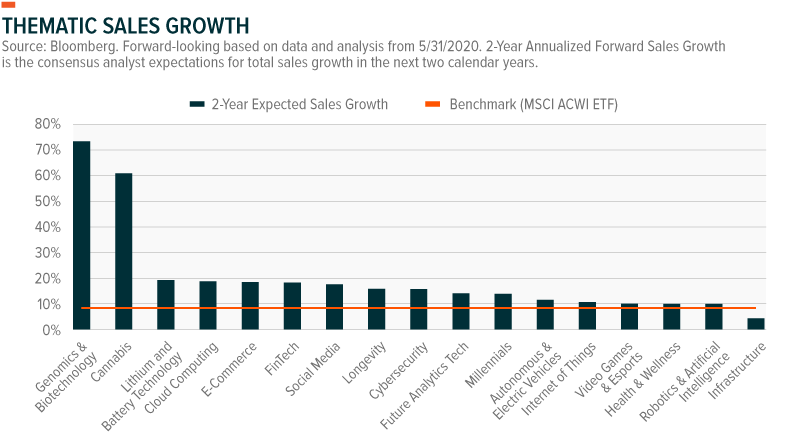 INTRO TO THEMATIC INVESTING COURSE – ELIGIBLE FOR CE CREDIT
Global X has developed an interactive, self-guided Intro to Thematic Investing course, that is designed to share the latest ideas and best practices for incorporating thematic investing into a portfolio.
This program has been accepted for 1.0 hour of CE credit towards the CFP®, CIMA®, CIMC®, CPWA® or RMA certifications. To receive credit, course takers must submit accurate and complete information on the requested forms, complete the entire course, and receive a 70% or higher on the Intro to Thematic Investing Quiz.
For Canadian course takers: This program has been reviewed by FP Canada and qualifies for 1 FP Canada-Approved CE Credit, in the category of Product Knowledge, towards the CFP® certification or QAFP™ certification. To receive credit, course takers must submit accurate and complete information (including Job Title) on the requested forms, complete the entire course, and receive a 70% or higher on the Intro to Thematic Investing Quiz.
Questions on receiving CE credit may be sent to: Education@globalxetfs.com
KEEP UP WITH THE LATEST RESEARCH FROM GLOBAL X
To learn more about the disruptive themes changing our world, read the latest research from Global X, including:
ETF HOLDINGS AND PERFORMANCE:
To see individual ETF holdings and current performance across the Global X Thematic Growth Suite, click the below links: