The Next Big Theme: March 2020
Lithium & Battery Technology
Opening Lithium's Gates
Bill Gates-led Breakthrough Energy Ventures announced the investment on a US startup that aims to transform lithium extraction. The startup, Lilac Solutions, is a mining technology company commercializing a new ion exchange technology for lithium extraction from brine resources that is significantly faster, cheaper, and more scalable than existing technology. The technology aims to enable the massive increase in lithium supply needed for electric vehicles (EVs). The shift to EVs is unstoppable. Yet future demand is expected to exceed supply of key materials like lithium. Technological advancements will play a key role in supporting a transition to EVs at scale.

Fintech
Karma Moves Intuit Directions
M&A in the Fintech space continues strong. Intuit announce buying Credit Karma for $7 billion, in what it would represent the largest ever transaction for the firm. Intuit, the maker of TurboTax, will be diversifying their tax services (highly seasonal) with Credit Karma's services such as credit scores and borrowing history. Our take: 2020 is carrying the trend that we have seeing in previous years, where we continue to see an M&A frenzy in the FinTech space. Other major acquisitions have been Morgan Stanley purchase of E*Trade ($13bn), and Visa acquisition of Plaid ($5.3bn). Financial institutions are increasingly looking into technological developments outside their own organizations. As established financial service providers move quickly to defend their businesses from the FinTech insurrection, many are either establishing partnerships or buying FinTech companies outright.

Genomics
DNA sequencing below $100
Demolishing the expectations of Moore's Law, the total cost of sequencing per individual human genome has fallen drastically. Technological progress doesn't seem to be stopping. Chinese genomics company, BGI Group, recently communicated in a conference that have breached the $100 threshold for the first time in history.1 DNA sequencing costs have fallen from $100 million in 2001.2 Decreasing costs of all kinds of genetic testing have already made sequencing readily available to consumers via a simple online purchase of a home DNA kit. This trend is expected to continue for the foreseeable future and improve the ability of healthcare industry participants, from doctors to pharmaceuticals and medical device manufacturers, to better diagnose patients and develop new treatments.

Artificial Intelligence
Androids Dream of Digital Drug Development
Scientists used machine learning to discover a powerful antibiotic that can kill some of the most dangerous drug-resistant bacteria in the world, including two of the three named by the World Health Organization as critical bacteria to target.3 The researchers first trained a deep learning algorithm to identify molecules that kill bacteria, feeding the algorithm ~2,500 drugs' and natural compounds' atomic features. They tested how well certain molecules blocked the growth of the bug E coli, and then also whether they looked like existing antibiotics.4 In a world where bacteria are evolving to be immune to drugs we relied on in the past, this shows how AI can help us think further outside the box when it comes to developing medicines, improving outcomes for us and future generations.

Biotechnology and Longevity
A 'Band-Aid' For Your Heart
Scientists developed cardiac patches lined with heart cells that can be applied surgically to restore heart tissue in heart attack sufferers. As the heart is always moving and has its own "electrical signaling properties," treating heart conditions with similar biotechnology presented a challenge in the past. But with a new method called "melt electrowiring," researchers and developers developed a patch that acts similarly to heart tissue. Next steps include creating patches that don't require heart cells and that can restore a heart's natural beat.5 Worldwide, heart disease kills more women and men than any other disease and this is a good example of how developments in biotech will improve longevity for all generations.6

Cybersecurity
When the Wild West Went Digital
According to a new report by cybersecurity company, Emsisoft, cyberattack victims paid $25B in ransom last year. While this amount alone is staggering, the actual cost far exceeded ransom payments, totaling $170B.7 Operational downtime, dealing with an attack, and improving resilience to future attacks primarily drove excess costs beyond ransom payments. Attacks were up 41% in 2019, while average ransom payments were up 104%, from $41,198 in 2018 to $84,116 in 2019.8 33% of companies ended up paying the ransom demand and Gartner estimates that ransomware downtime costs $5,600 a minute. Increases are thought to be the result of new malware like Ryuk and Sodinokibi.
THE NUMBERS
The following charts examine returns and sales growth expectations by theme, based on their corresponding ETFs.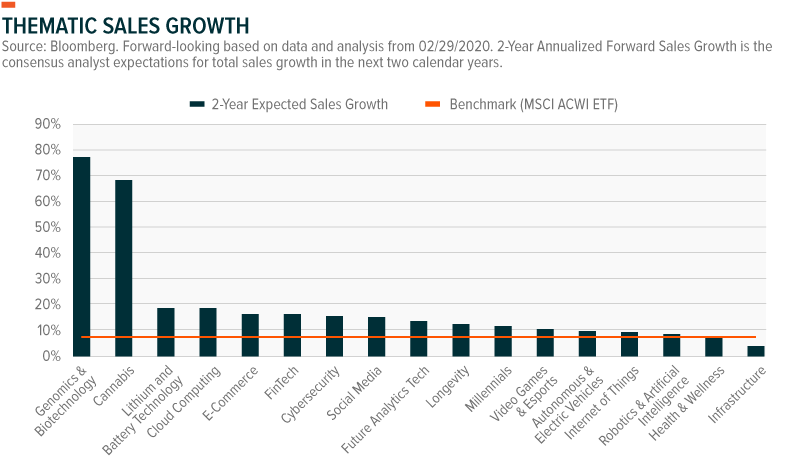 INTRO TO THEMATIC INVESTING COURSE – ELIGIBLE FOR CE CREDIT
Global X has developed an interactive, self-guided Intro to Thematic Investing course, that is designed to share the latest ideas and best practices for incorporating thematic investing into a portfolio.
This program has been accepted for 1.0 hour of CE credit towards the CFP®, CIMA®, CIMC®, CPWA® or RMA certifications. To receive credit, course takers must submit accurate and complete information on the requested forms, complete the entire course, and receive a 70% or higher on the Intro to Thematic Investing Quiz.
Questions on receiving CE credit may be sent to: Education@globalxetfs.com
KEEP UP WITH THE LATEST RESEARCH FROM GLOBAL X
To learn more about the disruptive themes changing our world, read the latest research from Global X, including:
ETF HOLDINGS AND PERFORMANCE:
To see individual ETF holdings and current performance across the Global X Thematic Growth Suite, click the below links: