Artificial Intelligence & Drones
Autopilot Engaged  
The Drone Racing League (DRL) held a first-of-its-kind tournament that featured drones piloted by artificial intelligence (AI). The DRL partnered with Lockheed Martin to host the event and promote advances in AI technology. AI has defeated humans in board games like chess and go, but humans still rule drone racing – for now. Human pilots compete using custom-built racing drones capable of traveling more than 90 mph.1 For this AI event, competitors used the same hardware, but replaced pilots with AI software, which did not use any GPS, data relay, or human intervention. Nine teams from around the world qualified for the tournament, with the winner taking home a $1 million cash prize.
Alphabet's Wing takes off
Autonomous delivery drone service Wing, an Alphabet subsidiary, kicked off its delivery service in Virginia. Users only need to download Wing's app to receive air delivery of goods from companies like FedEx and Walgreens. Rather than landing the drone, which is a major safety concern, Wing's aircraft gently lowers the order down on its tether and unclips the item for users. Test flights for this first-of-its-kind drone delivery system totaled roughly 80,000 over the last three years.2 Wing aims to reduce traffic congestion in cities and ease CO2 emissions attributable to the transport of goods, as the drones use an all-electric power system with zero emissions.

Cannabis
Edible Arrangements: Canada's Cannabis 2.0 underway
On October 17th, Health Canada, the governing body that oversees the country's cannabis industry, started accepting applications from companies prepping cannabis-based products for sale. The applications serve as 60-day notices to Health Canada, after which Canadians will have access to hundreds of products, including CBD-infused spring water, mints, chocolates, gummy candies, and multi-flavor pens and vapes. Health Canada requires companies to use child-resistant and plain packaging for edibles to lower the risk of accidental consumption and make packages less appealing to young people. The label must also display the standardized cannabis symbol and a health warning. In addition, companies cannot make any claims about health benefits or nutrition on the label.3

Electric Vehicles
Not Your Father's Ford
Ford doesn't have an electric vehicle (EV) fleet yet. But that's about to change. The automaker expects to start deliveries of its electric-SUV next year. The SUV has a Mustang-inspired design and a range greater than 300 miles, more than the 250-mile range for the Tesla Model 3 Range Plus.4 To charge their EVs, Ford announced the rollout of a 12,000-station network in the U.S. as part of a collaboration with VW-owned Electrify America and Greenlots.5 The stations are expected to support other EV models as well. For home charging setups, Ford teamed up with Amazon for installation services.

Lithium & Batteries
More than Goodenough
The 2019 Nobel Prize in Chemistry went to the trio of John B. Goodenough, M. Stanley Whittingham, and Akira Yoshino for laying the foundation for our rechargeable world. According to the Nobel organization, lithium-ion batteries have revolutionized our lives since they first entered the market in 1991. Whittingham worked to develop fossil fuel-free energy technologies in the 1970s. He managed to develop a lithium battery, but it was too explosive to be viable. In 1980, Goodenough, who at 97 is the oldest laureate to receive a Nobel prize, picked up where Whittingham left off and made a much more powerful, and stable, lithium-ion battery using cobalt oxide. Five years later, Yoshino created the first commercially viable lithium-ion battery.

Autonomous Vehicles
Ridin' Solo
Alphabet's autonomous vehicle (AV) division, Waymo, announced that it will begin testing without trained drivers joining along for the ride. Previously, trained drivers sat ready to take control during the millions of test miles driven by Waymo's AVs. With significant progress made, select riders in Phoenix, Arizona soon will be able to enjoy an AV all to themselves, though they will be able to access a support agent through the car's help button on an app. Notably, self-driving technology is a transition, not a switch. Ride-hailing technology could give consumers access to AVs at a low-cost entry point, rather than buying an AV for themselves.

E-commerce & Robotics
An Automation Arms Race
E-commerce companies like Shopify rely on AI technologies to automate their fulfillment centers. And Shopify wants to accelerate its growth potential with fulfillment networks capable of competing with Amazon. The company wants to provide clients with timely deliveries, lower shipping costs, and everything required to handle deliveries and returns. Shopify's recent $450 million acquisition of 6 River Systems will integrate fully automated collaborative-robots (co-bots) into its picking process, as well as autonomous pick-carts that can navigate fulfillment centers. 6 River's co-bots could accelerate cart pick rates by 2–3x and, given its cost-savings economics, have a 12–18 month payback period.6
THE NUMBERS 
The following charts examine returns and sales growth expectations by theme, based on their corresponding ETFs.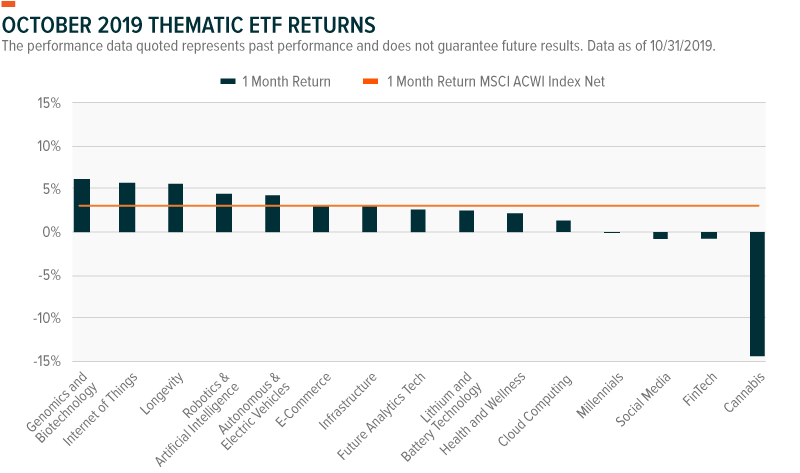 INTRO TO THEMATIC INVESTING COURSE – ELIGIBLE FOR CE CREDIT
Global X has developed an interactive, self-guided Intro to Thematic Investing course, that is designed to share the latest ideas and best practices for incorporating thematic investing into a portfolio.
This program has been accepted for 1.0 hour of CE credit towards the CFP®, CIMA®, CIMC®, CPWA® or RMA certifications. To receive credit, course takers must submit accurate and complete information on the requested forms, complete the entire course, and receive a 70% or higher on the Intro to Thematic Investing Quiz.
Questions on receiving CE credit may be sent to: Education@globalxetfs.com
KEEP UP WITH THE LATEST RESEARCH FROM GLOBAL X
To learn more about the disruptive themes changing our world, read the latest research from Global X, including:
ETF HOLDINGS AND PERFORMANCE:
To see individual ETF holdings and current performance across the Global X Thematic Growth Suite, click the below links: