The Next Big Theme: September 2020
Telemedicine & Digital Health
Say Goodbye to Waiting Rooms
Some U.S. health care providers reported telemedicine visits increasing by as much as 175x since the beginning of the COVID-19 pandemic.1 And new insurance data reflect this surge: Fairhealth released claims data that shows telehealth represented 6.9% of all U.S. claims in June, up from 0.2% in the same month last year.2 Of note, rural claims reached 3.5%, jumping from less than 0.1% in 2019.3 While still representing just a small percent of overall claims, the increase among rural communities shows the viability of telemedicine in areas with less access to health care. Connected health care devices, digital health platforms, and centralized, interoperable health data are also important parts of the digital health care ecosystem that should benefit from structural trends accelerated by the pandemic.

Artificial Intelligence & Big Data
Artsy AI Pens Poems and Prose
OpenAI's new GPT-3 software toolset could very well be the most powerful artificial intelligence (AI) -based language model ever created. Its advanced machine learning (ML) capabilities are built on probabilistic connections between words, allowing the model to generate entirely original, logical, and factual prose if provided with enough text to learn from. At this point, the toolset can pen poetry and text messages, compose music, generate computer code, and seamlessly answer questions. GPT-3 is still in private beta and only a few hundred developers have access to the software. However, those who do are making quick use of it. One developer is using the toolset to automate email responses; another is using it to build characters in text-based computer games.2

E-commerce
Everyone Wants In on E-Commerce Growth
E-commerce has become the de-facto shopping solution for many consumers amid the COVID-19 pandemic. Approximately 16% of retail sales in the second quarter occurred online, a robust 44.5% increase from Q2 last year.4 So it doesn't come as a surprise that other non-native e-commerce companies increasingly want a piece of that growth. Walmart, which reported that its Q2 online sales nearly doubled from the same period last year, recently partnered with e-commerce stalwarts Shopify and Instacart to further accelerate their movement online.5

Cloud Computing
Cloud Unicorns Coming of Age
Five more cloud software companies filed for initial public offerings (IPOs) on August 24. Unity Software, which offers a cloud-based video game development platform where 50% of the Apple App Store's top 1,000 were born, filed for an NYSE listing.6 Cloud-data company Snowflake, which investors valued at over $12.4 billion in February, also plans to IPO. Asana, a workplace productivity software developer valued near $5 billion, filed for a direct listing.7 JFrog, a provider of software development tools, and Sumo Logic, a data analytics provider, intend to list on Nasdaq. So far this year, 18 software companies have gone public, raising a total of $5.5 billion of capital. As of August 24, those names were up 91% from their offer price in weighted average terms.8

Electric Vehicles
Electrifying IPO Market
Electric vehicles (EVs) are quieter than internal combustion engine (ICEs) vehicles. But EV companies are revving their engines in a sprint to raise capital and capture the largely unpenetrated EV market. XPeng, Jiuzi, Li Auto, Hyllion, and Fisker are just a few companies that have entered the public market in recent months. Some chose traditional initial public offerings (IPOs), while others went the Special Purpose Acquisition Company (SPAC) route. Also expected to make their public debuts in coming months are Canoo and QuantumScape, with the latter backed by Bill Gates. Regardless of how these companies go public, they aim to take advantage of a supportive regulatory environment, growing consumer acceptance of EVs, and improving technology that's close to reaching price parity with ICEs.

Social Media
The Mall for the Digital Age
In August, Facebook announced their newest foray into social commerce.9 Facebook Shops gives users a place to browse and purchase products from a variety of businesses. In July, they launched Instagram Shops, which provides a similar service. Snapchat recently entered the social commerce arena as well, announcing an augmented reality-based shopping feature.10 Social commerce represents a shift for social media companies, as they look to further monetize their vast networks of users and content. Social commerce is projected to grow from $22 billion in U.S. sales in 2019 to $83 billion in 2024, a 30.8% CAGR.11

Autonomous Vehicles & IoT
AVs Take Flight
Powered by deep learning, autonomous aviation company Xwing completed the first-ever fully autonomous cargo flight. Xwing uses sensors, lidar, radar, and advanced vision technologies to gather flight data. Its software then integrates all the data and maps with onboard flight control systems to allow regional aircraft to navigate, take off and land.12 Humans still have to sit in the cockpit and oversee the flight, similar to the current state of autonomous cars. However, the company expects that by 2022 they could have completely unmanned cargo operations in the U.S., with humans overseeing operators from the ground.13
THE NUMBERS
The following charts examine returns and sales growth expectations by theme, based on their corresponding ETFs.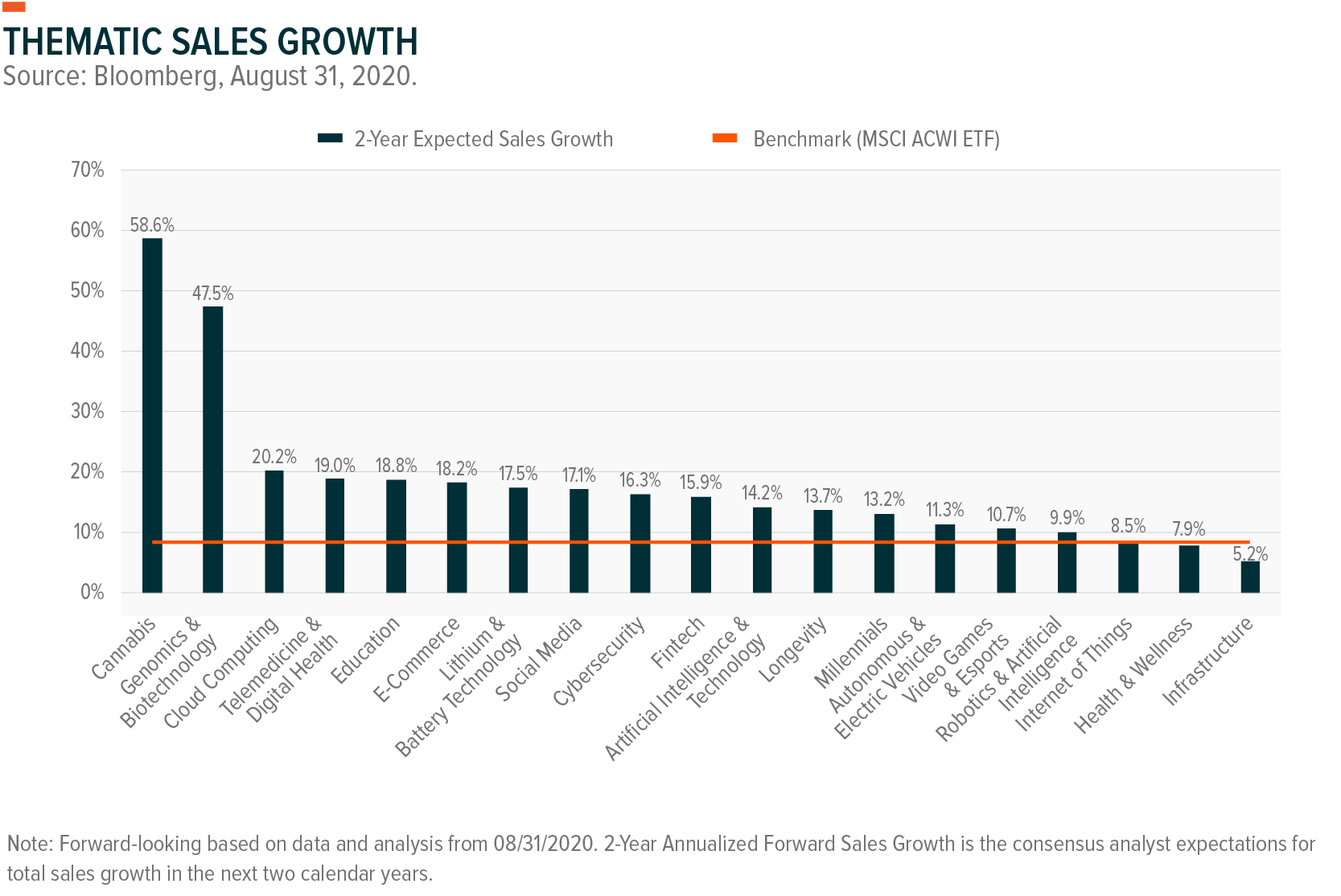 INTRO TO THEMATIC INVESTING COURSE – ELIGIBLE FOR CE CREDIT
Global X has developed an interactive, self-guided Intro to Thematic Investing course, that is designed to share the latest ideas and best practices for incorporating thematic investing into a portfolio.
This program has been accepted for 1.0 hour of CE credit towards the CFP®, CIMA®, CIMC®, CPWA® or RMA certifications. To receive credit, course takers must submit accurate and complete information on the requested forms, complete the entire course, and receive a 70% or higher on the Intro to Thematic Investing Quiz.
For Canadian course takers: This program has been reviewed by FP Canada and qualifies for 1 FP Canada-Approved CE Credit, in the category of Product Knowledge, towards the CFP® certification or QAFP™ certification. To receive credit, course takers must submit accurate and complete information (including Job Title) on the requested forms, complete the entire course, and receive a 70% or higher on the Intro to Thematic Investing Quiz.
Questions on receiving CE credit may be sent to: Education@globalxetfs.com
KEEP UP WITH THE LATEST RESEARCH FROM GLOBAL X
To learn more about the disruptive themes changing our world, read the latest research from Global X, including:
ETF HOLDINGS AND PERFORMANCE:
To see individual ETF holdings and current performance across the Global X Thematic Growth Suite, click the below links: