The Next Big Theme: April 2020
Video Games & Esports
Sports-Starved Fans Go Digital
Professional sports leagues around the world are dark due to COVID-19. But in recent weeks, pro athletes joined the video game frenzy to help fill the competitive void. The Race All-Star Esports Battle featured pro drivers from Formula 1, IndyCar and NASCAR. A half a million fans tuned in via YouTube for the inaugural event on March 15.1 Rounds 2 and 3 of the new series were ratings hits as well. In the NBA, the Phoenix Suns are playing out their season on NBA 2K20. Following their first game against the Dallas Mavericks, 2k simulations have started to appear more regularly. Live, in-person sporting events may not be in the cards for a while. But this could be an opportunity for Esports and online video game streaming to continue their march into the mainstream.
Gamers Answer the Call to Duty
Activision's highly anticipated launch of Call of Duty: Warzone did not disappoint. The company set a record for the greatest number of gamers acquired over the shortest period of time; it grabbed 6 million gamers on the game's first day, 15 million in three days and 30 million in 10 days.2 For context, that growth rate is 10 times faster than Fortnite, which took 11 weeks to reach 30 million gamers. Call of Duty: Warzone is a free-to-play, first-person shooter game that allows up to 150 gamers to play at the same time. Gamers can squad up in trios with their friends. Activision is expected to monetize the game similarly to other battle royale games, with in-game microtransactions that include cosmetics and higher tiers.

Cloud Computing
Cloud Demand Higher Than the Sky
The coronavirus outbreak has millions of people around the world working remotely. As a result, demand for cloud computing is surging. Microsoft reported that in March, their cloud-based collaboration platform, Microsoft Teams, experienced a 775% uptick in usage in some regions where social distancing has been enforced.3 And in one particular week, total Teams users surged from 12 million to about 44 million.4 Other Microsoft cloud services include the popular Windows Virtual Desktop, which saw usage grow by 3x, and gaming-related services such as Xbox Game Pass, Xbox Live, and their streaming platform, Mixer.

Cannabis
Cannabis Consumption Continues Amid COVID-19
The measures put in place to limit the spread of COVID-19 are altering the cannabis market's dynamics, too. Medical users are stockpiling cannabis to limit time out of the house and perhaps even increasing consumption as they seek to treat symptoms that may arise from isolation like anxiety. And for recreational users this means more time to use cannabis products. Consumption patterns are indicative of these trends: On March 16, California saw a 159% increase in cannabis sales compared to the same day last year. Sales increased by 100% in Washington and 46% in Colorado.5 Sales trailed off in the days that followed, but that can be attributed to earlier stockpiling. Many states updated their essential business designations to include those in the cannabis industry, which should result in more stable sales moving forward.6 Using alcohol sales during the Great Recession as a proxy, cannabis could prove to be a defensive investment area as consumers continue to purchase cannabis products.7

E-Commerce
Online Retail Reigns Supreme
A survey found that 42% of consumers were now more likely to make purchases online.8 And there's proof: retailers recently reported that a healthy 8.8% of all visits, or shopping sessions, resulted in a purchase.9 Products seeing the biggest increases in sales volume include masks, hand sanitizer, gloves, bottled water and vitamins.10 However, the COVID-19 crisis presents inventory and logistical issues, particularly for smaller retailers. One reason is larger e-commerce players like Amazon limiting their inventory of third-party products due to increased demand in specific verticals. That said, retailers are scaling their operations, which could ablate some of these issues. Notably, Amazon announced plans to hire 100,000 workers to support shifting dynamics and increased sales volumes.11

Health and Wellness
Fitness Finds a Way
With instructions to stay indoors, many people are looking for new ways to stay physically active. Some are inventing their own solutions: in China, a man ran 31 miles by running 6,250 laps around his living room.12 Others are looking toward technology. Many traditional gyms now offer online classes. Planet Fitness, for example, hosts a daily "Home Work-In" live stream led by certified trainers.13 Companies that offer their services virtually for at-home use find that they're well-positioned. Echelon, which sells internet-enabled smart bikes, noted a significant spike in demand. In late March, CEO Lou Lentine reported that "sales are up ten-fold" and that they "did more sales in the last three days than we expected to do in a month."14
THE NUMBERS
The following charts examine returns and sales growth expectations by theme, based on their corresponding ETFs.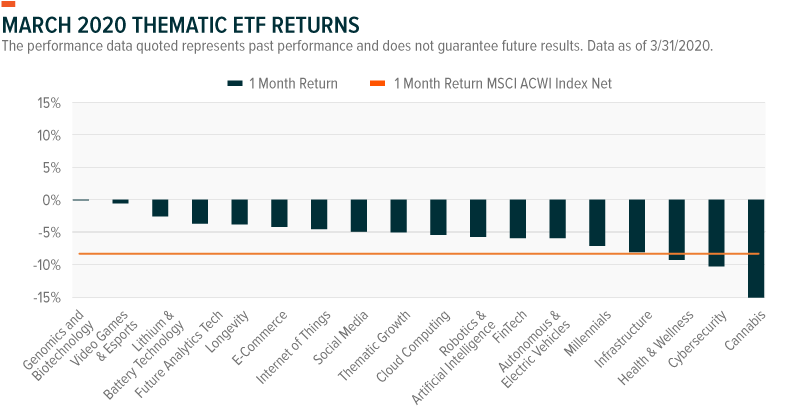 INTRO TO THEMATIC INVESTING COURSE – ELIGIBLE FOR CE CREDIT
Global X has developed an interactive, self-guided Intro to Thematic Investing course, that is designed to share the latest ideas and best practices for incorporating thematic investing into a portfolio.
This program has been accepted for 1.0 hour of CE credit towards the CFP®, CIMA®, CIMC®, CPWA® or RMA certifications. To receive credit, course takers must submit accurate and complete information on the requested forms, complete the entire course, and receive a 70% or higher on the Intro to Thematic Investing Quiz.
Questions on receiving CE credit may be sent to: Education@globalxetfs.com
KEEP UP WITH THE LATEST RESEARCH FROM GLOBAL X
To learn more about the disruptive themes changing our world, read the latest research from Global X, including:
ETF HOLDINGS AND PERFORMANCE:
To see individual ETF holdings and current performance across the Global X Thematic Growth Suite, click the below links: