The Next Big Theme: May 2020
Millennials
The World is Shopping Like Millennials
With people staying at home, online activity is way up. And it seems Gen Xers and Baby Boomers are becoming more Millennial-like in their online habits. Millennials were the earliest adopters of online and digital platforms as part of their everyday routines. They helped initiate demand for everything from e-commerce and video games to social media and fintech. In this quarantined world, years, if not decades, of offline-to-online transitions are taking place in weeks and months. For example, historically, online sales of food and beverages are less than 3% of total sales for the category.1 But with new segments of the population looking to online delivery alternatives, the penetration rate for the category is expected to increase exponentially.

Social Media
Rooms Zooming for Greater Average Revenue per User
Facebook announced the launch of Rooms, a live video chat platform similar to Zoom. Capable of connecting up to 50 people with no time limit, Rooms intends to bring more people together and create ways to further engage and monetize Facebook's 2.4 billion user base. As we mentioned in Social Media Moves to New Era of Growth, social media companies now focus on maximizing the revenue generated from each user rather than just looking for new users. Between WhatsApp and Messenger, more than 700 million accounts participate in video calls every day.2 In many countries, video calling on Messenger and WhatsApp more than doubled, and views on Facebook Live and Instagram Live videos increased significantly in recent months.

Video Games & Esports
Perfect Timing for a New Console Supercycle
Maybe parents want to give their children some entertainment. Or maybe parents want to get in on the action themselves. In any case, quarantine is increasing demand for video game consoles. Nintendo is reportedly seeking to increase production of the Nintendo Switch. Last year, the company produced and sold 20 million consoles.3 This year, it expects demand to increase by 10%.4 At $299 per console on average, that could translate to gross revenues of $6.6 billion. More consoles also mean more video game revenues. As Sony and Microsoft fine-tune their launches of the PS5 and Xbox Series X consoles later this year, video game companies could continue to gain traction with more people stuck at home.

Cloud Computing
Work From Home, Via The Cloud
Cloud computing infrastructure and software are the foundations for the virtual work environments that many companies rely on, now more than ever. On the infrastructure side of the cloud equation, public cloud companies' recent earnings releases showed significant COVID 19-induced demand. Revenues for Amazon's Amazon Web Services segment increased 32.6% year-over-year in Q1. Revenues for Microsoft's Azure grew 59%.5 Looking at software, usage of cloud-based collaboration and meeting tools like Zoom and Microsoft Teams increased dramatically over the past couple of months. Microsoft reports that Teams now has over 75 million daily active users, up from 44 million in March.6

Robotics
Sanitation Robots Mean Safer Work Settings
The use of robotics can create safer work environments, not just optimized ones. Typically, this means mechanizing assembly processes that put humans at risk. But COVID-19 has brought new safety benefits of robotics to light that could become tailwinds for the industry. For example, sanitation robots can scrub and disinfect floors in any number of settings to possibly limit the spread of the virus, creating safer environments for customers and employees. Brain Corp, a company that makes software for sanitation robots, reported that its clients are implementing their software 13% more than before the pandemic.7 Robots are also helping employees adhere to social distancing by limiting human involvement in certain tasks. A leading online grocer in the UK, for example, uses robots to assemble and pack customer orders. And retailers like Target use robots to monitor inventory.8

Cybersecurity
Protecting More Than Just Your Computer's Health
Recent cyberattacks on global health care institutions highlight the importance of cybersecurity. In the Czech Republic, cybercriminals hacked into a hospital responsible for running COVID-19 tests, temporarily limiting its computer systems.9 In the U.S. an attack overloaded Health and Human Services (HHS) servers with millions of hits over just a few hours. Luckily, the attack had no impact on operations, and HHS put "extra protections in place" following the incident.10 While increased cybersecurity spend is essential to limit these incidents, standardized international guidelines are also necessary to stymie digital criminal activity that knows no geographic bounds. The United Nations Open-Ended Working Group seeks to establish such rules by developing a framework for responsible cyber activity, and their upcoming April report will include language pertinent to COVID-19.11
THE NUMBERS
The following charts examine returns and sales growth expectations by theme, based on their corresponding ETFs.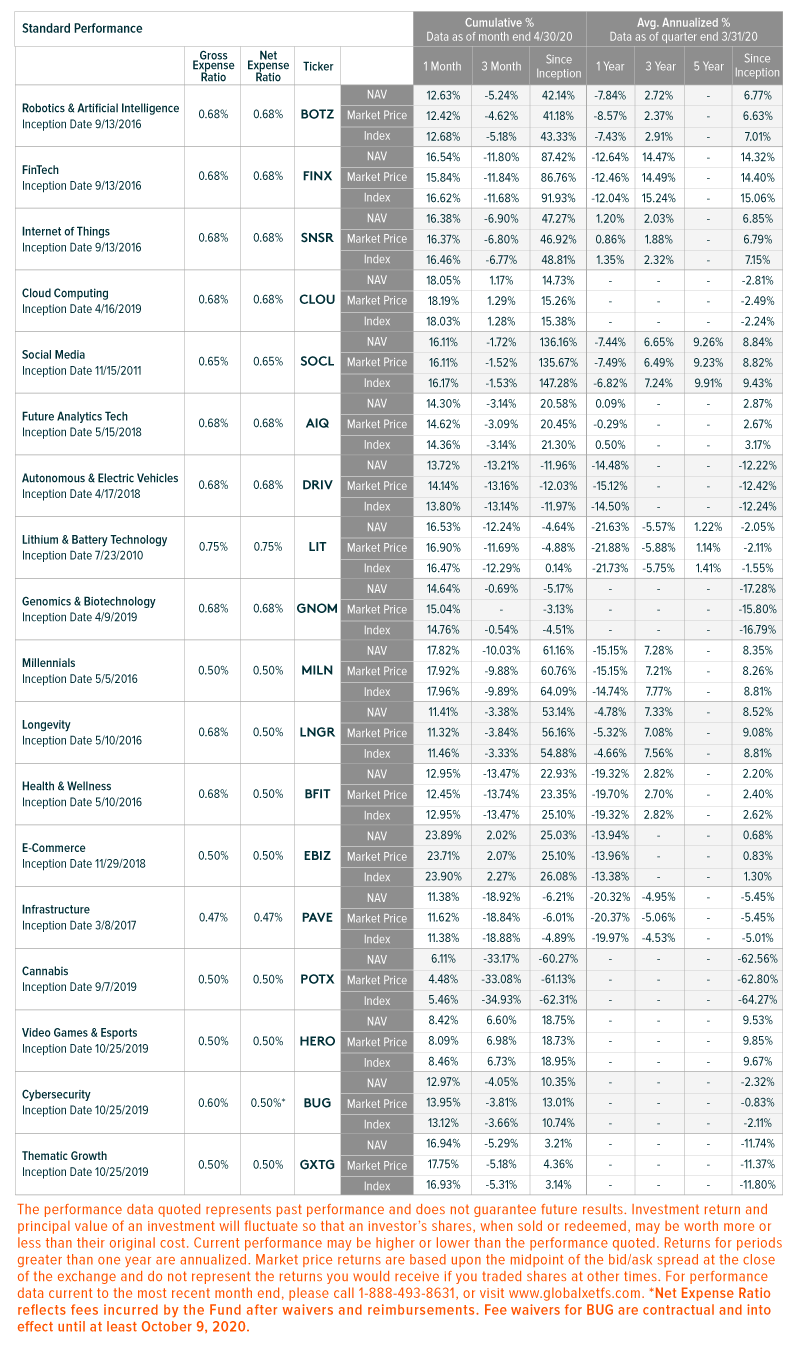 INTRO TO THEMATIC INVESTING COURSE – ELIGIBLE FOR CE CREDIT
Global X has developed an interactive, self-guided Intro to Thematic Investing course, that is designed to share the latest ideas and best practices for incorporating thematic investing into a portfolio.
This program has been accepted for 1.0 hour of CE credit towards the CFP®, CIMA®, CIMC®, CPWA® or RMA certifications. To receive credit, course takers must submit accurate and complete information on the requested forms, complete the entire course, and receive a 70% or higher on the Intro to Thematic Investing Quiz.
Questions on receiving CE credit may be sent to: Education@globalxetfs.com
KEEP UP WITH THE LATEST RESEARCH FROM GLOBAL X
To learn more about the disruptive themes changing our world, read the latest research from Global X, including:
ETF HOLDINGS AND PERFORMANCE:
To see individual ETF holdings and current performance across the Global X Thematic Growth Suite, click the below links: