The Next Big Theme: November 2021
Social Media
Life in the Metaverse
Facebook announced that it is all in on the metaverse, so much so that it's changing its corporate name to Meta, of which all Facebook properties will fall under, including Messenger, WhatsApp, and Instagram. As a leader in the virtual reality (VR) connectivity space, with its formerly Oculus-branded VR worlds, Facebook intends to be the host site for a metaverse of creators and developers that bring new experiences to users. Microsoft's version will see the company adapt its office products suite. Microsoft Team's chat and conference is in testing and will be available H1 2022.1 Even dating is headed to the metaverse, starting with Tinder's parent company Match Group. The company has a vision for "Single Town," a world where users can interact through real-time audio and virtual meetups.2

Renewable Energy & Cleantech
Biden Goes to the COP26 Climate Change Summit
President Biden announced two new international commitments, one to curb methane emissions and one to end deforestation by 2030.3 Thus far, 105 countries have signed the Global Methane Pledge, which aims for a 30% reduction by 2030.4 Leaders of more than 100 countries vowed to end deforestation by 2030, which would encompass about 85% of the world's forests.5 With financial support from other industrialized nations, the Biden administration said that it expects to provide $100 billion a year in aid to help developing countries fight and adapt to global warming.6 Biden said the U.S. would contribute $3 billion annually by 2024.7 On the net-zero end, 450 financial firms pledged $130 trillion in capital to finance the transition to net-zero emissions with commitments to shift 100% of their funds to net-zero emissions targets by 2050.8 Over 100 countries, regional governments, and auto manufacturers doubled down on their pledges to transition to 100% all-electric cars by 2040.9

E-commerce
Holidays Ring in Surplus Packages
Holiday e-commerce sales are projected to increase 14.4% this year, with online traffic comprising 18.4% of all spending through year-end.10 Apparel and accessories is expected to be the fastest-growing segment in the U.S. this holiday season with a 25.5% year-over-year (YoY) increase, followed by computer and consumer electronics at +12.5% and health and person care at +12.1% YoY.11 In anticipation of the rush, Amazon released plans to hire 150,000 seasonal employees. To further motivate prospective employees, Amazon is offering a $3,000 sign-on bonus and a $3/hour wage bump in certain locations.12 Global logistics giant UPS is shifting gears to focus on small and medium-sized businesses as they continue to show persistent growth in e-commerce package volume. The company reported positive results despite supply chain challenges.

Electric Vehicles & Lithium
OEMs Power Up Auto Electrification
Original equipment manufacturers (OEMs) continue to ramp up their commitments to electric vehicles (EV) in the U.S. Toyota has an U.S. electrified vehicles (including hybrid (HEV), plug-in hybrid (PHEV), fuel cell (FCEV) and battery electric vehicles (BEV)) sales volume of roughly 25%, which it intends to raise to about 70% by 2030.13 Stellantis aims for EVs and PHEVs to account for 40% of its U.S. sales volume.14 The BMW Group wants its EVs to comprise 50% of its U.S. sales volume by 2030.15 Battery technology is also a major focus. Toyota is investing $1.29 billion to build a battery plant with Toyota Tsusho by 2025.16 Stellantis is partnering with LG Energy Solution for a plant with production capacity of 40 gWh.17 Tesla signed a three-year supply deal with China's Ganfeng Lithium starting 2022.18 And General Motors announced goals to reduce battery costs by 60%.19

Cloud Computing
Spending Reaches the Clouds
In Q3 2021, spending on cloud infrastructure services reached a new high of $50 billion as the digital economy continues to thrive.20 Spending was $2.4 billion higher than in Q2 2021 and $13 billion higher than in Q3 2020.21 The pandemic increased digitization by 59% at organizations,22 and companies continue to assimilate to an economy that includes hybrid and work-from-home set-ups. France is the latest country to announce a major cloud spending push. It has plans to invest $2.1 billion in the industry, with $770 million going to public financing, $513 million to European Union financing, and $785 million to private co-financing.23

Cybersecurity
Security Escalates to the Federal Level
The Biden administration issued a new mandate for federal agencies to patch cybersecurity vulnerabilities in government software. This new mandate covers about 200 known security flaws, making it one of the most widespread initiatives of its kind.24 Also, the House passed the Small Business Administration (SBA) Cyber Awareness Act, requiring small businesses to notify Congress of cybersecurity breaches. A second component includes the Small Business Development Center Cyber Training Act for cybersecurity counseling certification programs.

Robotics & AI
Report: Record Robots
The news was positive for robot growth in the International Federation of Robotics' annual World Robotics Report. There are now 3 million operational industrial robots working in factories globally, up 10% from last year.25 By year-end, it's estimated there will be 435,000 industrial robot installations, up from 384,000 last year. Asia remains the world's largest robot market, led by China with 168,400 industrial units. Japan and the U.S. are the second and third-biggest markets at 38,7000 and 30,800, respectively. Currently, the electronic, automotive, and metal/machinery industries use industrial robot applications the most. The service robots market also reached a new high of $6.7 billion worldwide, up 12% YoY in 2020.

THE NUMBERS
The following charts examine returns and sales growth expectations by theme, based on their corresponding ETFs.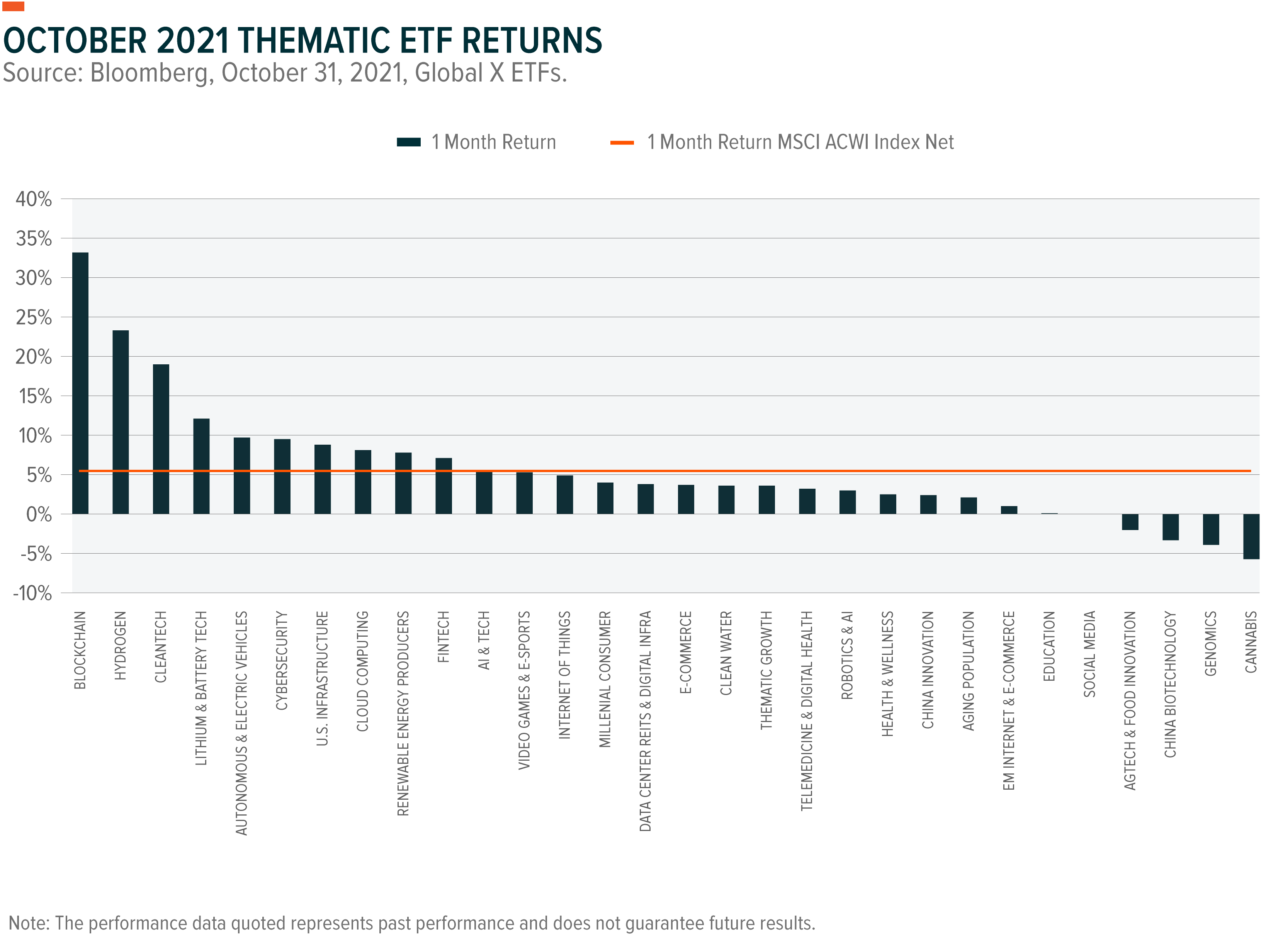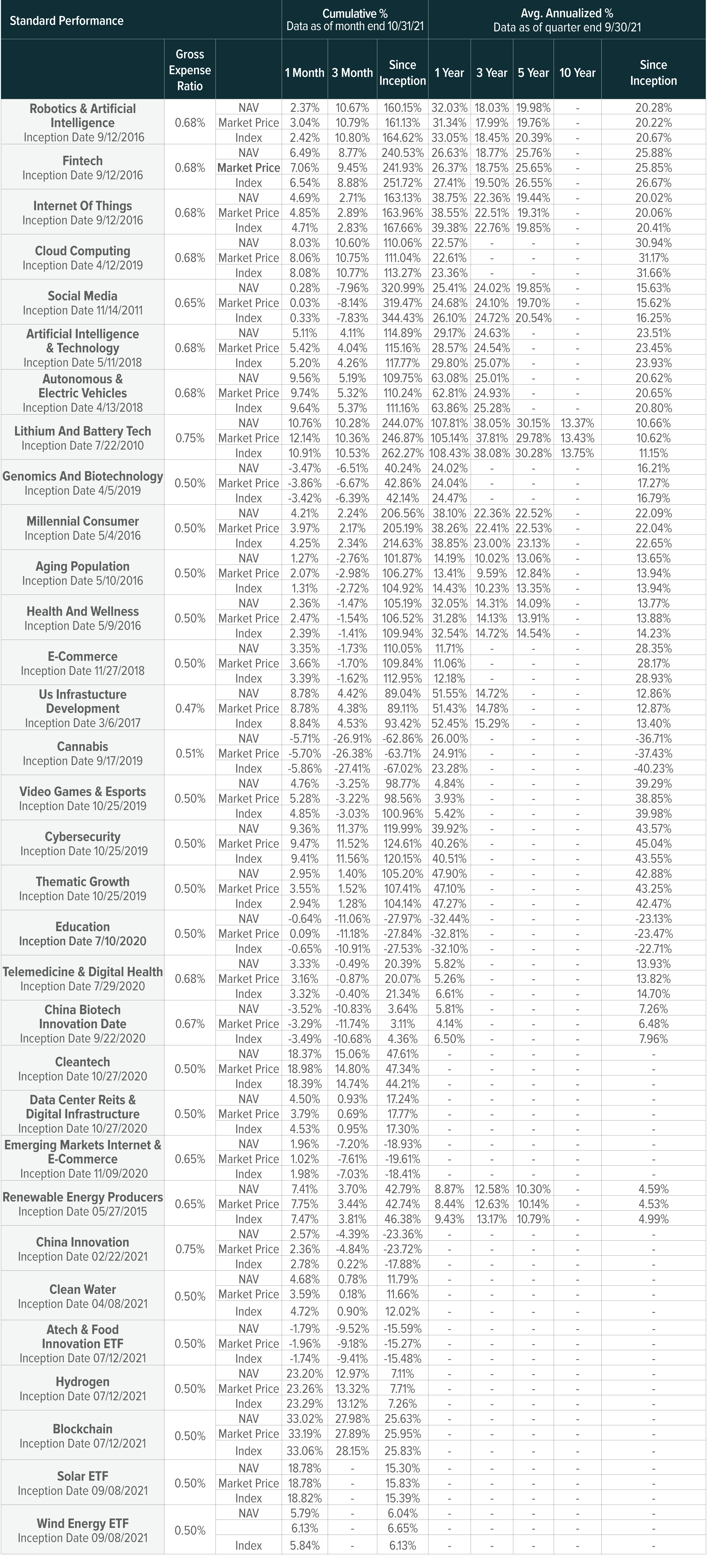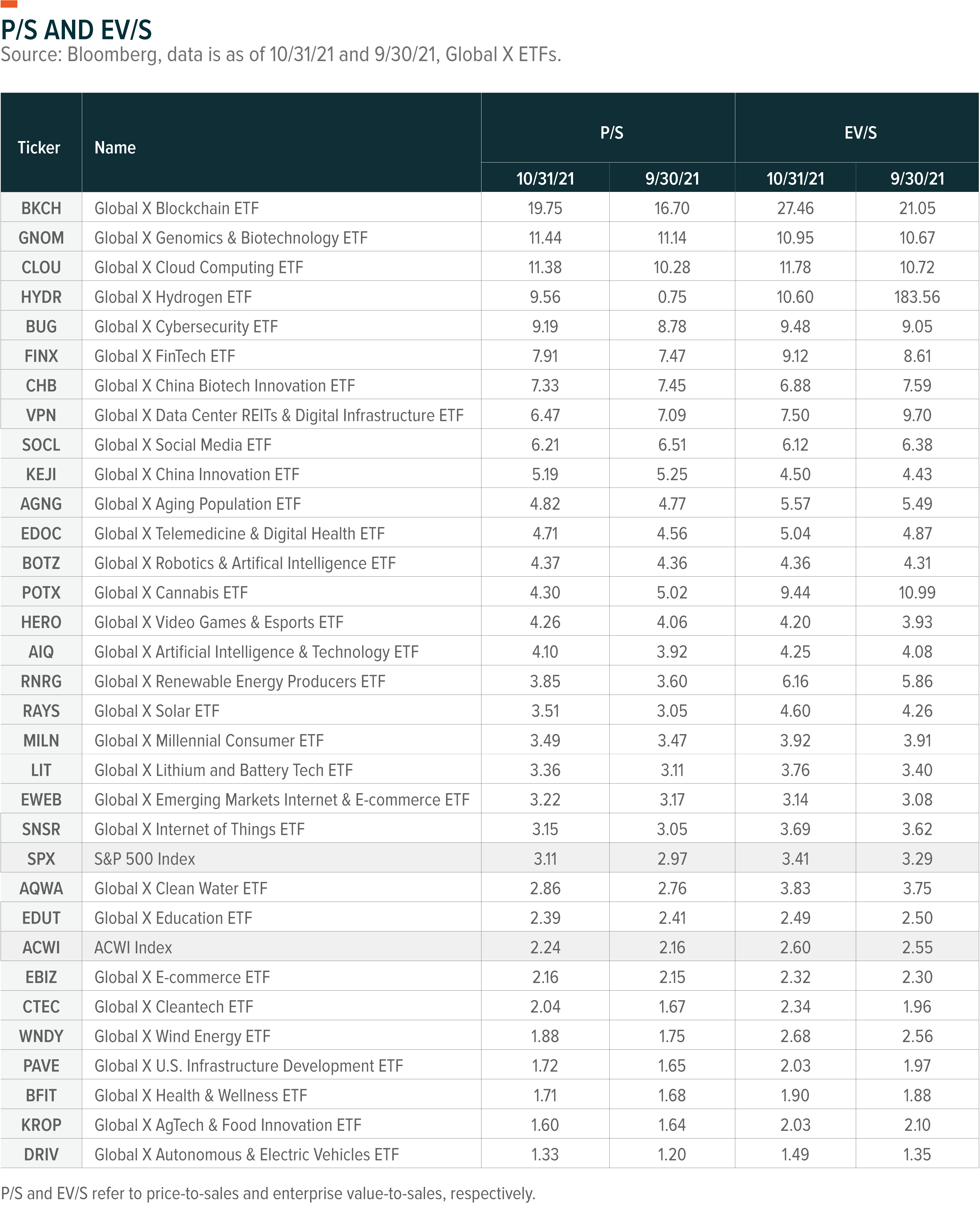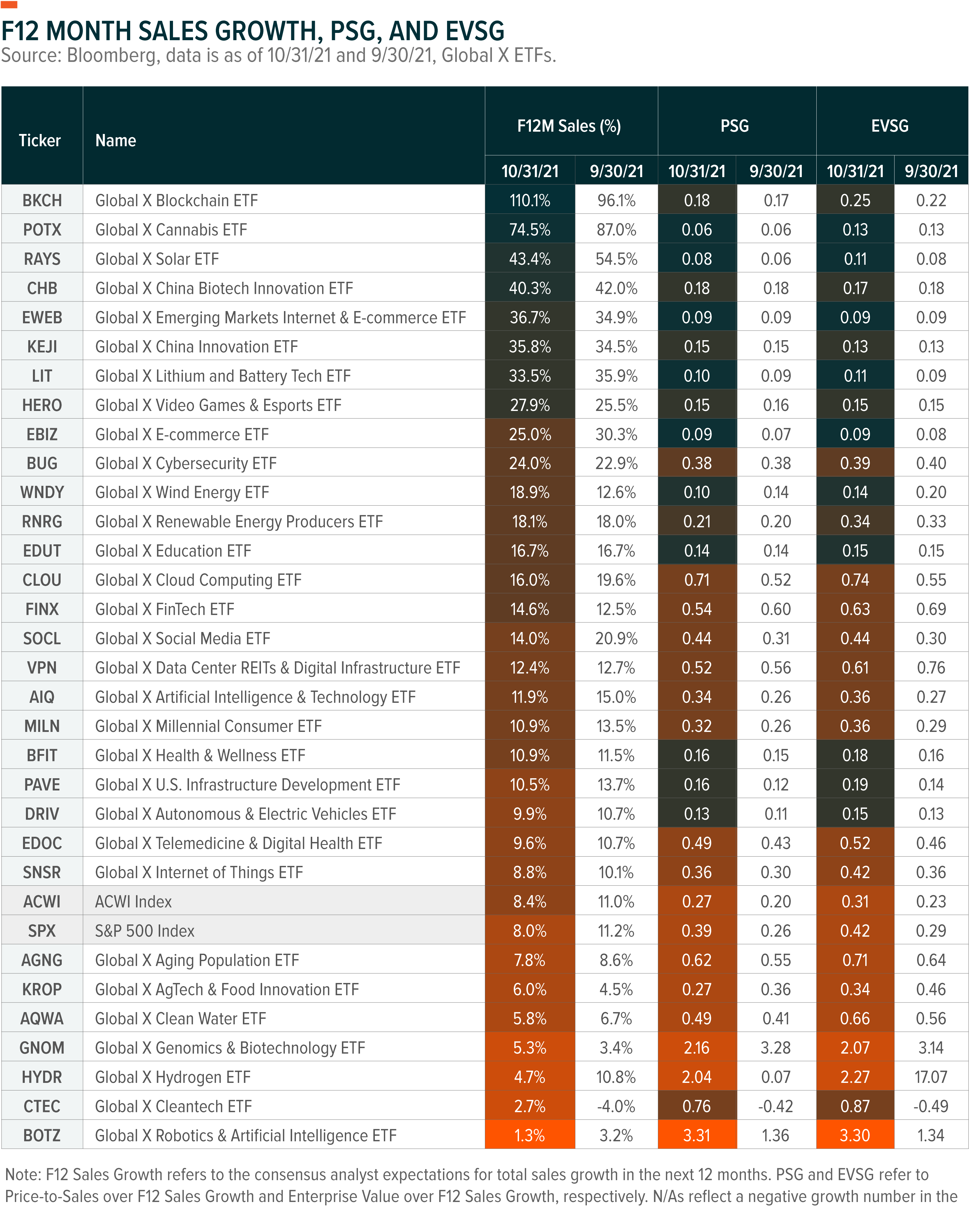 INTRO TO THEMATIC INVESTING COURSE – ELIGIBLE FOR CE CREDIT
Global X has developed an interactive, self-guided Intro to Thematic Investing course, that is designed to share the latest ideas and best practices for incorporating thematic investing into a portfolio.
This program has been accepted for 1.0 hour of CE credit towards the CFP®, CIMA®, CIMC®, CPWA® or RMA certifications. To receive credit, course takers must submit accurate and complete information on the requested forms, complete the entire course, and receive a 70% or higher on the Intro to Thematic Investing Quiz.
For Canadian course takers: This program has been reviewed by FP Canada and qualifies for 1 FP Canada-Approved CE Credit, in the category of Product Knowledge, towards the CFP® certification or QAFP™ certification. To receive credit, course takers must submit accurate and complete information (including Job Title) on the requested forms, complete the entire course, and receive a 70% or higher on the Intro to Thematic Investing Quiz.
Questions on receiving CE credit may be sent to: Education@globalxetfs.com
KEEP UP WITH THE LATEST RESEARCH FROM GLOBAL X
To learn more about the disruptive themes changing our world, read the latest research from Global X, including:
ETF HOLDINGS AND PERFORMANCE:
To see individual ETF holdings and current performance across the Global X Thematic Growth Suite, click the below links: