The Next Big Theme: May 2021
Lithium & Battery Tech
Factories Charge Up Battery Cell Production
In a bid to satisfy the growing demand for battery cells used in electric vehicles, Ford announced it will open a $185 million R&D battery lab.1 The lab indicates that Ford will likely vertically integrate, moving towards in-house production of batteries in the future. Executives at Ford noted that the global pandemic and the ensuing semiconductor shortage highlight the value of localized supply chains. Ford's new facility will likely be around 200,000 square feet and will open at the end of 2022.2
In the U.S. there are currently three operational gigafactories—large scale factories producing batteries for electric vehicles—including Tesla-Panasonic's Gigafactory 1, LG Chem's Michigan plant supplying GM, and AESC Envision's factory in Tennessee. In 2020, battery cell production in the U.S. was just below 40 GWh, while battery demand exceeded 42 GWh.3 For context, achieving President Biden's goal of a 100% electric fleet of U.S. government vehicles will require 69 GWh of battery cells.4 With rising demand for electric vehicles, as well as growing concerns around the reliability of global supply chains, the build out of additional gigafactories domestically and further vertical integration among U.S. auto manufacturers is likely.

Cloud Computing
Cloud Platforms Bundled Up
Flexera's 2021 survey of 637 enterprises reported 36% of enterprises spending more than $12 million per year on public clouds and 55% of enterprise workloads expected to be in a public cloud within twelve months.5 Continuing on the public cloud front, 79% of enterprises implement Amazon Web Services (AWS), up 3% year-over-year (YoY), 76% of enterprises reported using Azure up 7% YoY, and 49% mentioned Google Cloud, up 15% YoY.6  Google secured one of its largest-ever cloud-computing contracts, Univision Communications Inc., in a deal displaying Google's commitment to growing its cloud offering. Google beat out rival services for the collaboration by packing its offering with benefits across its YouTube video platform, advertising and search services. Bundles are becoming a common strategy for many cloud computing companies, including Microsoft's pairing of Office 365 with large enterprise cloud deals and Amazon's pairing of Amazon's Fire TV alongside its cloud contract with WarnerMedia. Under Google's new deal, Univision will consolidate multiple distribution platforms onto Google Cloud, and utilize Google's artificial-intelligence tools to develop personalized content recommendations for its customers.7

Video Games & Esports
Gaming Spend Exceeds Expectations
Over a year after initial stay-at-home orders were enacted to limit the spread of COVID-19, video game engagement is not showing signs of deceleration. Total consumer spending on video gaming in the U.S. totaled $14.92 billion in the first quarter of 2021, an increase of 30% compared to Q1 2020.8 Hardware expenditures, such as the PlayStation 5 and Xbox Series consoles, increased 81% in Q1, followed by a 42% rise in accessories spending and 25% rise in content spending.9 Within software, the most popular games included Among Us, Animal Crossing: New Horizons, Call of Duty: Black Ops Cold War, Candy Crush Saga, Fortnite, Grand Theft Auto V, Mario Kart 8, Minecraft, Super Mario 3D All-Stars, and Super Mario 3D World. In addition, Activision Blizzard's Monthly Active Users (MAUs) reached 435 million during the first quarter, up from 397 million in Q4 2020.

Social Media
Supporting Creators in Emerging Mediums
For several years, major social media platforms strategically shifted towards monetizing their existing users bases rather than focusing on user growth. A new piece of this strategy includes investing in additional mediums and supporting content creators to drive greater engagement. Facebook, for example, is rolling out multiple new audio products. The new products will include soundbites, podcasts, text-to-speech, music from Facebook's sound collection, and most notably, Live Audio Rooms.10 The social media app, Clubhouse, offers similar features, but Facebook's will be included in its Messenger app, tapping into its large embedded user base. In anticipation of this rollout, Facebook also launched an Audio Creator Fund to support emerging creators in the audio medium. In conjunction with the Audio Creator Fund, Facebook is introducing Stars, Facebook's tipping system. Viewers can buy stars and send them to creators. For each star received, Facebook will pay the creator $0.01.11

Cannabis
More U.S. States Legalize Cannabis
18 states now allow for adult recreational use of cannabis, with New York, Virginia, and New Mexico recently joining the growing list. On March 31, 2021, New York legalized cannabis usage for individuals aged 21 and older, the possession of up to 3 ounces or 24 grams of concentrated cannabis, and the liberty to smoke anywhere cigarette-smoking is permitted.12 New Mexico signed legislation legalizing recreational cannabis use within months and kicking off sales next year. Home cannabis growers will be allowed to grow up to six plants per person, or 12 per household and marijuana businesses will be able to set up retail space.13 Following close behind, on April 21st, 2021, Virginia signed a bill that legalizes adult possession of small amounts of recreational marijuana. Each household will be able to cultivate up to four marijuana plants, but the plants must not be accessible to children. It will also be legal to gift up to an ounce of marijuana to another adult. Smoking will still only be permitted in private areas.14 Rhode Island, Pennsylvania, Maryland, Delaware, and Connecticut have also added cannabis to their legislative agendas this year.

Telemedicine & Digital Health
Telehealth Backed By Government Funding
The Federal Communications Commission (FCC) approved the distribution of nearly $250 million towards telehealth services.15 This funding is added onto the $200 million program dedicated to COVID-19 relief which was a part of the CARES act last year. The new funding is designated to facilitate telecommunications services, information services, and connected devices for healthcare workers and patients. Applications for the FCC's COVID-19 Telehealth Program will be evaluated based on socioeconomic status and location. President Joe Biden has also recently announced an expectation to include $400 billion for expanding Medicaid beneficiaries' access to home- and community-based care for seniors and the disabled as part of a larger infrastructure package.16

THE NUMBERS
The following charts examine returns and sales growth expectations by theme, based on their corresponding ETFs.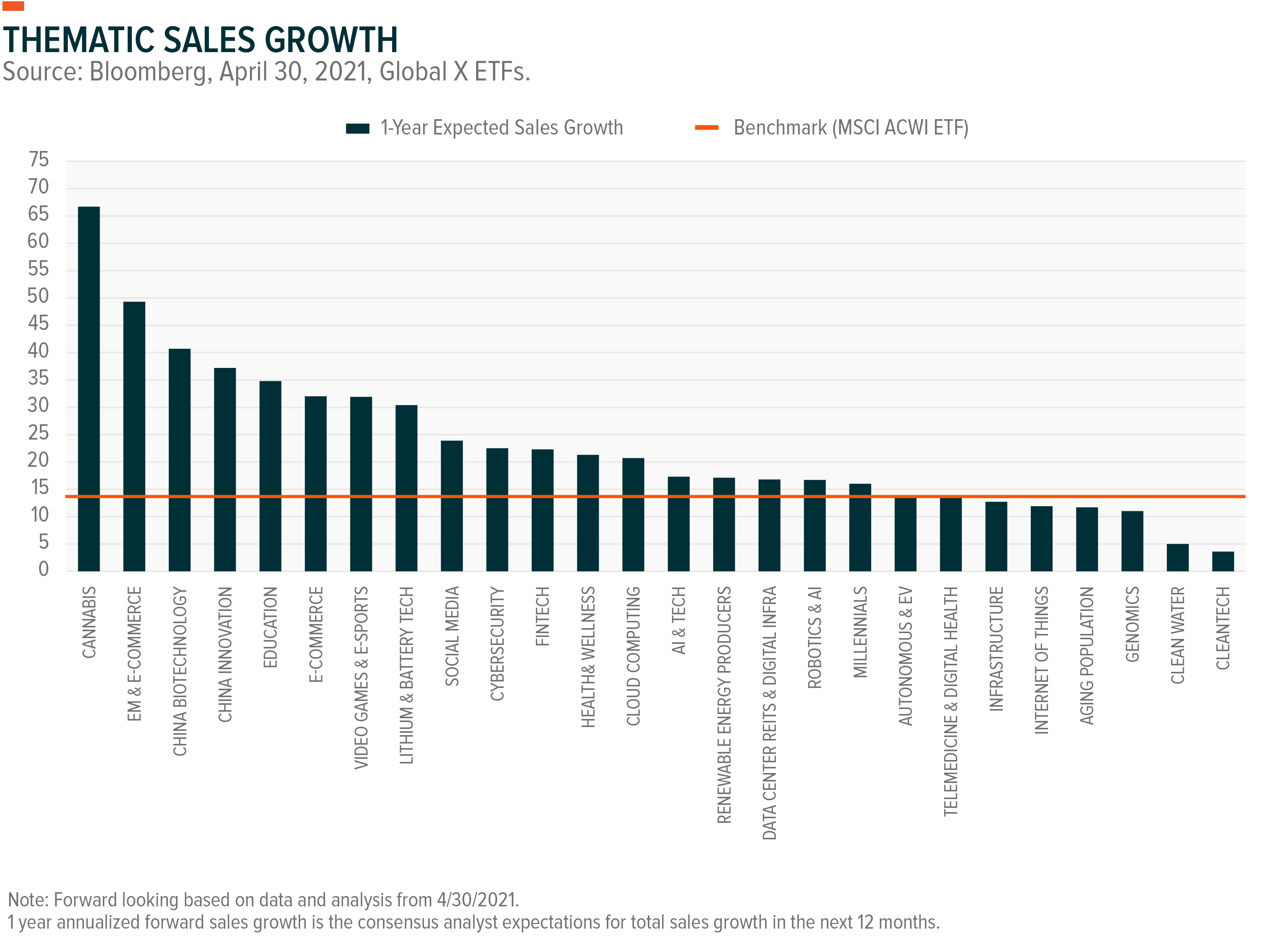 INTRO TO THEMATIC INVESTING COURSE – ELIGIBLE FOR CE CREDIT
Global X has developed an interactive, self-guided Intro to Thematic Investing course, that is designed to share the latest ideas and best practices for incorporating thematic investing into a portfolio.
This program has been accepted for 1.0 hour of CE credit towards the CFP®, CIMA®, CIMC®, CPWA® or RMA certifications. To receive credit, course takers must submit accurate and complete information on the requested forms, complete the entire course, and receive a 70% or higher on the Intro to Thematic Investing Quiz.
For Canadian course takers: This program has been reviewed by FP Canada and qualifies for 1 FP Canada-Approved CE Credit, in the category of Product Knowledge, towards the CFP® certification or QAFP™ certification. To receive credit, course takers must submit accurate and complete information (including Job Title) on the requested forms, complete the entire course, and receive a 70% or higher on the Intro to Thematic Investing Quiz.
Questions on receiving CE credit may be sent to: Education@globalxetfs.com
KEEP UP WITH THE LATEST RESEARCH FROM GLOBAL X
To learn more about the disruptive themes changing our world, read the latest research from Global X, including:
ETF HOLDINGS AND PERFORMANCE:
To see individual ETF holdings and current performance across the Global X Thematic Growth Suite, click the below links: