The Next Big Theme: May 2022

Metaverse
The Virtual Dimension Starts to Take Shape
Consumer engagement with the metaverse is increasing. Nvidia's Omniverse now has over 50,000 individual creators since its beta release in December 2020.1 Meta Platforms announced that it will open a physical storefront in California where shoppers can try out and purchase hardware, such as the company's Quest 2 VR headset, video calling device Portal, and smart glasses. Also, new metaverse demographics and sectors are emerging. For example, Epic Games is working with LEGO to create a metaverse for kids, where they promise safety and wellbeing will be primary considerations.

Cybersecurity & U.S. Infrastructure
Cyber Threats on Critical Infrastructure Prompt Warnings
The Cybersecurity and Infrastructure Security Agency (CISA), Federal Bureau of Investigation (FBI), and the National Security Agency (NSA), released a joint Cybersecurity Advisory highlighting Russia state-sponsored and criminal cyber threats to U.S. infrastructure. The advisory recommends immediate protections such as patching exploited vulnerability, multifactor authentication, monitor remote desktop protocol, and end-user awareness with training. The Department of Energy (DOE) recently announced a $12 million investment to enhance cybersecurity measures in U.S. energy systems. These measures are essential to ensure grid resilience as we add renewable energy capacity. Updating the grid's outdated infrastructure for reliable renewable capacity is necessary to achieve President Biden's goal of a 100% clean electrical grid by 2035 and net-zero carbon emissions by 2050.2

Electric Vehicles
U.S. Electric Vehicle Sales at Record Levels in Q1
U.S. consumers bought roughly 208,000 electric vehicles (including plug-in hybrids) in Q1 2022, with California consumers accounting for 40% of those sales.3 Seventy-eight percent of the 67,118 battery electric vehicles sold in California were from Tesla.4 In Shanghai, COVID-19 restrictions are easing and Tesla's Shanghai Gigafactory, the largest EV production facility in the world, is back up to 80% of its output capacity as of April 19, 2022.5 Tesla released plans to double its production capacity in Shanghai by building a new factory on the same site, adding a possible 450,000 vehicles to the plant's output.6 Along similar lines, a collaboration between General Motors and LG Energy Solution, called Ultium Cells, plans to open at least four new plants for the sole purpose of manufacturing EV batteries.7 Production is expected to begin as soon as August.

Genomics
Alzheimer's Discovery Fast-Tracks New Medicine
A study of genetic risk for Alzheimer's connected an additional 42 genes to the likelihood of developing the disease.8 Genetics account for 60–80% of the risk.9 The study also found that the immune system is one of the several suspected yet unconfirmed pathways for the disease to develop. These discoveries should help scientists better understand Alzheimer's and facilitate medicinal development. Eli Lilly is on track to launch five new medicines within the next year and a half, including its Alzheimer's prospect, Donanemab. Donanemab is an antibody that targets a modified form of deposited amyloid-β peptide—prevalent in Alzheimer's patients—to treat early onset Alzheimer's.

AgTech & Food Innovation
Food Insecurity Fears Loom Amid Peak Fertilizer Prices
The war between Russia and Ukraine continues to drive fertilizer prices through the roof. Fertilizer prices have more than tripled this year because of supply constraints, as Russia is one of the world's largest exporters.10 As a result, U.S. farmers are turning to alternative crop fertilizer techniques, such as harnessing microbes or plant-based products to provide crops with necessary nutrients. In time, techniques like these could potentially replace traditional fertilizers.
With food insecurity increasingly acute, in September, the Biden Administration will host the White House Conference on Food, Nutrition, and Health. This conference, which was last held in 1969, could help direct the United States' food policy. The announcement of the conference comes as inflation and supply chain issues drive food prices higher, which will likely exacerbate many of the country's pre-existing food and nutrition issues.

Lithium & Battery Tech
The Future of Battery Production Finds Opportunity in Lithium
As part of the Bipartisan Infrastructure Law, the U.S. Department of Energy (DOE) directed $3.16 billion towards the United States' supply of lithium-ion batteries.11 These batteries are critical to the electric vehicle industry's development and the clean energy transition, as evident by the significant funding dedicated to strengthening the battery supply chain in the infrastructure package.12 The law earmarks $7.5 billion for EV chargers, $5 billion for electric transit buses, and $5 billion for clean and electric school buses.13

THE NUMBERS
The following charts examine returns and sales growth expectations by theme, based on their corresponding ETFs.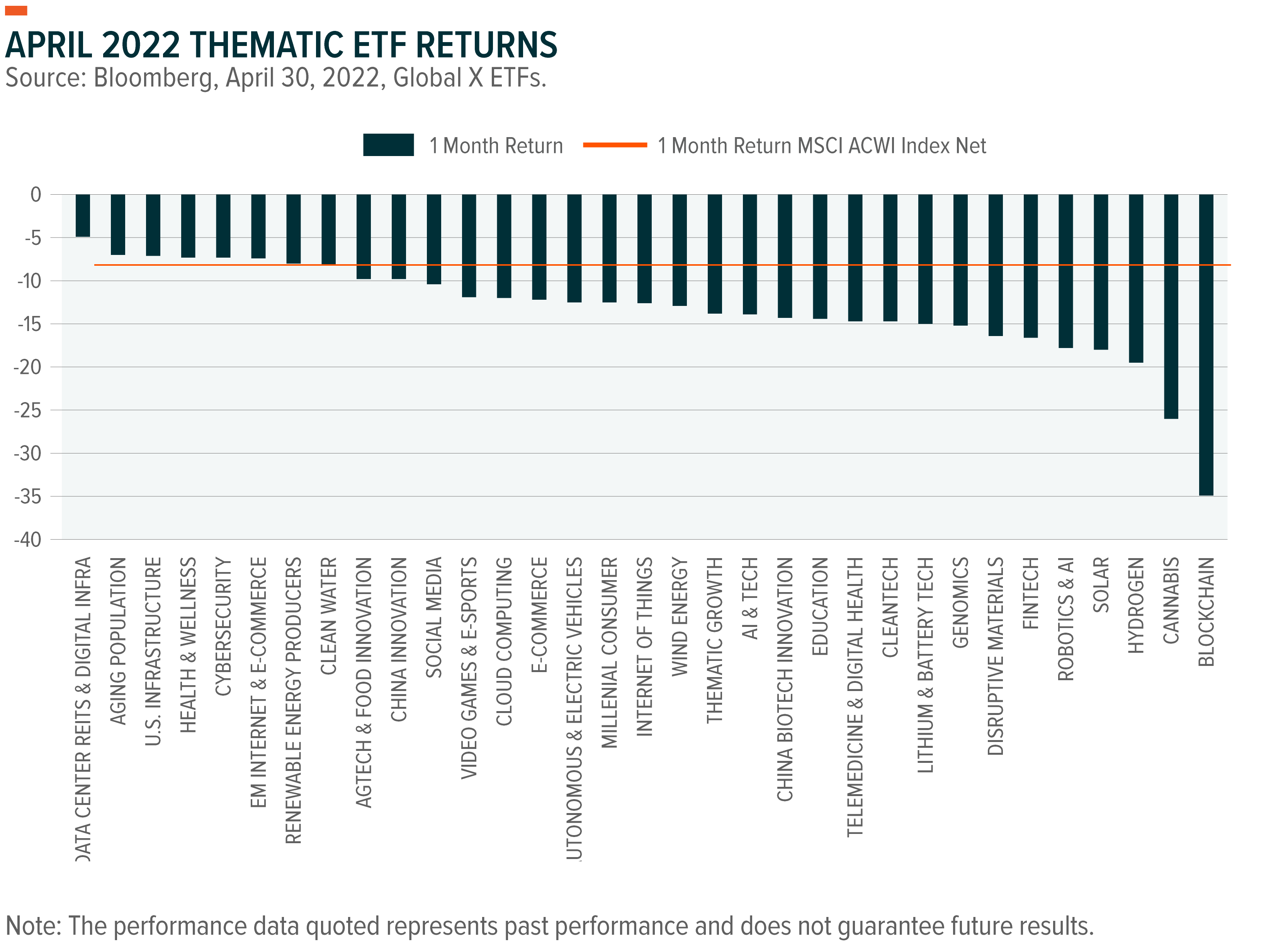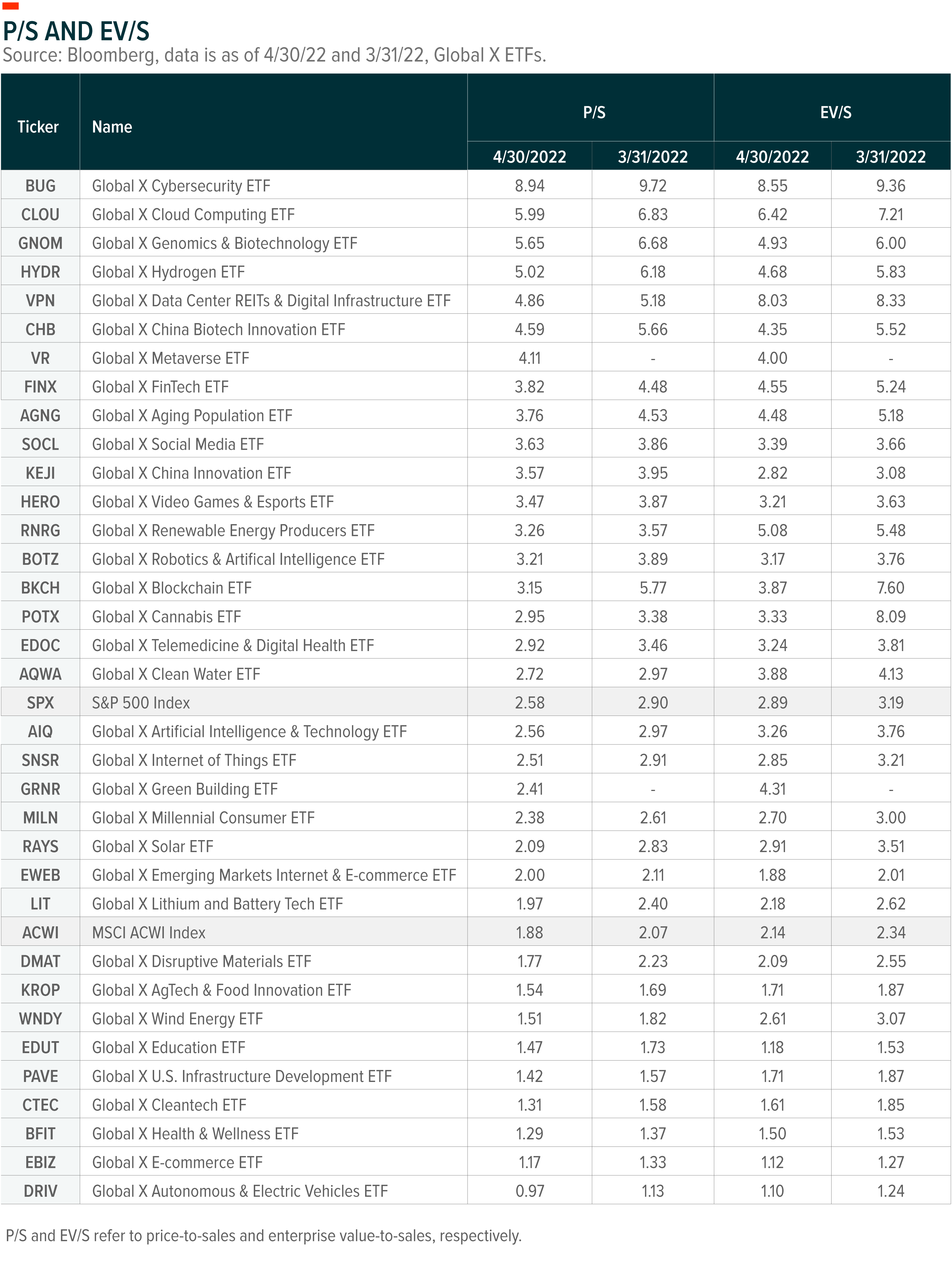 INTRO TO THEMATIC INVESTING COURSE – ELIGIBLE FOR CE CREDIT
Global X has developed an interactive, self-guided Intro to Thematic Investing course, that is designed to share the latest ideas and best practices for incorporating thematic investing into a portfolio.
This program has been accepted for 1.0 hour of CE credit towards the CFP®, CIMA®, CIMC®, CPWA® or RMA certifications. To receive credit, course takers must submit accurate and complete information on the requested forms, complete the entire course, and receive a 70% or higher on the Intro to Thematic Investing Quiz.
For Canadian course takers: This program has been reviewed by FP Canada and qualifies for 1 FP Canada-Approved CE Credit, in the category of Product Knowledge, towards the CFP® certification or QAFP™ certification. To receive credit, course takers must submit accurate and complete information (including Job Title) on the requested forms, complete the entire course, and receive a 70% or higher on the Intro to Thematic Investing Quiz.
Questions on receiving CE credit may be sent to: Education@globalxetfs.com
KEEP UP WITH THE LATEST RESEARCH FROM GLOBAL X
To learn more about the disruptive themes changing our world, read the latest research from Global X, including:
ETF HOLDINGS AND PERFORMANCE:
To see individual ETF holdings and current performance across the Global X Thematic Growth Suite, click the below links: